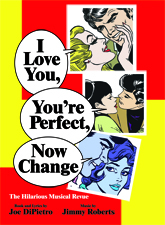 I Love You, You're Perfect, Now Change (2018 Version)
The longest running off-Broadway revue in history has been revised for the 21st century! This celebration of the mating game takes on the truths and myths behind that contemporary conundrum known as 'the relationship.' Act I explores the journey from dating and waiting to love and marriage, while Act II reveals the agonies and triumphs of in-laws and newborns, trips in the family car and pick-up techniques of the geriatric set. This hilarious revue pays tribute to those who have loved and lost, to those who have fallen on their face at the portal of romance, to those who have dared to ask, 'Say, what are you doing Saturday night?' The 2018 version features two new songs, revised lyrics and dialogue throughout the show to reflect dating in modern times.

Running time: 1 hour and 45 minutes, plus 1 intermission
For the original version of I LOVE YOU, YOU'RE PERFECT, NOW CHANGE: Click Here
Participate in the R&H Online Community.
Leave comments or talk with other fans in the forum!

To request the rights to make merchandise for this show email larisa.borshman@rnh.com.
Fan Info:


Song #
Song Name
Character Name
Play
Other Versions


Vocal Range of Characters:


// Photos




STANDARD
Rehearsal Set (12 Books)

10 – Libretto-Vocal Book

2 – Keyboard I/Conductor

CAST REQUIREMENTS
PRINCIPALS
2 Women
2 Men
COMMENTS
In the original production, all characters were played by a cast of four. However, each scene in the revue introduces new characters who are not seen again, and therefore it can be cast with virtually as many actors as desired.

I LOVE YOU, YOU'RE PERFECT, NOW CHANGE takes place in various locations.
A unit set on which various pieces of furniture and scenic elements can come and go quickly to suggest various locales such as a restaurant, kitchen, wedding chapel, living room, and 4 swivel chairs representing a car.
Materials Notes
Reed : Flute, Clarinet, Bass Clarinet, Alto Sax, Baritone Sax
Drums : Trap Set, Timbale, Cow Bell, Wind Chines, 8-Pad Controller
Guitar / Bass : Electric Guitar, Acoustic Bass, Electric Bass
---
Media Rights
*

Currently media rights for I Love You, You're Perfect, Now Change (2018 Version) are not available. Please contact customer service with any questions.