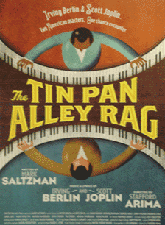 The Tin Pan Alley Rag
Although there is no historic record of Irving Berlin and Scott Joplin ever having met, it's not unlikely that the legendary songwriters' paths might have crossed in that district of New York City known in the early part of the 20th century as Tin Pan Alley. That's the premise of this intriguing musical play, set into motion when the aging Joplin happens into young Berlin's office in search of a publisher for his opera, TREEMONISHA. The ensuing musical discourse highlights influential and emotional moments from each of their lives. This bracing, original piece contrasts the ironic similarities and differences between the men to the sustaining surge of musical abundance. While Joplin received a conservatory education as the prodigy of a father born into slavery, it was Berlin, the Russian immigrant who couldn't read music, who had his first international hit song at the age of 23. What becomes clear is that both Berlin and Joplin possessed musical gifts beyond measure and shared a passionate humanity, both of which are beautifully showcased and illuminated in THE TIN PAN ALLEY RAG.
Participate in the R&H Online Community.
Leave comments or talk with other fans in the forum!

To request the rights to make merchandise for this show email [email protected].
Fan Info:

In 2009 THE TIN PAN ALLEY RAG opened Off-Broadway at the Harold and Miriam Steinberg Center for Theatre. This musical imagines a meeting between Irving Berlin and Scott Joplin, and features classic songs such as "I Love A Piano"" and ""Alexander's Ragtime Band""."


This watershed work holds the key to Saltzman's imaginative hypothesis, THE TIN PAN ALLEY RAG parses the intersecting biographies, eerie parallels and ironic contrasts with beautifully rendered musical selections that eschew a revue style greatest hits program.
— Los Angeles Times
Stirring musical excerpts the episodes are entertaining and there are charming moments particularly in Joplin's recollections. There is a delicate touch to Irving Berlin's transition from youth to old age as later period Berlin evergreens such as Blue Skies, Cheek to Cheek, and What'll I Do are hatched in his mind.
— Variety
"Glorious music, vibrant and lively."
— Los Angeles Times, December 31, 1969
"Glorious music, vibrant and lively."
— Los Angeles Times
Moments of pleasure are provided by its musical interludes. It's hard not to be uplifted by Joplin's Maple Leaf Rag or Berlin's Play A Simple Melody.
— Associated Press
"The likable Tin Pan Alley Rag slightly bigger than a vest-pocket musical has the unassuming charm of a winsome pet that gently nuzzles you…Some of it is factual, much of it invented in a partly humorous, partly sentimental way. It is, to quote a formulation by Anatole France, 'A story truer than the truth,' as if to say: This is how we wish it, how it ought to have happened. "
— John Simon, Bloomberg.com
"In THE TIN PAN ALLEY RAG Mark Saltzman has devised a highly entertaining and original show about two of America's most celebrated composers, one an immigrant Jew with a passion for writing hits and the other a black man with a passion for writing art."
— Hollywood Reporter
"That rare commodity, a highly entertaining evening with plenty to say. How exhilarating to leave a theatre with a few songs on your lips and a few thoughts on your brain"
— Palm Beach Post
"The profound emotional exchanges between the two musicians are juxtaposed against the happy sounds of ragtime. Aside from being a profound history lesson THE TIN PAN ALLEY RAG is a singing, stomping, good time."
— Philadelphia Tribune
"THE TIN PAN ALLEY RAG has it: that magical force of theatre that seemingly blankets an entire show in a winning, can't-go-wrong sheen, and infuses it with a near-exhaustible level of energy and entertainment . . . marvelous and engaging, the stuff of theatrical miracles!"
— Pasadena Weekly Magazine
"Filled with great fun and great music."
— KNX Radio
"It's another musical. So who cares? You should. In the vein of Death of a Salesman, Angels in America and Ragtime, The Tin Pan Alley Rag examines art, death, racism and the pursuit of the American Dream."
— Philadelphia Weekly, December 31, 1969
"Tunefully original...there are flashes of brilliance!"
— NY 1 Radio, December 31, 1969

Song #
Song Name
Character Name
Play
Other Versions


June 07, 2010 — Philadelphia "Barrymore Award" Best Musical - Nomination Best Choreography - George Faison - Nomination Best Direction of a Musical - Brad Ellis - Nomination Best Actor in a Musical - Rick Wasserman as Irving Berlin - Nomination Best Supporting Actor in a Musical - Joel Blum - Winner
June 07, 2010 — Los Angeles "Ovation Award" Best Musical - Nomination Best Writing of a World Premier Play or Musical - Mark Saltzman - Nomination Best Direction - Alan Bailey - Nomination Best Choreography - Larry Sousa - Nomination Best Actor in a Musical - David Norona - Nomination
June 07, 2010 — "Carbonell Awards" Best Musical- WinnerBest Direction of a Musical - Jiri Zizka - WinnerBest Musical Direction - Brad Ellis - WinnerBest Actor in a Musical - Fred Berman as Irving Berlin - NominationBest Supporting Actress in a Musical - Idara Victor as Freddie Alexander - NominationBest Set Design - David P. Gordon - NominationBest Choreography - George Faison - NominationBest Sound Design - Carl Casella and T. Richard Fitzgerald - Nomination

Outer Critics Circle
— Outstanding Off-Broadway Musical - 2009 Outer Critics Circle Award Nominee

Vocal Range of Characters:


// Photos

---
---
---
---

SET NOTE
Written By: Mark Saltzman

From past productions, THE TIN PAN ALLEY RAG seems to work best when the set is simple. Having the office set take up the entirety of the stage is one way to go, but consider the alternative of having the office, the "home base," just one defined area of the stage, keeping in mind that back then as now, New York City offices are pretty small spaces. The passage of time during the play is vitally important. Joplin enters in the late afternoon and it's deep into the night when he leaves. On-stage office lights should be switched on an at an appropriate moment. And there might be a window or a backdrop of New York, so we can see the lights of the city becoming illuminated. Through set pieces and costumes, the bars in the show should clearly represent three different social levels. Club Habana is posh - royalty and Broadway stars might be among the guests. Some designers have created a beautiful effect with a starry night sky behind Irving and Dorothy as they tango outside. Jimmy Kelly's is a Bowery dump for barflies, criminals and prostitutes like Sophie. The Maple Leaf Club is a private, members-only club for the middle-class African-American citizens of Sedalia, Missouri.

CHARACTER NOTES ON BERLIN AND JOPLIN: Although this play is a fictionalized meeting, there is reason to believe that Scott Joplin and Irving Berlin had many opportunities to meet when both were living in New York in the years before the First World War. Joplin would have been in his late forties and Berlin in his late twenties, making them two different generations, the older one coming of age in Victorian era, the younger, growing up in the looser, more progressing era of startling new inventions like the airplane and radical social movements, like women's suffrage. Joplin comported himself as a proper classical composer. But it's likely he would use that aloofness and superiority as a shield and a first defense against the offenses he would receive from the white world of the time. He is reserved and dignified, but there is also a self-mocking quality about him and a wry sense of humor.
Berlin, the Russian-Jewish immigrant, would have a thick accent in the Lower East Side scenes, but in the scenes set in the "present" it would have lessened, though there'd be no mistaking the New York Jewish speech patterns and mannerisms. Berlin should contrast Joplin with a wise-cracking, fast paced speech, and quick, nervous movements. The two lead characters are contrasts: Youth and middle-age, wealth and poverty, nervous energy and containment, health and illness.

INTERMISSION:At the Roundabout Theatre in New York, as well as at several other theaters, THE TIN PAN ALLEY RAG was performed in two acts with an intermission. Whether the show is performed in one act or two is at the discretion of the theater. If there is to be an intermission, it will be right after the encore of "Play A Simple Melody," right after Scott Joplin collapses, the end of Scene 18. (Bottom of page 63)

SUPPLEMENTAL MATERIAL:Changes were made for the 2009 New York production at the Roundabout's Laura Pels Theatre and several previous productions. These changes are to be used in all future productions and are available in the supplemental material provided with the rehearsal set.
---

Playbill VIP
: 
MAKE YOUR OWN PLAYBILL! Playbill VIP allows you to create your very own Playbill Program. We have provided Playbill with all of the credits, song listings, musical numbers and more so that most of the work is already done for you. Just add your productions details, photos of the cast and share it with all of your friends. Learn more: www.playbillvip.com
---

STANDARD
TIN PAN ALLEY RAG - Orchestra Package (4 Books/4 Players)

1 – PIANO VOCAL SCORE

1 – CLARINET (Optional Soprano Sax)

1 – BASS

1 – Percussion

Rehearsal Set (22 Books)

20 – Libretto-Vocal Books

1 – Digital Logo

2 – PIANO VOCAL SCORE

Digital Logo
ADDITIONAL
Libretto/Vocal Books 10 pack

10 – Libretto-Vocal Books

TIN PAN ALLEY - PRE-PRODUCTION PACKAGE

1 – Libretto-Vocal Books

1 – PIANO VOCAL SCORE

PRINCIPALS
3 men
2 Women
FEATURED
3 Men
1 Woman
ENSEMBLE
Singing-Dancing ensemble doubling in many roles.
CHARACTERS
Scott Joplin
Irving Berlin
Ted Snyder/John Stark/Alfred Ernst
Mr. Williams/Ned/Freddie's Father/Ragtime Dancer
Miss Esther Lee/Monisha/Ragtime Dancer
Dorothy/Saloon Singer/Lula, Alfred Ernst's Secretary
Gitlo/Mr. Payton/Ragtime Dancer
Treemonisha/Freddie/Hattie
Hopeful Songwriter/Driver/Cuban Singer
To be assigned as desired: Turkey Trot Plugger, Mr. Moon Singer, Lizzie Singer, Canoe Singers, Romeo Singer, Tate, Hiawatha Singer, Harvest Moon Singers, Honolulu Singer, Lillian Singer, Willie, Harry, Sofie, Jimmy Kelly, Money Mulligan, Johnny, Wedding Singer, Band Singer, Blues Shouter, Librarian.

THE TIN PAN ALLEY RAG takes place in the New York office of Berlin and Snyder, music publishers, beginning on an April Tuesday in the second decade of Twentieth Century.
Materials Notes
Traps, 2 Tom-Toms, Triangle, Glockenspiel, Temple Blocks, Castanets, Tambourine, Crotales, Samba Whistle, Cowbell
---
Media Rights
Promotional
1. The Promotional Video shall be recorded and shown for the sole purposes of advertising your licensed production of the Play. For such a video, R&H allows theatres to film up to 10 minutes of total footage taken at either a performance or rehearsal (i.e.: 10 minutes of scripted moments.)
2. The Promotional Video may not include more than (i) 1 minute from any song or (ii) 3 minutes, in the aggregate, of footage of copyrighted material from the Play.
3. The Promotional Video may not include any sponsorship or underwriting without the prior consent of all R&H.
4. The Promotional Video must be submitted to R&H by sending the source video and video link to [email protected]
5. The Promotional Video must include the following: "Rights courtesy of Rodgers & Hammerstein, www.rnh.com"
6. Upon approval by R&H of the Promotional Video, you agree not to make any alterations in the approved copyrighted material used therein and you agree to obtain the prior written approval of R&H for any other use of the Promotional Video not specifically granted herein.
7. Upon termination of the Term, you shall cease to have any rights to use the Promotional Video including, without limitation, in connection with a future production of the Play, and shall immediately remove its content from any and all websites on the Internet.
8. You may not use a commercially available recording.
9. Any additional promotional rights must be approved by R&H by contacting[email protected].
*
Promotional video rights can only be granted once a performance license for The Tin Pan Alley Rag has been secured. Please contact customer service if you have any questions. If you have not yet applied for The Tin Pan Alley Rag, you can do so here. LOG IN to learn more.
---