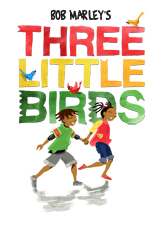 Bob Marley's Three Little Birds
Mama says 'breathe easy,' but Ziggy's afraid to leave the house. He's too busy worrying about tropical storms, evil spirits and steering clear of that sneaky, hair-snatching Duppy! But with the help of Dr. Bird and his feathered friends, Ziggy's reminded in soothing six-part harmony that "every little thing gonna be all right." A jammin' musical featuring the timeless music and lyrics of Bob Marley and based on the children's book by his daughter Cedella, BOB MARLEY'S THREE LITTLE BIRDS shares the legendary reggae artist's message of peace and love with a new generation of songbirds.

Running Time: 60 minutes, No Intermission
Suggested Audience Age Range: Ages 4 and Up
Participate in the R&H Online Community.
Leave comments or talk with other fans in the forum!

To request the rights to make merchandise for this show email larisa.borshman@rnh.com.
Fan Info:

BOB MARLEY'S THREE LITTLE BIRDS
and
FREE TO BE... YOU AND ME
have joined the R&H TYA Collection!
read more



"A Must See!"  "I had a feeling we'd be in for a special treat with this one, and I was right!"
— JusticeFergie.com, March 19, 2013
"'Three Little Birds' is a color-filled delight for kids and Bob Marley tunes for everyone"
"With a jammin' score woven from the songs of Bob Marley and buoyant design to match, the show flaunts such jubilant, tropical-candy tones that the outside world looks drab by comparison."
"You might not have thought of Marley's music as a natural complement to children's theater. But the two got together, and it feels all right."
— Celia Wren and style@washpost.com, The Washington Post, March 22, 2013
"Marley's songs have an easygoing, ambling pace, but this musical is more scrambling fun."
— Jason Zinoman, New York Times, February 11, 2014
"When you bring Bob Marley's reggae together with a charming story about children and sassy talking birds, you get sheer delight onstage… Parents and kids will be entertained by the music and dancing, but there's an important lesson to learn from these little birds… From mangoes and mongooses to hurricanes and spicy jerk chicken, this musical offers all sorts of springboards for conversations about different foods, animals, music, and ways of life. But the best lesson for kids to take from Bob Marley's Three Little Birds is that your fears should never get in the way of having an adventure with the world. Not a bad lesson for grown-ups, either."
— Pete Hempstead, Theatermania, February 11, 2014
"Bob Marley's music and songs are performed in a way that are lively and fun, with the universal message being one of love, joy, and celebration."
"Bright, joyful, and the perfect way to introduce your child to the popular Reggae culture, Three Little Birds is an absolute must-see!"
— Julia L. Exline, DC Metro Theater Arts, March 19, 2013
"You are instantly transported to a world of rhythm and light… Everyone was swaying in their seats from beginning to end… This show convinces us that Bob Marley's music transcends all ages…through all the ages.  It's music for everyone."
— Amy Wall Lerman, Motherhood Later… Than Sooner, December 31, 1969
"What play mesmerizes, tantalizes, and revitalizes you as it whisks you away on a warm and sweet ocean breeze?  Adventure Theatre MTC's production of
Three Little Birds
does!"
— April Forrer, MD Theatre Guide, March 20, 2013
"Filled with powerful messages without resorting to maudlin sentimentality, Three Little Birds shows a youngster facing his deepest fears –who hasn't feared that?  But with friends and loving support (and terrific music), he discovers strengths that he didn't even know he had– again, timeless life lessons applicable to all."
— Debbie Minter Jackson, DC Theatre Scene, March 20, 2013

Song #
Song Name
Character Name
Play
Other Versions


Vocal Range of Characters:


// Photos




STANDARD
BOB MARKLEY'S THREE LITTLE BIRDS - Rehearsal Set

10 – Libretto-Vocal

2 – Piano Vocal/Keyboard 1

PRINCIPALS
3 Men
3 Woman
CHARACTERS
Ziggy – a timid boy with long dreadlocks – 11
Nansi – a trickster girl – 11 (Also: Spanish Bird #2, British Colonizer Bird, Sister Indian Bird)
Duppy – an evil spirit bird with a head full of human hair taken from children, 30's (Also: Villager, Great Grandfather Spanish Bird)
Doctor Bird – a lucky bird, Ziggy's pet and best friend, 20's
Cedella – Ziggy's Mother, 40's (Also Montego – a bird, Spanish Bird #1, Great Aunt African Bird)
Tacoomah – a bird (Also: Villager, Great Grandmother British Bird, Cousin Chinese Bird)
Casting Note: The tension of race relations is not a plot point in Bob Marley's Three Little Birds; however, ideally the show should be cast with black actors. Because of Jamaica's rich and diverse history with immigrants from Spain, China, India and Africa, the casting could be diverse. Ziggy has dreadlocks, which is most appropriate for a black actor.

Bob Marley's Three Little Birds takes place in and about Cattawood Springs, a small village on the Island of Jamaica. A unit set is recommended.
Materials Notes
Featured News
BOB MARLEY'S THREE LITTLE BIRDS and FREE TO BE... YOU AND ME join the R&H TYA Collection!
R&H Theatricals is proud to announce that
BOB MARLEY'S THREE LITTLE BIRDS
and
FREE TO BE... YOU AND ME
have joined the R&H TYA Collection!
Read More
Media Rights
*

Currently media rights for Bob Marley's Three Little Birds are not available. Please contact customer service with any questions.