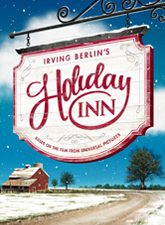 Holiday Inn
Based on the Film from Universal Pictures | Music and Lyrics by
Irving Berlin
| Book by Gordon Greenberg and Chad Hodge
Irving Berlin's HOLIDAY INN tells the story of Jim, who leaves the bright lights of show business behind to settle down on his farmhouse in Connecticut… but life just isn't the same without a bit of song and dance. Jim's luck takes a spectacular turn when he meets Linda, a spirited schoolteacher with talent to spare. Together they turn the farmhouse into a fabulous inn with dazzling performances to celebrate each holiday, from Thanksgiving to the Fourth of July. But when Jim's best friend Ted tries to lure Linda away to be his new dance partner in Hollywood, will Jim be able to salvage his latest chance at love?
Based on the classic film, this joyous musical features thrilling dance numbers, laugh-out-loud comedy and a parade of hit Irving Berlin songs, including "Blue Skies," "Easter Parade," "Steppin' Out With My Baby," "Heat Wave," "White Christmas," "Be Careful, It's My Heart," "Cheek to Cheek," "Shaking the Blues Away" and many more!
This year-round romance is sure to delight audiences!
Running Time: 2 hours, 15 minutes; including one intermission
Participate in the R&H Online Community.
Leave comments or talk with other fans in the forum!

To request the rights to make merchandise for this show email larisa.borshman@rnh.com.
Fan Info:



"An exuberant, shamelessly old-fashioned tap-and-tuner… is an endorphin assault, inducing warm-bath pleasure like no other show since
42nd Street
."
— Jeremy Gerard, Deadline, October 08, 2016
"[A] trip back to sheer old-fashioned good-time entertainment."
— Elyse Sommer, October 08, 2016
"The Berlin tunes – "White Christmas," "Easter Parade," "Cheek to Cheek" – are of course a treat!"
— Alexis Soloski, The Guardian, October 08, 2016
"This is a
Holiday Inn
you'll want to check into"
— Frank Scheck, The Hollywood Reporter, October 08, 2016
"If you're in the mood for a show that's light-on-its-feet and wall-to-wall Irving Berlin, check into Broadway's
Holiday Inn
"
— Joe Dziemianowicz, NY Daily News, October 08, 2016
"Heartfelt musical eggnog!"
— Rex Reed, NY Observer, October 08, 2016

Song #
Song Name
Character Name
Play
Other Versions


Vocal Range of Characters:


// Photos



Written By: Gordon Greenberg & Chad Hodge

A Note To The Director:
When we started adapting the classic film Holiday Inn for the stage, we were struck by the idea of our everyday reality versus the curated reality we now see in social media. In the Golden Age of Hollywood, this was the exclusive province of celebrities, but now anyone can control how their reality is perceived by others. It dawned on us that this classic film was making an important statement about the value of living in the moment, being true to yourself, and loving the truth of your life over the glamorized, edited, 'filtered' version.  
While staying true to the warmth and spirit of the original film, our Holiday Inn is built for contemporary audiences. Although it is essential to cast the show with actors who have a deep respect and affection for this period and style, it is just as important to invest these characters with truth, humanity and the current sensibility that informs so much of the humor. Whether it's the awkward meeting of Jim and Linda, both unable to communicate easily, the narcissism of Ted, or the unconventional relationship forged between Louise and Jim, this is a world that exists simultaneously in 1946 and in the now. 
This likewise applies to the ensemble, a diverse group of quirky ebullient individuals, whose energy and pulse – and kinetic dancing – propel the show. The more you find unique characters for each member of the ensemble and embrace their individual senses of humor and connection to the heart of the story, the more the show comes alive.
Ultimately, this show is a joy machine, and the fuel it runs on is the spirit created in the rehearsal room. We encourage you to cultivate all the humor, humanity and appreciation for this beloved era you can, and we wish you a wonderful stay at Holiday Inn. 
Gordon Greenberg & Chad Hodge Book writers, Holiday Inn
---



PRINCIPALS
1 Woman
2 Men
FEATURED
1 Boy
2 Woman
1 Men
ENSEMBLE
Dancers, radio personalities, Hollywood creative team, Midville townspeople, Holiday Inn guests
CHARACTERS
Jim Hardy – a performer and singer-songwriter eager to leave showbiz behind for a simpler life on a farm in Connecticut, thirties (lyric baritone)
Ted Hanover – Jim's best friend and performing partner; a charming ladies' man looking for his big break, thirties (lyric baritone)
Lila Dixon – a determined performer and Jim's mismatched fiancée, thirties (high belt)
Danny – Jim, Ted and Lila's agent, thirties to fifties
Charlie Winslow – a precocious bank messenger, age 9 to 12
Linda Mason – a school teacher with the hidden talents of a singer and dancer, thirties (belt/mix)
Louise – the local "fix it" woman; tough, no nonsense and extremely perceptive, forties to fifties (belt)
Ensemble:
Announcer
Nightly Dancers (Stanley, Daphne, Sawyer, Stella, Byron, Rose, Janie, Susie, Brenda, Hadley)
Radio Chorus
Radio Host
Radio Voice Over
Danny's Mother (Voice Over)
First A.D.
Director
First A.D.
Cameraman
Sound Man
P.A.
Midville townspeople
Holiday Inn guests

HOLIDAY INN takes place in and around Mason Farmhouse as well as the following locations in 1946-1947.
Act 1
Scene 1: The Cat's Meow Nightclub, Stage – August 1946
Scene 2: Lila's Dressing Room, Backstage at The Cat's Meow – immediately following
Scene 3: Mason Farmhouse, Midville, Connecticut
Scene 4: Nightclubs, The Midwest / The Farmhouse
Scene 5: Behind the Barn, The Farm
Scene 6: KENO Radio Studios, Las Vegas
Scene 7: Linda's Apartment – Thanksgiving 1946
Scene 8: KENO Radio Studios / The Farmhouse
Scene 9: The Farmhouse – Christmas Eve 1946
Scene 10, Holiday Inn (Stage) – New Year's Eve 1946
Act 2
Scene 1: Holiday Inn (Bedroom & Halls) – New Year's Day 1947
Scene 2: Outside Midville Elementary School and Main Street – a few days later
Scene 3: Rehearsal Studio, New York City – February 1947
Scene 4: Holiday Inn (Outside & Stage) — Valentine's Day 1947
Scene 5: Holiday Inn (Stage & Backstage)
Scene 6: Holiday Inn (Stage & Backstage) – Easter 1947
Scene 7: Holiday Inn (Living Room) – Independence Day 1947
Scene 8: Holiday Inn (Stage & Backstage) / The Barn
Scene 9: Holiday Inn (Living Room) – Thanksgiving 1947
Scene 10: Universal Studios Sound Stage, Los Angeles
Scene 11: Movie Screen / Holiday Inn (Stage)
Materials Notes
Holiday Inn
Orchestrations by Larry Blank
Vocal and Dance Arrangements by Sam Davis
Additional Dance and Vocal Arrangements by Bruce Pomahac
ORCHESTRA SET
1 PIANO-CONDUCTOR
1 REED 1: Piccolo, Flute, Alto Flute*, Clarinet, Alto Saxophone
1 REED 2: Flute, Clarinet, Alto Saxophone
1 REED 3: Clarinet, Bass Clarinet, Tenor Saxophone
1 REED 4: Clarinet, Bass Clarinet, Bassoon**, Baritone Saxophone
1 TRUMPET 1
1 TRUMPET 2
1 TROMBONE 1
1 TROMBONE 2
1 KEYBOARD 1 (Piano)
1 KEYBOARD 2 (Synthesizer)
1 DRUMS
1 PERCUSSION
1 VIOLIN 1 (Divisi)
1 VIOLIN 2 (Divisi)
1 CELLO (Divisi)
1 ACOUSTIC BASS
18 Players (17 Books)
* Alto Flute passages double-lined for Flute or Clarinet
** Bassoon Passages double-lined for Bass Clarinet
Note: Violin 1, Violin 2 and Cello are optional. The Broadway production did not include these parts; the cast recording used 4 Violin 1 and 2 Violin 2 and 3 Cello players.
---
Featured News
IRVING BERLIN'S HOLIDAY INN Sets Cast Album Release Date
The cast recording for the Broadway production of
IRVING BERLIN'S HOLIDAY INN,
which features such
Irving Berlin
classics as "White Christmas," "Heat Wave," and "Blue Skies," will be released digitally June 2nd!
Read More
IRVING BERLIN'S HOLIDAY INN Now Available for Professional Licensing!
R&H Theatricals is thrilled to announce that
IRVING BERLIN'S HOLIDAY INN
is now available for professional licensing!
Read More
Media Rights
Promotional
1. The Promotional Video shall be recorded and shown for the sole purposes of advertising your licensed production of the Play. For such a video, R&H allows theatres to film up to 10 minutes of total footage taken at either a performance or rehearsal (i.e.: 10 minutes of scripted moments.)
2. The Promotional Video may not include more than (i) 1 minute from any song or (ii) 3 minutes, in the aggregate, of footage of copyrighted material from the Play.
3. The Promotional Video may not include any sponsorship or underwriting without the prior consent of all R&H.
4. The Promotional Video must be submitted to R&H by sending the source video and video link to editor@rnh.com.
5. The Promotional Video must include the following: "Rights courtesy of Rodgers & Hammerstein, www.rnh.com"
6. Upon approval by R&H of the Promotional Video, you agree not to make any alterations in the approved copyrighted material used therein and you agree to obtain the prior written approval of R&H for any other use of the Promotional Video not specifically granted herein.
7. Upon termination of the Term, you shall cease to have any rights to use the Promotional Video including, without limitation, in connection with a future production of the Play, and shall immediately remove its content from any and all websites on the Internet.
8. You may not use a commercially available recording.
9. Any additional promotional rights must be approved by R&H by contactingTheatre@rnh.com.
*
Promotional video rights can only be granted once a performance license for Holiday Inn has been secured. Please contact customer service if you have any questions. If you have not yet applied for Holiday Inn, you can do so here. LOG IN to learn more.
---
Flat Poster (Summer)
Format: .JPG, .TIFF, 14"x22", 300 DPI, CMYK
Price: $50.00
Broadway quality show art in a 14" x 22" poster format.
Don't worry about optimizing your poster for printing – at 300 pixels per square inch, this poster comes at a high resolution, with CMYK colors ready for printing.
Don't worry about leaving a blank margin around your show's artwork: This poster comes with a .25" margin on all sides, letting you trim the edges of the graphic for beautiful, full-bleed, edge-to-edge color.
Don't worry about adding social media icons to your poster – Facebook and Twitter logos are included with the art.
Don't worry about needing fancy design programs – these flat .JPG and .TIFF files are ready to use with any free paint or photo editing programs. Free text and video instructions show you how to customize graphics with your theater's text.
Choose between .JPG files that give you compatibility with any program, and .TIFF files providing the highest quality graphics for premium printing, compatible with many programs.