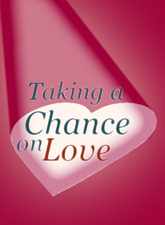 Taking a Chance on Love
Music by Leonard Berstein, Vernon Duke,
Duke Ellington
, Donald Fuller, John Latouche, Douglas Moore, Jerome Moross, Wolfgang Mozart, James Mundy, Earl Robinson and John Strauss | Developed by
Erik Haagensen
| Based on an idea by James Morgan | Originally Produced by The York Theatre Company
The life and career of Broadway lyricist John Latouche have been woven together into a vibrant musical portrait of an endlessly fascinating character. As an openly gay man in the 1950's, Latouche traveled in rarified circles that included many swells of the time. TAKING A CHANCE ON LOVE weaves together his spectacular lyrical output with candid entries from his personal journals to chronicle one of the most intriguing paths ever forged in the musical theater. Largely considered a precursor of Sondheim, he wrote the lyrics for such landmark shows as CABIN IN THE SKY and CANDIDE and for such neglected gems as THE GOLDEN APPLE and the Carol Channing vehicle, THE VAMP. His major breakthrough came with BALLAD FOR AMERICANS, which became a national sensation in its vision of an America that draws strength from its ethnic and religious diversity, long before the concept of "multiculturalism" was to be articulated. Ironically, he was blacklisted as un-American at the time. His musical BEGGAR'S HOLIDAY featured the first romantic interracial kiss in a Broadway musical, causing nightly walk outs. Clearly ahead of his time in both his life and his work, Latouche died in 1956 at the age of 41.
Participate in the R&H Online Community.
Leave comments or talk with other fans in the forum!

To request the rights to make merchandise for this show email larisa.borshman@rnh.com.
Fan Info:

The birthday of Earl Robinson, composer of TAKING A CHANCE ON LOVE.

The birthday of Douglas Moore, who composed the musical TAKING A CHANCE ON LOVE.

In 1903, Veron Duke was born - composer of the show TAKING A CHANCE ON LOVE.


"A perfectly engaging show…It made me eager for more of John Latouche."
— New York Post
"A marvelous show…a skillfully woven musical profile…to hear his songs is to experience penultimate rapture….One of the most sophisticated shows I've seen in a long, long time."
— New York Observer
"Clever lyrics from many a fine musical!"
— New York Magazine
"A sublimely gifted songwriter whose life illuminated the ironies of his times, his name adorns some of the most memorable songs in Broadway history…sublimely clever gems."
— Associated Press
"A fine show…Latouche's work was of mostly extraordinary quality…TAKING A CHANCE ON LOVE is entertaining and valuable."
— Broadway.com

Song #
Song Name
Character Name
Play
Other Versions


Vocal Range of Characters:

// Photos

---
---
---
---
---
---
---
---


Written By: Erik Haagensen

I created the musical revue called TAKING A CHANCE ON LOVE: THE LYRICS AND LIFE OF JOHN LATOUCHE, which ran Off-Broadway at the York Theatre in February and March of 2000, got very nice notices, and was recorded by Original Cast Records. You can order it through Amazon.com.The show used excerpts from Latouche's private journals, letters etc., plus comments by his contemporaries about him, all woven together with his songs to make a sort of "musical portrait" of his life (that was Rex Reed's term in his favorable review for the show). The four-person cast consisted of Terry Burrell, Jerry Dixon, Donna English, and Eddie Korbich (who won an Obie for his performance). Composers featured on the disc include Leonard Bernstein (including a previously unheard cut duet from CANDIDE), Duke Ellington, Vernon Duke, and, of course, Jerome Moross, including liberal excerpts from the Moross/Latouche BALLET BALLADS, a show that was a precursor to THE GOLDEN APPLE. The show has just been licensed by the Rodgers and Hammerstein Theatre Library and will shortly be available for regional productions (it took a while to get the far-flung copyright releases together for all of the songs in the show). So with any luck, you may have an opportunity to see it at some point in the future. In the meantime, if you like THE GOLDEN APPLE, I bet you'll like TAKING A CHANCE ON LOVE.
---

Playbill VIP
: 
MAKE YOUR OWN PLAYBILL! Playbill VIP allows you to create your very own Playbill Program. We have provided Playbill with all of the credits, song listings, musical numbers and more so that most of the work is already done for you. Just add your productions details, photos of the cast and share it with all of your friends. Learn more: www.playbillvip.com
---

STANDARD
Perusal Package (1 lib., 1 PV, 2PVA1)

1 – Libretto

1 – P/V/Two Piano Arrangement Act I

Rehearsal Set (18 Books)

6 – Libretto

1 – Logo CD

6 – P/V/Two Piano Arrangement Act I

6 – P/V/Two Piano Arrangement Act II

Digital Logo
ADDITIONAL
TAKING A CHANCE - PRE-PRODUCTION PACKAGE

1 – Libretto

1 – P/V/Two Piano Arrangement Act I

1 – P/V/Two Piano Arrangement Act II

PRINCIPALS
2 Women
2 Men
2 Pianists

TAKING A CHANCE ON LOVE is a revue and does not require any specific set.
Materials Notes
Media Rights
Promotional
1. The Promotional Video shall be recorded and shown for the sole purposes of advertising your licensed production of the Play. For such a video, R&H allows theatres to film up to 10 minutes of total footage taken at either a performance or rehearsal (i.e.: 10 minutes of scripted moments.)
2. The Promotional Video may not include more than (i) 1 minute from any song or (ii) 3 minutes, in the aggregate, of footage of copyrighted material from the Play.
3. The Promotional Video may not include any sponsorship or underwriting without the prior consent of all R&H.
4. The Promotional Video must be submitted to R&H by sending the source video and video link to editor@rnh.com.
5. The Promotional Video must include the following: "Rights courtesy of Rodgers & Hammerstein, www.rnh.com"
6. Upon approval by R&H of the Promotional Video, you agree not to make any alterations in the approved copyrighted material used therein and you agree to obtain the prior written approval of R&H for any other use of the Promotional Video not specifically granted herein.
7. Upon termination of the Term, you shall cease to have any rights to use the Promotional Video including, without limitation, in connection with a future production of the Play, and shall immediately remove its content from any and all websites on the Internet.
8. You may not use a commercially available recording.
9. Any additional promotional rights must be approved by R&H by contactingTheatre@rnh.com.
*
Promotional video rights can only be granted once a performance license for Taking a Chance on Love has been secured. Please contact customer service if you have any questions. If you have not yet applied for Taking a Chance on Love, you can do so here. LOG IN to learn more.
---