1944 - 1960
This office has been around for a long time since 1944 to be precise. Rodgers & Hammerstein were the biggest force on Broadway when Broadway was the biggest force in popular entertainment. They produced plays, musicals, concerts and revivals. They presided over Broadway runs, London transfers, national tours and major motion pictures frequently all at once. They held onto everything they could, and controlled their own destinies. They were lionized and they were envied. And they kept their perspective. We may be big, Richard Rodgers once said. But were not U.S. Steel.
As artists, Richard Rodgers and Oscar Hammerstein II revolutionized the American musical. As businessmen, R&H revolutionized Broadway. Rodgers and Hammerstein fully understood that the show is just half of show business, wrote business historian John Steele Gordon in American Heritage (1990). They became the first men from the creative side of Broadway to establish a permanent organization to handle the business side of what they created. In doing so, they built a business empire that earned them the first great American fortune to be based on creative theatrical talent.
Like ASCAP, which had been established a generation before, R&H wanted to protect the writer; that they were writers themselves made the duo especially sensitive to the issues. They both detested Hollywood because there the writer was well paid but stuck at the bottom of the evolutionary scale; but on Broadway, on stage, they knew the writer could and should have control over his or her work. Producers held too many of the cards, they felt, and the best way to wrest some of that control was to become producers themselves.
As Gordon explains: In the 1920s and 30s, the authors of Broadway musicals usually got the short end of the stick, receiving a relatively small percentage of the gross receipts while the producers and the backers made off with the lions share of the profits if the show was a hit In addition to being financially marginalized, authors had little or no say over how their material was used. In his autobiography, Rodgers recounts his Broadway debut in 1920, when a score he wrote with Lorenz Hart for a show called POOR LITTLE RITZ GIRL had been brusquely jettisoned by the producer without their knowledge. Even now, he wrote in 1976, I can still feel the grinding pain of bitter disappointment and depression.
That incident transformed Rodgers. Protecting his own creations became a lifelong policy, and a credo he passed down to his children. The Bible in our house, his daughter Mary later recalled, was never sell your copyrights. Daddy used to say it was like selling your birthright.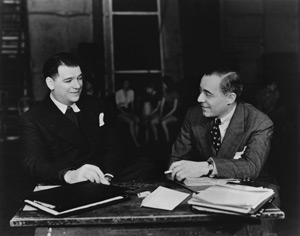 Richard Rodgers & Oscar Hammerstein II backstage during rehersals for Oklahoma!, Spring 1943.
In 1942, Rodgers and Hammerstein began writing together under the auspices of the Theatre Guild; their assignment was to make a musical out of the Guilds play, GREEN GROW THE LIACS. With the bold artistic strides he and Hammerstein were making on the score for what would become OKLAHOMA!, Rodgers had a bold business notion too. Wed be suckers, he told Hammerstein, if we didnt publish it ourselves. Other songwriters had been their own music publishers before (Irving Berlin being a prime example and stellar success), but with OKLAHOMA!, R&H were seeking to set a system in place that would protect and nurture their works and those of others for decades to come.
Max and Louis Dreyfus, the brilliant and legendary music publishers whose Chappell & Co. had published most of Broadways music for years, were not only receptive but agreed to create and administer this new entity, which would ultimately be owned by R&H completely. The enterprise was called Williamson Music (so named because both men had fathers named William) and, in 1944, it was established in a suite of offices at 488 Madison Avenue. It is still in business today, with dozens of writers and thousands of songs under its administration. But it all started with the score of OKLAHOMA!
With Williamson Music up and running, R&H had further ambitions to fulfill: controlling their own songs was one thing, but controlling an entire production was another. R&H decided that it was time they become Broadway producers.
Though unprecedented, this career move had a certain logic. Between them, R&H had decades of experience in theatrical production, learned by osmosis and observation. Hammerstein was born into the third generation of a theatrical impresario dynasty; he knew well the legends and lore of his remarkable namesake and grandfather Oscar I, and he had watched closely as more than a dozen of his own musicals were produced by his uncle, Arthur Hammerstein. Rodgers, meanwhile, had soaked up every detail of production during his collaborating years with Lorenz Hart. He had a knack for the business from the start, and that fascination only grew. With such musicals as ID RATHER BE RIGHT, BABES IN ARMS and PAL JOEY Rodgers learned production from some of the best, including such gentlemen of the trade as Sam Harris, Dwight Deere Wiman and George Abbott. In 1942, Rodgers co-produced a musical with Abbott, BEST FOOT FORWARD, that he had not even written (save for one unattributed number). Later that same year, he shared producer billing with Wiman on the last new Rodgers & Hart musical, BY JUPITER.
The following year, Rodgers produced the revised version of A CONNECTICUT YANKEE by himself. Early in 1944, with OKLAHOMA! going strong and new R&H writing projects in the works, the team launched their adjunct career. A small office in Room 511 of the RKO Building at Rockefeller Center became home to their production firm, Surrey Enterprises. Its staff consisted of one business manager and one secretary. Its first venture was a play called I REMEMBER MAMA (which later became the basis for Rodgers final Broadway musical) and the author was John van Druten (who would later direct THE KING AND I). It was an enormous hit, and R&H producers-were off and running.
While they continued to serve as authors for their producing colleagues at the Theatre Guild following OKLAHOMA! (1943) with CAROUSEL (1945) and ALLEGRO (1947) plus a brief stint writing STATE FAIR for Hollywood (1945), R&H were fast becoming prime producers in their own right I REMEMBER MAMA was followed by Irving Berlins blockbuster ANNIE GET YOUR GUN (1946) the first time a Broadway composer had fellow writers as his producers. Next, R&H presented a hugely successful tour of SHOW BOAT (1947), Hammersteins masterpiece written with Jerome Kern.
In addition to I REMEMBER MAMA, R&H presented several more plays, including HAPPY BIRTHDAY (1946), a comedy by Anita Loos and starring Helen Hayes (which featured I Havent Got a Worry in the World, a comedy number written for its star by her producers); JOHN LOVES MARY (1947) by Norman Krasna; THE HAPPY TIME (1950) by Samuel Taylor (the play would later become the basis for a musical by Kander & Ebb, while Taylor himself would go onto write the book for Rodgers NO STRINGS); THE HEART OF THE MAITER by Grahame Greene (1950); and BURNING BRIGHT (1950) by John Steinbeck. The Greene closed out of town in Boston, the Steinbeck was a quick flop on Broadway, but the other plays were smash hits courtesy of R&H.
Finally, after five strong years of producing the works of others, R&H were ready to produce their own. SOUTH PACIFIC (1949) was the first musical featuring Rodgers and Hammerstein above and below the title; they would go on to produce, or co-produce, every one of their musicals from then on.
From Business Week, August 1951: In the matter of contemporary success, Richard Rodgers and Oscar Hammerstein II are at the peak of their profession... Since forming their production partnership in 1944, the two have become the most successful firm on Broadway. Since R&H did not divulge financial figures (a policy we still adhere to), the rumor mill ran rampant with exponential theories of multiple revenue streams, cash geysers, and dollar figures that climbed higher than an elephants eye.
Against these tall tales R&H did go on a spending spree, of sorts: they bought the producers rights to their earlier musicals from the Theatre Guild. Now they owned everything they wrote, and could accomplish such mind-boggling feats (for their day, and ours) as establishing their own film company, the Rodgers and Hammerstein Picture Corporation. They subsequently presented the film versions of OKLAHOMA] (1955) and SOUTH PACIFIC (1958), and managed to secure extraordinary control over their other movies as well.
The R&H office flourished. By 1956 it had moved to 488 Madison Avenue (where Williamson Music was ensconced), occupying a suite of ten rooms. The staff, having grown to over a dozen, included a General Manager, a Press Representative, a Casting Director a Librarian, along with the requisite corps of assistants and clerks. Stage and movie productions required supervision; publishing deals, recording contracts and actors terms were in constant negotiation. Ongoing properties were maintained at high standards; new projects were being developed, or pursued.
At its height, the R&H empire stretched from London to Hollywood, with Broadway at its epicenter. Across America, the team was represented by a vast network of national tours; OKLAHOMA! alone traveled for ten and a half years, setting a longevity record that held for half a century Meanwhile, with interest in R&H expanding overseas, a London branch was soon established. Starting with ANNIE GET YOUR GUN in 1950, Williamson Music Ltd. presented R&H productions in the West End, and participated in the UK imports of such non-R&H Broadway fare as TEAHOUSE OF THE AUGUST MOON and the musicals GUYS ANDDOLLS, CAN-CAN, FANNY and DAMN YANKEES (the latter two directed in their London incarnations by Oscars sons William and James, respectively.)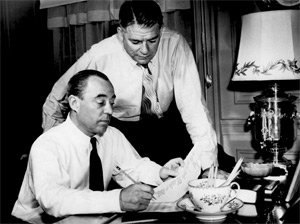 Richard Rodgers & Oscar Hammerstein II working on the score of South Pacific, 1949.
Casting for R&H productions was a cottage industry unto itself, overseen for many years by a remarkable man named John Feamley. R&H would spot fresh new talent in their weekly Thursday morning audition sessions and, like a baseball franchise, farm their rookies out to road tours or Broadway choruses until they were ready to call them up to the Big Leagues. Thus, John Rait was dispatched to the tour of OKlAHOMA! until CAROUSEL went into rehearsals, and Shirley Jones toiled in the choruses of SOUTH PACIFIC and ME AND JULIET before it was time for the OKlAHOMA! film to start shooting.
As the business grew, so did the myths: first, that Rodgers was the bad cop, and Hammerstein the good. (Friend, colleague and occasional foe Josh Logan challenged that one: When [Rodgers] teamed up with Hammerstein, there were all kinds of remarks that the big one [Hammerstein, at six-two] is a nice guy but the little one is a son of a bitch. To me, Dick and Oscar were both tough as nails.) Second, that their producing laurels were only ceremonial and that they delegated the tough work to others. (Friend, colleague and also occasional foe Agnes de Mile took on that canard: They check every aspect of their production like mechanics going over an engine prior to transoceanic flight.)
Third, that Rodgers loved to micro- manage the staff while Hammerstein was all too happy to stay out of their way...Well, that story may have been true. From SOME ENCHANTED EVENINGS (1955), Deems Taylors contemporary account of R&H: The one place to which [Hammerstein] never goes, if he can possibly avoid it, is the Rodgers and Hammerstein office on Madison Avenue, which he regards with simple loathing. This is Rodgers domain. What with guiding the fortunes of their musical plays, to say nothing of their activities as play producers, Rodgers and Hammerstein are decidedly Big Business. And Rodgers takes an active hand in that business whenever he is in New York... Even when he is not actually in the office he keeps in constant touch, telephoning in, or leaving telephone numbers where he can be found at any hour. All this leaves Hammerstein a little wide-eyed, his conclusion being that he must like it, or he wouldnt be doing it.
A key factor in their success was unity. Whatever disputes or disagreements Rodgers and Hammerstein may have had with each other; they kept to themselves. Strategies and priorities were thrashed out behind closed doors, and when they emerged, the duo spoke as one. This single persona was carefully cultivated through public appearances, which were frequent, rarely was either man celebrated without the other. With extraordinary foresight, R&H knew that public relations was a vital part of running a business.
They were early and frequent guests on THE ED SULLIVAN SHOW. They were profiled in Time, Life and Collier's. They were interviewed by Edward R. Murrow, skewered by Groucho Marx, feted by President Eisenhower. They were even a plot device on I LOVE LUCY. Like their compatriot, Walt Disney, R&H recognized that their public profile was a self-endorsement of their product, and they strove constantly to maintain the joint iconic status their works had given them.
Rodgers especially, wrote Frederick Nolan in THE SOUND OF THEIR MUSIC (1978) felt that the name of Rodgers and Hammerstein should be kept constantly in front of the public; that it would help to sell tickets. To that end, he and Oscar became the most available composer and lyricist in theatrical history. This courtship of the press had other benefits too; though agents and performers who faced off against R&H (or their brilliant lawyer Howard Reinheimer) may have had war stories about their fierce bargaining tactics, the public image belied the gossip. When Cleveland Amory profiled the team in a February 1959 issue of Holiday Magazine, his headline called them, The Nicest Guys in Show Business.
R&H wrote eleven musicals in seventeen years an astonishing feat by anyones standards. At the same time, they built a hugely successful business and corporate empire. It would undergo changes and transformations, but the basic structures they put in place sixty years ago still stand today. With the possible exception of The Shubert Organization, no other firm on Broadway rivals R&H in longevity or endurance, and nowhere else is the writer more revered.
If you dont have a dream, the song goes, How you gonna have a dream come true?
From 1960 - 2009
From the Washington Post, May 16, 1976: In a large quiet room at the end of a long hallway in New York City a man sits absolutely still behind a round polished wooden table. He is wearing a dark, pinstriped suit, like a banker, a sphinx-like figure of great and somber dignity. More than dignity a feeling of serenity flows from him, a small, quiet Buddha. He is Richard Rodgers, the man who practically invented American musical theater..
His suite of offices, with an enormous Toulouse-Lautrec Jane Avril poster facing the elevator, is in the same Madison Avenue office building as the New York Jets and the Garden Club of America, and he is as much of an institution, if not more so, than either one.
By the time that article appeared, Rodgers had been a solo act for 16 years, since the death of Oscar Hammerstein in August of 1960. He continued to write at a fairly impressive clip, from the TV documentary score for WINSTON CHURCHILL: THE VALIANT YEARS and extra songs for the movie remake of STATE FAIR and the film version of THESOUND OF MUSIC, to Broadway and TV scores written with himself (NO STRINGS, ANDROCLES AND THE LION), Stephen Sondheim (DO I HEARAWALTZ?), Martin Chamin (TWO BY TWO) and Sheldon Harnick (REX).
In 1962 he took on the role of president and producing director of a new entity, the Music Theatre of Lincoln Center at the New York State Theatre, presiding over a series of opulently-mounted revivals several of which were from his own canon. In addition, the fruitful legacy of his forty respective years with Hart and Hammerstein continued to bloom: young Rodgers and Hart shows from the 20s and 30s, and vintage Rodgers and Hammerstein musicals from the 40s and 50s, were revived with increasing frequency.
In the midst of it all, the business of Rodgers & Hammerstein continued to be the business of Richard Rodgers. In the fall of 1961, while writing a profile of Rodgers for the New Yorker, Winthrop Sargeant visited the R&H office at 488 Madison Avenue. The place contains a large library of scores, Sargeant wrote, a secretary, nine or ten office workers, a grand piano, and a reception room for the constant stream of visitors who want to see the great man for one reason or another...The visitors actors, singers, conductors, publicity men, gossip columnists, and so on sit patiently, happily discussing theatre news (sometimes for an hour at a stretch) until he is free to see them. The spectacle is a little like a levee held in the palace of some old-time European aristocrat.
Or, as Rodgers himself put it: The place makes me feel like a nose-and-throat specialist. From its inception, the R&H office had never ceased to evolve. An early mandate to produce the works of others starting with John van Drutens play I REMEMBER MAMA in October of 1944 soon widened to include the teams own works, beginning with SOUTH PACIFIC in 1949. By the early 1950s, R&H decided to change course once again. After BURNING BRIGHT (1950), a John Steinbeck play that lasted on Broadway for only 13 performances and lost its entire $65,000 investment, R&H decided to pull out of the business of producing for others.
There is just so much time and energy that anyone can devote to the theatre, explained Rodgers in his autobiography, and we had enough to do concentrating on the shows we wrote ourselves. Hence, thereafter we served as producers only for our own musicals and the only reason we did even this was simply that we had assembled a highly capable staff and it was easier for us to make decisions with people we knew well than to put our fate in the hands of others. (Rodgers would go onto co-produce one more Broadway play: AVANTI! [1968] by Samuel Taylor. His co-producers were office colleagues Morris Jacobs and Jerome Whyte.)
As sole owners and publishers of their own work, R&H were also the first to see the gold glistening in their musicals stock and amateur potential. As soon as was decently possible, after Broadway and initial road tours had laid the groundwork, R&H began licensing their properties to the summer stock and now-vanished summer tent circuit, as well as to schools, community groups, and summer camps. What Gilbert & Sullivan chestnuts and American operetta staples were to the pre-WWII era, the R&H musicals were to become for the 50s, 60s and (happily) every decade since. Though there were several respectable licensing houses eager and available to handle the ever-growing R&H catalogue, the duo did not hesitate to keep this latest adjunct of their portfolio where they kept everything else: in-house.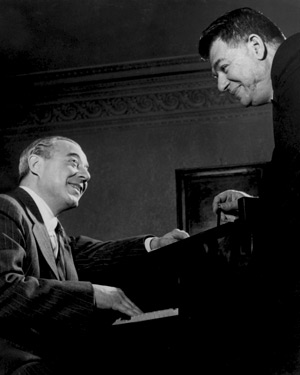 Richard Rodgers & Oscar Hammerstein II circa 1949. Photo by John Swope.
Thus was born the R&H Theatre Library. Around the same time, the R&H Concert Library was born too, as the office found itself responding to more and more requests for R&H compositions from pops orchestras and symphonies. With a keen understanding of the marketplace, Rodgers relied on his trustworthy orchestrator Robert Russell Bennett to devise new arrangements of the R&H standards suitable to symphonic orchestras. Starting with the first such pops concert, at Lewisohn Stadium in New York in 1948, many of these R&H-themed evenings were conducted by the composer himself.
In the stage licensing area, Rodgers oversaw the initial preparation of materials from the Broadway pit to the high school auditorium. In a 1955 book on R&H, Deems Taylor reported: One project that [Rodgers] is directing at the present is the formation of a complete library of the scripts and orchestrations of the Rodgers and Hart shows, the Rodgers and Hammerstein shows [and Hammersteins SHOW BOAT and CARMEN JONES.] This is easier said than done, for the material for some of the older shows has been so long forgotten that it has simply disappeared; and digging it up necessitates a wearisome amount of research.
Rodgers brought a clear-eyed analysis to the evaluation of his early works with Hart, in some cases making the decision (bold for his day) to have scripts revised if he felt the need. George Oppenheimers version of BABES IN ARMS was first licensed in 1959; an alternate script for I MARRIED AN ANGEL by Lois Jacoby was unveiled in summer stock in 1964; and a revamped BY JUPITER, with additional material by Fred Ebb, made its way into the R&H catalogue after an Off- Broadway stint in 1967.
Having outgrown the 488 Madison Avenue offices, R&H moved to 598 Madison in the early 1960s. (Legend has it that Rodgers himself selected the new offices phone number, which played the tune for Doe a deer, a female deer when the appropriate push-tone keys were pressed.) The Theatre Librarys shipping and storage concerns, originally housed within the office, outgrew their original quarters and were relocated to their own space on West 52nd Street in Manhattan, before transferring to a warehouse in Long Island City.
Along with real estate expansion, the roster of writers, shows, and concert works was expanding too. R&H had refocused once again, transformed from a producing engine to a licensing conglomerate. As sole surviving co-founder and chief proprietor of the firm, Rodgers welcomed in Hammersteins eldest son William, who was steeped in the theatrical profession that marked three generations of Hammerstein's before him. However, even with experienced hands like Bill Hammerstein and longtime associates Morris Jacobs, John Fearnley and Jerry Whyte heading the team, there was no doubt where the buck stopped. Who makes all the decisions around here? Me!, Rodgers once groused. I wish to God that just once somebody would turn up who wanted to do something for me, instead of wanting me to do something for him.
There were people who wanted to do something for Rodgers; they wanted to honor him for his lifetime achievements, to celebrate his glorious career. Rodgers the composer kept looking forward, trying to keep up with trends he himself had started, but Rodgers the entrepreneur knew that good PR was good business; as the years rolled by, he therefore accepted one shiny accolade after another, always willing to bask in the glow of earlier eras if it helped the cause.
CBS saluted him with an all-star Ed Sullivan-hosted extravaganza in 1962; ABC offered RODGERS AND HART TODAY in 1967 (with the likes of Bobby Darin, The Mamas and the Papas, and The Supremes); and CBS returned with a Bicentennial special, AMERICA SALUTES RICHARD RODGERS, in 1976 with Gene Kelly playing Hammerstein, Henry Winkler as Larry Hart, and John Wayne introducing a patriotic tribute to Victory at Sea. In 1978, Rodgers was among the first five recipients of the Kennedy Center Honors. At the 1979 Tony Awards, in a move masterminded by the wily impresario Alexander H. Cohen (producer of both the Tony Awards and Rodgers latest Broadway offering, the musical version of I REMEMBER MAMA), a special tribute to Rodgers opened with Manhattan (his first hit, written in 1925) and ended with an unmistakable plug for MAMA.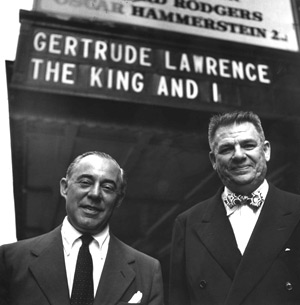 Richard Rodgers & Oscar Hammerstein II under the marquee for The King and I (1951).
And then, on December 30, 1979, at his home in New York City Richard Rodgers died at the age of 77. With an efficiency that he would have appreciated, however, the R&H office kept going. In early 1980, it was announced that Richard Lewine a longtime friend and associate of both Rodgers and Hammersteins would take over the management of the business. Its important that someone with a full appreciation of the artistry of Rodgers and Hammerstein oversees the licensing of their work, Lewine told the New York Times, adding, Ive agreed to supervise all the enterprises owned by the estates for two years. In May of 1981, the Rodgers and Hammerstein families brought in a young man to be groomed as Lewines successor. His name was Ted Chapin.
A slightly bemused journalist for the London Independent wrote recently, Irrational as the response may be, it still feels slightly eerie to dial an office number in midtown Manhattan and hear the receptionist politely identify herself as Rodgers and Hammerstein. With a staying power virtually unmatched in the theatrical industry R&H is still here its offices grown from two employees to more than forty, its real estate morphed from a few rooms in the RKO Building sixty years ago, to two midtown Manhattan commercial spaces today.
No longer a producing entity R&H has emerged as a proactive rights-holding agency, representing dozens of writers and musicals, encompassing the past, present and future and all the while holding to the mantra of our founders: nurture the writer, and protect the copyright.
Ted Chapin has served R&H for over 30 years; Rodgers and Hammerstein thought outside the box, so we try to do that too, Chapin observes. They took risks, so we take risks. Our goal is to build on the incredible legacy of these two extraordinary men.