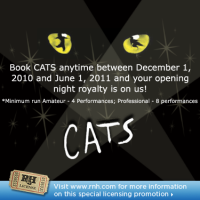 SpotlightPromotion: CATS
We have a deal thats the Cats Meow! Book CATS between December 1, 2010 and June 1, 2011 and your opening night royalty will be on us!
All you need to do is book your production between December and June for performances well whenever!*
"It's a musical that transports the audience into a complete fantasy world that could only exist in the theater and yet rarely does. CATS believes in purely theatrical magic, and on that faith it unquestionably delivers."
- Frank Rich, The New York Times
Based on the universally popular poetry of T.S. Eliot, CATS tells the story, in song and dance, of the annual gathering of Jellicle cats at which time one special cat is selected to ascend to the Heaviside layer. A true musical theatre phenomenon, CATS opened at London's New London Theatre on May 11, 1981 and ran for a record-setting 21 years. CATS's London success was nearly matched on Broadway where it ran at the Wintergarden Theatre for just over 18 years.
*Minimum run: Amateur 4 performances; Professional 8 performances
Apply now for Amateur Performance Rights for CATS
Comments

This would be great if the rights were not restricted....you really should post on your promotions if the rights are currently restricted or not. This is very disappointing to find out after you select your season. This is our 30th Anniversary season, a

The Springfield Little Theatre did an outstanding production of this show in 2010. We now rent our fabulous CATS costumes! Go to www.springfieldlittletheatre.org for photos and more information!
You must log in before you can post comments. You can login
here
.