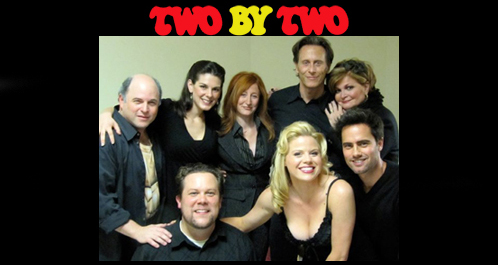 Two By Two Q&A with Jason Alexander
REDISCOVER RODGERS TWO BY TWO
TWO BY TWO is a story as big as the Bible, with a cast size (8) and technical specs (simple set, and the supporting cast of animal players are all located off stage) that is much more down to earth.
It is, notably, a Richard Rodgers musical: Rodgers produced and composed TWO BY TWO, with lyrics by Martin Charnin (ANNIE) and a book by Peter Stone (TITANIC, 1776), based on Clifford Odets' play, THE FLOWERING PEACH. A re-telling of the story of Noah and the ark, TWO BY TWO enjoyed a year-long run on Broadway in 1970-71, followed by a National Tour. TWO BY TWO has seen numerous revivals over the years, with the most recent high-profile staging presented as part of a Rodgers Festival by Reprise Theatre Company in Los Angeles last November.
Directed by David Lee, its stellar company was headed by Reprise's Artistic Director Jason Alexander as Noah, with Faith Prince as his wife Esther; Steven Weber, David Burnham and Justin Robertson as their sons; and Megan Hilty, Vicki Lewis and Rachel as the other halves of these Biblical pairings.
Jason Alexander is one very busy guy, but we were grateful he took some time out to speak with us recently about TWO BY TWO:
R&H: How Did Your Audiences Respond to "TWO BY TWO"?
JASON: I think the audience was amazed that there was a new Richard Rodgers show. Most of them had not ever heard of it or heard of it so distantly that they had forgotten about it. I think they found many of the themes to be timely and relevant. They seemed to be very charmed by the show and at times, quite moved. They certainly were delighted by several of the numbers, and several people remarked that I Do Not Know A Day I Did Not Love You was a true Rodgers gem. The overall response was very positive - people were entertained and taken in by the show.
R&H: What is Your Favorite Moment in The Show?
JASON: I love songs where characters go at each other and the story gets moved along while revealing much about the characters. So for me, the scene that culminates with You Have Got to Have a Rudder on the Ark is pure gold. Funny, chaotic, beautifully constructed. The audience loves it and we did too.
R&H: Wearing your hat as Artistic Director,would you recommend "TWO BY TWO" to other theaters?
JASON: It's a crowd pleaser and a true pleasure for actors. We all felt that the score was terrific. It was beautiful, varied, catchy, funny. TWO BY TWO has a small cast and can be done with very simple and inexpensive scenic elements. It could also be done elaborately but doesn't require that to succeed. It is a piece that is often touching, very often truly funny and ultimately poignant.
* * *
In its original production, TWO BY TWO captured the turmoil of its era with fresh-voiced commentary on the ecology, the Generation Gap, and Mankinds relationship to God. Even as our world challenges have changed over the decades, the essence of TWO BY TWO is as profound as ever -- "timely and relevant," as Jason Alexander says. "Ive got a proposition/That Im sure you will acclaim," sings Noah to the Lord at the end: "You dont destroy the world again/We dont forget your name." In these complicated times, the message of survival and determination at the heart of this full-hearted musical still resonates, as true and timeless as ever.
You must log in before you can post comments. You can login
here
.