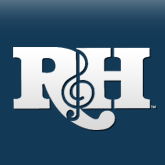 Get to Know the R&H Staff
Full Name: Robert Shapiro
Job Title: Manager, Materials and Foreign Licensing
Favorite R&H musical: SOUTH PACIFIC
Favorite R&H song: Mashup: the opening chords of Something Wonderful (THE KING AND I) and the bridge section of If I Loved You (CAROUSEL)
Favorite caffeinated beverage: Coffee from Cafe Grumpy (224 West 20th St. NYC)
Most played CD on your iPod: Currently, its Tom Kitt and Brian Yorkeys NEXT TO NORMAL.
If you could be any character from an R&H show, who would you be and why? Prince Chulalongkorn. Because I like fireworks and boat races.
Favorite lunch food: Soul Fixins (225 West 28th St. NYC)
Favorite show(s) you've performed in: ONCE UPON A MATTRESS (King Sextimus) and DAMN YANKEES (ball player) in high school.
Favorite travel destination: Bali Hai
Favorite TV shows: Glee, Lost, Battlestar Gallactica, The West Wing and Family Guy
Favorite things about working at R&H: Working with the writers of todays greatest musicals to get materials ready for licensing.
Favorite Broadway actor: Kelli OHara
What you're currently reading: Shades of Grey by Jasper Fforde
Do you have more blue or black pens at your desk? Blue?
Your computer desktop background: Hook Mountain, Nyack, NY
Something all customers should know (about you): I went to college to study physics and astronomy but quickly switched my major to music. In 2007 I received an MFA from NYU Tisch Graduate Musical Theatre Writing Program. As a composer/lyricist, I try to do my best to make R&H a great place for all musical theatre writers.
Complete this sentence: "A day at R&H isn't complete without" Bert Finks puns.
You must log in before you can post comments. You can login
here
.