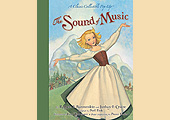 Celebrate the 50th Anniversary of THE SOUND OF MUSIC!
Monday, November 16, marks the 50th Anniversary of the Broadway premiere for the most beloved musical of all time, THE SOUND OF MUSIC.
Join in the celebration with the brand new children's pop-up book adaptation of the famous story (Little Simon/Simon & Schuster), and with Sony Masterworks' 50th Anniversary special edition Original Cast Recording with new liner notes and bonus tracks.
Special invitation for SOUND OF MUSIC fans in the NY tri-state area!
Barnes & Noble Live at Lincoln
presents
THE SOUND OF MUSIC: 50th Anniversary Celebration
Presented in Conjunction with The Rodgers & Hammerstein Organization
Monday, November 16, 2009 at 5PM
Lincoln Triangle, 1972 Broadway at 66th Street
Featuring Original Broadway Cast Members:
Theodore Bikel ("Captain von Trapp")
Lauri Peters ("Liesl")
Brian Davies ("Rolf")
…And special guests including:
Sam von Trapp (grandson of Baroness Maria von Trapp) and
Broadway's own Kate Baldwin to perform "The Sound of Music"
Guests will sign copies of THE SOUND OF MUSIC Original Broadway Cast Recording/50th Anniversary Edition (Sony Masterworks),
THE SOUND OF MUSIC: A CLASSIC COLLECTIBLE POP-UP (Simon & Schuster), and other products featured at the event only.
No other books, CDs or memorabilia, please.
For further information please call the store at (212) 595-6859 or visit www.bn.com/events.
You must log in before you can post comments. You can login
here
.