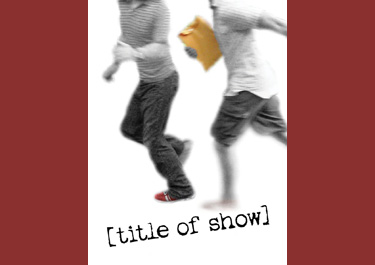 Want to be Part Of It All?
Now you can! R&H Theatricals is thrilled to announce that amateur and professional performance rights are available for Hunter Bell's and Jeff Bowen's original Broadway musical [title of show].
Chronicling its own journey of "Two Nobodies in New York" from their living room to Broadway, this snake-eating-tail Cinderella story received a Tony nomination for Best Book of a Musical in June. [title of show] was called "delectable entertainment" by The New York Times, "a crowd-pleaser" by Variety and "sly, sassy, inspired" by Entertainment Weekly.
The songbook is already available from Williamson Music, but if you want to perform the whole show – with four chairs and a keyboard – hurry up and submit an application for performance rights by visiting www.rnh.com or "Filling Out The Form". Feel free to call (800) 400-8160 to speak with a customer service representative.
You must log in before you can post comments. You can login
here
.