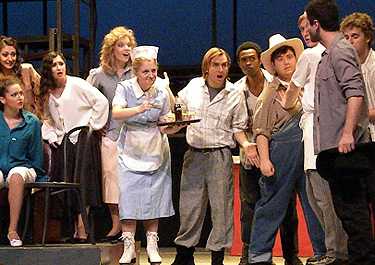 FOOTLOOSE from Minnesota to Istanbul
FOOTLOOSE continues to be among the most popular musicals in the R&H Theatricals catalogue. Productions continue across the U.S. and Canada and throughout the world. In fact, the University of Minnesota Duluth has begun performances of FOOTLOOSE in a co-production with Istanbul University State Conservatory in Turkey. We asked FOOTLOOSE Director and Professor of Theatre and Dance Ann Aiko Bergeron about their experience.
R&H: Is FOOTLOOSE your first collaboration with the theatre/school in Turkey?
Anne Aiko Bergeron: Yes, this is our first fully-produced collaboration with the Istanbul
University State Conservatory. Musical Director, Kate Ufema, and I have been conducting workshops with students in Istanbul over the past four years, with the goal of a collaborative production. You can
imagine how thrilled we are to be working with the Turkish students on our home territory. We are just as invested in them as we are in our own students at UMD.
R&H: What is it about FOOTLOOSE that made you think it was a good choice for this project?
AAB: I think what originally attracted us to FOOTLOOSE was the great music. But as time went on we became very invested in the themes. It seemed more and more appropriate to be doing a musical about young people making change happen in our world. The dancing is just a metaphor for bigger issues. As you can imagine, the young people of Turkey have as much to say about challenging "the way it has always been" as young Americans do. The Turkish students think that the great music, message, and high energy of the show will be very effective in Istanbul, even for those who do not speak English.

R&H: Did you have to work hard to convince your own students or the folks in Turkey about FOOTLOOSE?
AAB: Not at all. Everybody was on board from the get go!

R&H: Was the ratio of U.S. to Turkish actors pre-determined?
AAB: No. We were ready to cast as many Turkish actors as met the needs and standards of our production. We ended up with 10 Turkish actors and 18 American actors. Also, one of our keyboard musicians is from Turkey.

R&H: How is this project (with its copious travel expenses) paid for? Is there an underwriter?
AAB: Dean Jack Bowman has always been a strong advocate of International collaboration. He is always working hard to secure adequate funding for such endeavors. We previously took a full production of another musical to Sicily, so we have a record of being able to tour a production successfully.

R&H: How did you decide which roles to cast with your own students at UMD and which to cast with Turkish actors? Was that your decision alone? Or was it a function of the auditions?
AAB: The casting decisions were made in consultation with musical director, Kate Ufema. We held auditions first in Turkey in January of 2009, then returned to the USA to hold auditions early February. We just looked at the pool we had to choose from and cast it like any show - who would be most appropriate for the role?
R&H: Describe the audition process.
AAB: Due to the language difference, we worked with the Turkish students on the songs, scenes, and dances over a few days. Then we explained to them that we would now be changing roles - and casting purely based on what we would see in the audition. After an open call of dancing and a song, we held callbacks for more singing, dancing, and scene work. The Auditions in the USA required a song and monologue for the open call, as well as a dance audition. Call backs required scene work and extensive singing - fortunately it was very competitive!

R&H: What's the authority structure? Are you the sole director or are you co-directing with Turkish director/faculty member?
AAB: I am the sole director.

R&H: Is the creative staff (choreographer; design team, etc.) all from UMD?
AAB: I am also the choreographer, and yes the design team is also from UMD.
R&H: Dance is so important to FOOTLOOSE. How did your director and choreographer alter egos work together?
AAB: Hmmm...well, we generally get along pretty well. Once in awhile the choreographer wants to do more than is necessary, so the director has to tell her to be a bit more practical.

R&H: So many Europeans speak English. Do all of your Turkish cast members? Is a translator required?
AAB: Most of our Turkish cast members speak some English, some very well. Others understand more than they can speak. We have not had the need for a translator - generally those who speak English well help out their friends. The best thing is that many of the UMD students are learning some practical Turkish in preparation for our trip to Istanbul!
R&H: If any of the Turkish actors do not speak English, how did they learn their lines (I assume the production is in English)?
AAB: Like Urleen says.... "Lots of practice." We did have to allow extra rehearsal time for accomplishing this successfully.

R&H: And will it be performed in English when you take the production to Turkey? What are those dates?
AAB: Yes, the performance will be in English. Everything is not set in stone yet, but as I know it, we will be performing January 6, 7, and 9.
R&H: Will the physical production travel to Turkey or will they build their own set etc.?

AAB: The set will be re-built in Istanbul. We will be shipping the costumes and props.
R&H: What has been the feedback from your cast? Are there themes that especially resonate with them?

AAB: Many responded strongly to the message that you should never let the past hold you back.
R&H: Did they know the hit songs going into auditions/rehearsals?
AAB: Absolutely! They really enjoyed singing the songs in the audition process.
R&H: What did you learn about the show in preparing for this production? Perhaps something you didn't expect or that surprised you.
AAB: I think the most surprising thing about FOOTLOOSE is its substance. After our iChat with Dean Pitchford, we really dug in to find the heart and humanity in the show. And I think we've been successful. Several men have openly admitted to me that they were brought to tears more than once. The cast has done a terrific job in creating an evening of heart, humor, and great soul. When Michael Brindisi [Artistic Director of the famed Chanhassen Dinner Theatres in Chanhassen, MN whose daughter was cast as Ariel in this production] came to see a rehearsal (he had never seen it in production before) he said that after reading the script, he liked it, but after seeing it, he loved it. I would agree whole-heartedly – it wasn't love at first sight - but now the show has me locked solidly in its arms. I think the fact that the show is both entertaining and thought-provoking has really taken many people by surprise.
R&H: And seeing must be believing because Michael will be directing FOOTLOOSE for a 4-month run at the Chanhassen Dinner Theatres with performances beginning in January 2010. Let's hear it for the boy!
You must log in before you can post comments. You can login
here
.