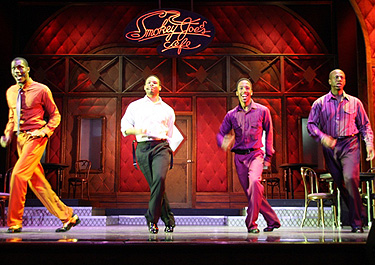 SMOKEY JOE'S on the Seven Seas
SMOKEY JOE'S On The Seven Seas
Besides having a passion for rock and roll, boogy-woogy, and the blues – a passion he indulged by writing many of the most popular and widely recorded songs of the 50's and 60's and many of which are included in the hit Broadway revue SMOKEY JOE'S CAFE – Mike Stoller (half of the world famous song writing team of Leiber and Stoller) is also a passionate traveler. Earlier this year his travels took him on a cruise of the Mediterranean where he was a special guest on Norwegian Cruise Line's Norwegian Jade. Besides enjoying the beautiful Mediterranean sights, Mike and his wife Corky Hale also enjoyed a shipboard performance of SMOKEY JOE'S CAFÉ.
Mike reported to R&H that he was thrilled with the production. "The cast was marvelous" and the physical production very enjoyable "given the limitations of the ship compared with a Broadway Theatre." He had a great time from beginning to end and cites the ship's audience as the perfect demographic for the show. They may have been cruising the Mediterranean but they had "Little Egypt," "Spanish Harlem," and "Kansas City," singing in their heads.
Click here for more information about "Hound Dog" – the new autobiography by Jerry Leiber and Mike Stoller. It's a fascinating and inspirational account of two young kids who developed their talent and achieved their dream of writing songs for all of the most popular recording artists of their day…songs that are still played on airwaves across the globe.
To learn more about or license SMOKEY JOE'S CAFÉ, visit the R&H Theatricals show page.
You must log in before you can post comments. You can login
here
.