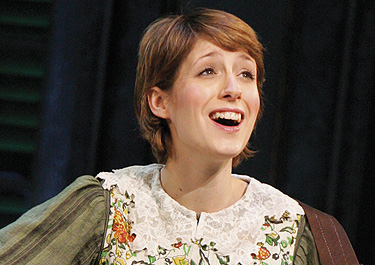 Where the Sun Never Sets
When asked what my job entails, and what I do on a typical day, I usually just think about what is going on that day and that week. Chances are there is a range, from specific decisions relating to current productions and uses of the copyrights (casting approval, for example, on major productions) to long‑term ideas that will take time to nurture.
I was most recently asked this question in Cardiff, Wales. The night before, a UK tour of the hugely successful West End revival of THE SOUND OF MUSIC had given its premiere, and I was now sitting around a large breakfast table the morning after, with Connie Fisher and her extended family, which included her fiancé and his parents, as well as her Mum. Connie is the star of this production, having won the role of Maria in the first-ever TV reality program to cast a stage role; her production had opened at the London Palladium in November of 2006 to great acclaim, boasting the largest advance sale in British theatre history. It was now time for Connie to begin her victory lap all over the U.K. for the people who had voted for her and supported her.
For me, being at the opening of the tour was part of a week in the U.K. which, in many ways, was indicative of what my job is. It began in London, with a pub theater production of CALL ME MADAM, a 1950's confection of a show by Irving Berlin and Lindsay & Crouse. Inspired by news of the day (when President Truman appointed a society hostess, Perle Mesta, to serve as America's first envoy to Luxembourg), CALL ME MADAM isn't performed all that often today, and as I watched the young company, I wondered how much they -- and their audience -- would relate to its '50s style and vernacular.
I had learned a lot about the show the first time I saw it performed, at New York City Center's Encores! in 1995 with Tyne Daly in the lead. Its comedy is based on the classic "fish out of water" scenario: a loud-mouth if friendly American runs amok amidst the denizens of a mythical Middle European Grand Duchy. There is a seriousness to being a "Madam Ambassador," of course, and the gingerbread Duchy (named "Lichtenburg" by its creators) is given a host of economic problems not atypical for post-war Europe at that time, with the Americans predictably -- if naively, we now may think -- falling over themselves to offer generous aid. ("Can You Use Any Money Today?" is one of the score's jaunty numbers.)
The world -- and America's role in it -- is a lot more complicated today, so it's a tricky line the show has to walk dealing with international relations. It takes a light touch to make the plot and comedy work – but when you hear the amazing Berlin songs that go along with a time capsule of a show, it's hard not to think "they don't write them like that anymore."
Another thing I learned from Encores! is how a musical comedy that was originally choreographed by the great Jerome Robbins behaves. He became known for his classic shows in which dance plays a major role; here he was supporting the musical, unlike his work for ON THE TOWN (which preceded MADAM by six years) or WEST SIDE STORY (which followed by seven). The choreography for the Encores! production represented the New York debut of future Tony‑winner Kathleen Marshall, and when I complimented her, she said, "Well, it's pretty easy to do good work when you're using dance arrangements created for Jerome Robbins."
From CALL ME MADAM -- which features a classic Berlin number, "Something to Dance About"-- the next night in London took me to SHALL WE DANCE, Adam Cooper's full-length narrative ballet set entirely to a score made from a variety of compositions by Richard Rodgers.
An ambitious idea that sprang out of the Rodgers Centennial in 2002, SHALL WE DANCE strove to tell its story of one man's quest for love through a lavish ballet work, with twenty five dancers on stage, and twenty five musicians in the (on-stage elevated) orchestra. Cooper used some less well knows dance scores – GHOST TOWN, for instance, that Rodgers composed for the Ballet Russe de Monte Carlo in 1939 – as well as familiar ones like "The March of the Siamese Children" and "Slaughter on Tenth Avenue."
Hearing Rodgers' music put to an entirely new use was bold and thrilling. I hope Adam will have an opportunity to continue to work on the piece and clarify the parts of the narrative that the audience found difficult to follow. He has fans around the world, and there's a good evening here to be found. A second-act hoe-down -- in which everything from "June is Bustin' Out All Over" to "The Lonely Goatherd" was given a foot-stomping, bluegrass fiddle treatment -- was a crowd pleasing highlight.
The next day I was off to Cardiff and the launch of that SOUND OF MUSIC tour I mentioned at the start of this article. Connie became an overnight star in Britain as a result of the MARIA reality show, but since she is Welsh-born and Welsh-speaking ("Cymru'n Croesawu Connie Yn Ôl!" -- "Connie Comes Home!" trumpeted the local ads all over Cardiff), it was also a homecoming. From the stage of the stunning Wales Millennium Centre, Connie's curtain call before the hometown crowd -- sprinkled with a few Londoners such as co-producers David Ian and Lord Andrew Lloyd Webber -- yielded an enthusiastic standing ovation.
Then, it was back on the train to travel to south central England, and the beautiful cathedral town of Chichester where the Chichester Festival Theatre was hosting a controversial production of OKLAHOMA! directed by John Doyle. A 2006 Tony Award winner for his take on SWEENEY TODD, here Doyle created a somewhat bleak OKLAHOMA!, almost in story‑theater mode. Several friends who saw it before I did wondered what I would think of it, and I found it utterly fascinating.
Clearly, a lot of thought had gone into the directorial decisions, which emphasized the community and reality of the time and place over the story of the principal characters. OKLAHOMA! was being performed in repertory with another -- albeit quite different -- work set in that territory a generation or so later: Frank Galati's adaptation of Steinbeck's GRAPES OF WRATH. For OKLAHOMA!, Doyle's austere staging and the minimal, monochromatic set seemed to be influenced more by Steinbeck than Hammerstein.
I am not sure what someone who had never seen the show before would make of it – I should note that I saw two young children there with their father, and they seemed riveted throughout – but I had to admire the choices that were made. Luckily, the score was left alone for most of the show, which allowed for what composer Rodgers and lyricist Hammerstein created to shine through. It was the librettist Hammerstein and choreographer Agnes de Mille who took a back seat this time. Nevertheless, the production is a success, you couldn't get a ticket, and additional performances had to be added to the schedule to accommodate the interest shown by the Festival goers.
The end of my whirlwind week ended on a quintessentially British note -- my first attendance at a wildly popular BBC Proms concert at the Royal Albert Hall. This particular evening was devoted to the lush scores and popular classic songs of the MGM movie musicals. John Wilson, an extraordinary young conductor who is passionate about the film musical, led a hand‑picked orchestra (which applauded the conductor at the curtain call – I have never seen that before) in a celebration that covered THE WIZARD OF OZ, SINGIN' IN THE RAIN, EASTER PARADE and more. American Kim Criswell was one of the soloists, and she lent an air of authenticity to her songs.
I found myself saying to several colleagues, "the sun never sets on the R&H Empire." It's a tricky thing to say while in England, of course, but from the Rodgers & Hammerstein Organization standpoint, it is indeed a gratifying comment. It's exciting to feel that the future can encompass lavish productions with nationally beloved stars, such as Connie Fisher in THE SOUND OF MUSIC, to intimate stagings of brassy American musical comedies like CALL ME MADAM, to boldly experimental works -- whether Doyle's OKLAHOMA! or Cooper's SHALL WE DANCE. That is the way the music and musicals that this organization represents can indeed live on, continuing to please old fans while finding new ones along the way.
And that was all in one week: if I could have stayed over just a few more days, I would have taken in a concert of Rodgers & Hart songs at Cadogan Hall, starring the great Maria Friedman, and yet another R&H musical in a cozy venue: the European professional premiere of STATE FAIR in London's Finborough Theatre.
On my way into London at the start of the week, the immigration officer at Heathrow asked the purpose of my visit: "Business or pleasure?" "Business," I answered. "What are you here for?" he asked. "To see a few shows." "It sounds like a great job," he said, as he stamped my passport and welcomed me into Britain.
"It is," I replied.
You must log in before you can post comments. You can login
here
.