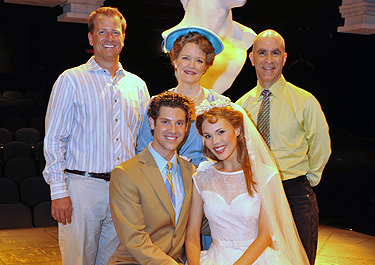 The LIGHT in Lincolnshire
The LIGHT in Lincolnshire
By Charlie Scatamacchia, VP R&H Theatricals
It's been an active summer for the R&H staff with several of us travelling the globe to see our licensed performances. I recently attended the first professional U.S. production of THE LIGHT IN THE PIAZZA in-the-round at the Marriott Theatre in Lincolnshire, IL. It was a marvelous performance. I asked Executive Producer Terry James, Lead Artistic Director for THE LIGHT IN THE PIAZZA Aaron Thielen, PIAZZA director Joe Leonardo, and some members of the Marriott Theatre cast to discuss their experience with this groundbreaking work.
R&H: Would you say THE LIGHT IN THE PIAZZA is a departure from your usual programming? If so, how?
TERRY JAMES, Producer: I wouldn't say that the show is a "departure" from our programming. With being a heavily subscribed theatre by definition, the "mix" of musical genres has always been key to our longevity. Of course having said this, that mix does fall in line with being a populist theatre as well. There is a sense of the familiar which appeals to the casual theatre-goer, yet many contemporary and original approaches to book and score that can both excite and catch "off guard" even the avid theatre customer.
JOE LEONARDO, director: I think PIAZZA is a show that will require an audience to listen carefully and be open to experiencing a piece that has a score and a book with a great deal of depth and intricate sub-text. This will require the audience to pay close attention to appreciate the many subtleties of the work.
R&H: What about the show captured your imagination?
TERRY JAMES: For me the show challenges on so many levels, which is what originally appealed to both Aaron and me. Regardless of "department", there were exciting challenges to be met. The musical score for singer and musician, the physical production evoking Florence, the orchestration, the beautiful time period for costuming – all of these challenges provided for production meetings that really got the creative juices flowing.
JOE LEONARDO: It is a dramatic/comedic musical with a melodic but complex score that challenges the singers. At the same time, the book provides a rich dramatic text (with its mixture of English and Italian), full of subtle moments where the sub-text boils to the surface, providing very immediate and intense theatrical moments.
GENE WEYGANDT (Signor Naccarelli): What initially floored me when I saw this piece at Lincoln Center was the wonderful, truthful, beautiful ambiguity of life and the surprises that life brings us. We're all visitors here, and however much we think we have some control over and understanding of life, we're all just like Margaret; groping for some understanding of the human condition.
R&H: Is there a particular message or theme in the show that resonated with you?
GENE WEYGANDT: "Love, love, love if you can… and be loved."
SUMMER SMART (Clara): Exactly! Also, love is understood with the heart. It is not a result of reason or even of words spoken.
MARY ERNSTER (Margaret): And love is really the thread that makes our lives valuable. Margaret focuses on loving Clara intensely and giving her the best life possible…which ultimately includes letting her go so she may find her own love. It's a huge risk.
JOE LEONARDO: We all should be allowed to search for love, to experience the journey – even though there are no guarantees that it will turn out 'happily ever after'. We may be from different cultural backgrounds or speak a different language but we all hope to be happy, are passionate for our children and want the best for them. And this type of love/concern cuts across cultural and language barriers. We are all the same when it comes to the search for happiness for ourselves and especially our loved ones.
R&H: Much of PIAZZA takes place in Florence which, as the title implies and some lyrics describe, is full of central squares and "piazze." Since your theatre is in the round, was this a help or a hindrance to your designers as they attempted to bring the world of PIAZZA to life?
JOE LEONARDO: Ultimately it was a blessing, but we spent a great deal of time finding the appropriate look. We wanted to suggest a city that is suffused with light of a special quality and full of great art – no matter where you turn. Initially we talked about going in a direction that was much too literal and we couldn't do that effectively in-the-round. Ultimately we settled on a series of arches that would surround the squares and 'piazze' and move to configure side-streets, rooms, etc. The art would be represented by fragments of marble statues and empty gilded frames. We decided to rely on the audience's imagination to fill in the frames with great paintings and complete the rest of the statues in their minds. We decided to just 'suggest' Florence.
R&H: Being in the Chicago area you have access to an extraordinary pool of talent, many of whom have worked repeatedly at the Marriott Theatre. Was there a collective response from your actors to your decision to include PIAZZA in your 2009 season?
AARON THIELEN, Lead Artistic Director: When we started the casting process we were overwhelmed with the response from the acting community in Chicago. This show holds a very special place in actors' hearts, even in this early journey of the piece. In casting, we really wanted to find actors as close as possible to the age of the characters they were portraying. Of course given the demands of the score and book, this made it all the more difficult in finding the perfect Fabrizio and Clara for our production. When Max Quinlan and Summer Smart were put together during the auditions, we knew we had found our matching.
R&H: THE LIGHT IN THE PIAZZA played at the Goodman Theatre prior to debuting in New York. At that time, the dialogue for the Italian characters was in English. How do you feel about the subsequent decision to have them speak Italian when they are among themselves?
ALEXANDER AGUILAR (Giuseppe): I think the Italian is a very important part of the show. Having characters speak in Italian with no subtitles helps take the audience on the journey with Margret and Clara. They understand the frustration and also the humor that comes with the language barrier.
MARY ERNSTER: It clarifies for the audience Margaret's "stranger in a strange land" experience and helps them experience it with her. And it also demonstrates that love – parental, familial, romantic – is understood despite a language difference.
R&H: How did you let your audience know that PIAZZA would be perhaps a different theatre-going experience then they may have been accustomed to?
JOE LEONARDO: As was done in the New York production we created a pre-show announcement in Italian with occasional English words. It lets the audience know that they are in for an experience where you must listen carefully, that you will be hearing Italian spoken, and that you are allowed/encouraged to laugh. I think it helps set the tone of the evening.
R&H: Did your opinions/assumptions/pre-conceptions about the play change during the rehearsal process? Did you make any interesting discoveries about PIAZZA?
JOE LEONARDO: Personally, I have always admired the score but as for the book, I have come to admire it immensely. I thought it was a fine book until I started working on it with the actors. Now I think it is a superb book, rich in subtlety, textured, funny, dramatic, with wonderfully complex characters. The subtext is rich. There is so much going on dramatically. Craig Lucas deserves tremendous credit for his book. It perfectly complements the brilliant score by Adam Guettel.
GENE WEYGANDT: It's much funnier and more filled with joy than I recalled.
MAX QUINLAN (Fabrizio): And it was interesting to discover that the humor in the story results from just raw human interactions. It's something you don't necessarily realize from reading the script but it comes to life when there is an audience there to react.
R&H: The score may be different from what your orchestra members have played in the past. Have they offered any thoughts on playing the score to PIAZZA?
JOE LEONARDO: We're told the musicians are loving the challenge of playing this music and are having a good time.
R&H: What are some of your favorite moments?
MAX QUINLAN: One of mine is Margaret's and Roy's second phone conversation where through arguing about their daughter's future they realize their past was never as strong as they once believed it to be. It's really good writing.
GENE WEYGANDT: "Love, love, love if you can, oh my Clara. Love if you can and be loved." That sentiment gets me every time.
MARY ERNSTER: I love singing "Dividing Day." But I also love watching my cast mates. When Paula Scrofano as Signora Naccarelli describes her two sons. It's priceless. And Summer singing "The Light In The Piazza" is so beautiful.
R&H: What are some of your audiences' favorite moments?
JOE LEONARDO: Those moments seem to be the ones that allow the audience to demonstrate how heavily invested they are and how much they've been paying attention. Like the first act curtain when Margaret discovers Fabrizio in Clara's hotel room – that elicits an audible response. And they gasp when Clara throws the wine in Franca's face during "Clara's Tirade." And you can hear a pin drop when Fabrizio sings "Love To Me" to Clara.
ALEXANDER AGUILAR: I have to agree with Joe. "Love To Me" is one of the most beautiful things I have ever heard. It manages to be simple, yet poetic. Sophisticated, yet humble all at the same time. It's one of my favorite moments, too.
R&H: Do any of you have advice for future producers, creative staff, actors of PIAZZA?
JOE LEONARDO: Adequate rehearsal time is key – particularly on the music which is challenging but so rewarding. An experienced and theatre-savvy dialect coach (both for the Italian and for the U.S. southern accents) is also important. The dialects must sound authentic but must in no way obscure the text. Keep the playing of the show simple and truthful. The humor arises from the situations and the language. And most important – tell the story…cleanly and clearly. That's what we all come to the theatre to see.
SUMMER SMART: Yes, don't try to manipulate or force the light in the piece…let it shine through you…tell the story.
MARY ERNSTER: Open your heart to these characters and they will truly inform you as to what to do and how to do it.
###
THE LIGHT IN THE PIAZZA also had its European premiere in May at the Curve Theatre in Leicester, England. Directed by Paul Kerryson, the cast included Matt Rawle (West End's ZORRO) as Fabrizio, Caroline Sheen (West End's MARY POPPINS) as Clara, and Lucy Schaufer (City Center Encores! LADY IN THE DARK and ONE TOUCH OF VENUS) as Margaret. The production, which ran from April 30th to May 23rd, received 5 out of 5 stars from The Guardian and was called "impressive", "brimming with passion", and "musically intelligent" by the critics.
You must log in before you can post comments. You can login
here
.