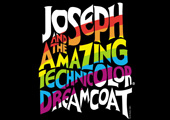 JOSEPH All the Time!
JOSEPH AND THE AMAZING TECHNICOLOR® DREAMCOAT is one of the most popular musicals in the R&H Theatricals catalogue and indeed in the Broadway musical repertoire. It is this universal appeal that has kept Joseph and his brothers criss-crossing the country in sold-out tours year after year—a result of which has been difficulty in obtaining performance rights for our Stock and Amateur customers.
NOT ANY MORE! For the foreseeable future, there will be no tours of JOSEPH in the U.S. and Canada. This means R&H will now be able to license JOSEPH with an absolute minimum of restrictions.
And remember—we now have two amazing versions of JOSEPH AND THE AMAZING TECHNICOLOR® DREAMCOAT. The original classic version that has delighted audiences in theatres near and far…plus our new JOSEPH/U.K. version that includes among other wonderful features—The MEGAMIX!
Apply online now:
Or, call us toll free at 1-800-400-8160 to speak with one of our licensing representatives, or fax us at (212) 268-1245.
Comments

Good evening. We have a contract to produce Joseph in September, 2012. We would like to know if Joseph/UK/Megamix version instead. Account number 226103. License # ID-103521.We have already paid the royalties. Thanks so much. Nancy Lupien
You must log in before you can post comments. You can login
here
.