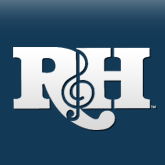 Get to Know the R&H Theatricals Staff: Christina Haritopoulos
Show Business introduces you to the members of our R&H Theatricals Staff with a Q&A. In this issue, get to know Amateur Licensing Representative Christina Haritopolous.
Full Name: Christina Haritopoulos
Job Title: Amateur Customer Representative
Favorite R&H musical: THE SOUND OF MUSIC
Favorite R&H song: Edelweiss
Favorite caffeinated beverage: Pepsi
Most played song on your iPod: "I Told You So," by Carrie Underwood
If you could be any character from an R&H show, who would it be and why? Maria [from THE SOUND OF MUSIC], because she always looks for the good in people…
Favorite lunch food: Super Mac and Cheese
Favorite travel destination: Orlando or Vegas
Favorite thing about working at R&H: It is very easy to learn new and interesting things about the theatre world, things I would have never known without working for this company.
Favorite actors: Keira Knightley & Christian Bale
Favorite TV show: Grey's Anatomy
What you're currently reading/book to recommend: Just finished reading Angels and Demons by Dan Brown.
Favorite place in Manhattan: [Madame Tussauds] Wax Museum
Your computer desktop background: Pictures of Family and friends
Three things all customers should know (about you or R&H): 1. Yes! At long last, we can now offer you the version of JOSEPH…DREAMCOAT that has The Megamix! 2. We will do everything in our power to make sure that your questions are answered and your concerns are addressed. 3. My brain shuts down around 4:58!!
Complete this sentence: "A day at R&H isn't complete without…" [Customer rep] Tim Matson singing.
You must log in before you can post comments. You can login
here
.