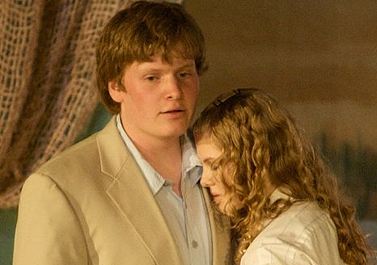 An Interview with Liz Callaway, Cris Groenendaal and Family
The R&H Theatricals staff tries to see as many of the productions it licenses as possible. Sometimes seeing these productions involves some lengthy travel time. Other times the productions are in our backyard. Such was the case with the Croton Harmon High School production of SOUTH PACIFIC. CHHS as the locals refer to it is located in Croton-on-Hudson, New York – a mere 34 miles north of New York City. It has been an ideal place for many Broadway actors and theatre professionals to live and raise families while still being able to make their 7:30pm "half-hour call." Croton's past and present theatre pros have included George Hearn, Audra McDonald, Jeff McCarthy, Cass Morgan, and Anne Hampton Callaway – who have a fair number of Tony nominations and awards between them. Also living in Croton are Liz Callaway and Dan Foster, and Cris Groenendaal and Sue Anderson.
Theatre fans know that Liz appeared in the original casts of MERRILY WE ROLL ALONG, BABY (Tony nomination), and MISS SAIGON (and recently hit a home run recording "The Gentleman Is A Dope" on R&H's first complete recording of ALLEGRO) while Dan is a successful theatre and TV director and co-founder of the Hudson Stage Company, a professional theatre company in Westchester County. Cris has appeared in the original casts of SWEENEY TODD, SUNDAY IN THE PARK WITH GEORGE, and THE PHANTOM OF THE OPERA while scoring a comedic success as Miles Gloriosus in the Broadway revival of A FUNNY THING HAPPENED ON THE WAY TO THE FORUM starring Nathan Lane. Sue is well known to Broadway singers as a gifted musical director, conductor and accompanist.
So it was of particular interest to us to learn that Liz and Dan's son Nicholas Foster, and Cris and Sue's daughter Emily Groenendaal were cast as Emile and Nellie in CHHS's production of SOUTH PACIFIC. Charlie Scatamacchia, Vice-President/R&H Theatricals and Croton-on-Hudson resident, sat with these six members of Croton's theatrical community to discuss SOUTH PACIFIC and Rodgers and Hammerstein.
CHARLIE (R&H): Let me start with our new crop of stars, Emily and Nick. You have both grown up with your parents working in the theatre. Have their many jobs and projects been something you've focused on over the years or is it just what mom and dad do?

EMILY: For me, personally, it's just what mom and dad do. Since I've grown up around Broadway, I see it as just a regular job. I find it so odd when my friends marvel at my parents' work, because, to me, it's just as normal as saying, "my parents are accountants," or something. Although, if I really like the show [they're working on], I'll focus on it more and show the fact of it off to my friends, but, for the most part, it's just a regular job.
NICK: I agree. It's what my parents do…like one of my friend's dad is a stockbroker. No one gets too excited about that. But I am fortunate that mine do some cool things. And sometimes my friends are impressed by the "wow" factor. But it's what I've always known so I don't make a big deal about it.

R&H: What was the first Rodgers & Hammerstein musical you remember seeing?

EMILY and NICK (simultaneously): THE SOUND OF MUSIC.
EMILY: I saw [the film] when I was about seven and thought it was fantastic as well as educational, because it taught me 'Do Re Mi', which is something that I did not know before I viewed the musical.
NICK: I was about the same age. I remember liking [the film] a lot. Though I was too young to appreciate all of the nuances that I would get later on – I couldn't understand why they kept saying, "Hi Hitler" – I knew it was a better-than-average movie musical.

R&H: Do you have a favorite R&H musical?

EMILY: My favorite Rodgers & Hammerstein musical would have to be CINDERELLA. It is something that every child has seen and it brings a whimsical fantastical element to everyday life, that inspires young girls everywhere to always hope and strive for their dreams, no matter what the obstacles.
NICK: After I was cast as Emile my parents got me tickets to see SOUTH PACIFIC at Lincoln Center Theatre. It was excellent and an eye-opening experience. Seeing that production and then getting to perform it myself kind of locked in SOUTH PACIFIC as my favorite.

R&H: What thoughts did you have when CHHS announced that you'd be doing SOUTH PACIFIC?

EMILY: When CHHS announced that we were doing SOUTH PACIFIC, I was kind of nervous and scared because a lot of us didn't know the musical well. We were concerned about the show's success. But I was glad that we did it because it was so much fun and the people were so great to work with.
NICK: I'd heard the show was good but I didn't know it well, either. So I read it and listened to the score. When I heard Emile's two songs I knew I wanted to play Emile. I'm a senior and hadn't been in our school musicals before so this was my last chance. I worked really hard on "Some Enchanted Evening" for the audition.

R&H: Emily, did you immediately pick out Nellie as the role you wanted?

EMILY: No, I didn't. I didn't want to bring my hopes up about getting a lead role, because I'm a Freshman, so I just wanted and expected to be part of the ensemble.

R&H: What did it mean to each of you to be cast in these roles?

EMILY: It was a huge surprise when I was cast as Nellie. I didn't expect it at all. Hearing the news, it felt like a blessing and a curse. A curse because, looking at the leads of musicals in the past, I had a lot to live up to, but a blessing, because it raised my self esteem in the fact that I was a good actress and singer.
NICK: I was happy. I don't really hang out with the show kids. Most of my friends are athletes. Emily's brother Lucas and I have been tennis doubles partners for years. I've sung in the school choir but always as part of a group…in the shadows…never a soloist. I'd always been self-conscious. As a Senior it felt good to get to do something so visible as the lead in the school musical. A lot of folks didn't know I could do it. This experience gave me a lot of confidence.
R&H: Nick, how did your tennis partner feel about you playing romantic scenes with his younger sister.
NICK: I told him right off I'd be perfect gentleman! Seriously, Lucas and Emily and I have known each other since we were little kids. I remember years ago my mom and Emily's dad sang a concert together in Nantucket. Our folks rented a house together and we all spent a great week hanging out.

R&H: Did you have any concerns about the singing?

EMILY: I really didn't. The range of the character was my ideal range, and I had no fear of messing up high notes because there were none. The only problem that was actually nerve-wracking, when it came to the singing, was probably the words of the songs, because Nellie has four solos and many reprises.
NICK: The role of Nellie was triple-cast and all three Nellies were pretty competitive. Emile was double cast and the other Emile, Ari Messenger, is a really good musician. All of this raised the bar for me and my competitive streak from tennis came out. I worked really hard on my songs.
R&H: That work really paid off. Both of you sang your songs beautifully. Do you think SOUTH PACIFIC has any message that is particularly meaningful to a contemporary audience?

EMILY: I think that SOUTH PACIFIC just reinforces the morals and messages that people shouldn't judge one another based on things that cannot be helped or changed, and that war always ends in death and destruction. Of course today there would be no problem loving someone who once loved someone else of a different race, but it just shows that little things like race or religion should not play a part in who one will love.
NICK: I think SOUTH PACIFIC reminds us of the irrationality of racism. Unfortunately, racism is still with us. But in SOUTH PACIFIC we see Nellie grow and we see that people can change. I thought it was interesting that there was no applause after the song "You've Got To Be Carefully Taught." The message in that song, and the way it's structured at the end – with no real 'button' – leaves the audience to really think about the choices they are taught to make.

R&H: Did either of you ask your parents for help in preparing for the show? Or did they just volunteer?

EMILY: While preparing for the show, sometimes I asked my parents or my brother to run lines with me to make sure that I had them cold, but for the most part my parents volunteered to help and were eager to see how I said my lines with what timing, so that they could give me notes as to improve.
NICK: There were a few scenes I only got to rehearse once so running lines with my mom was very helpful.

R&H: Now…parents – you all have significant experience with the R&H musicals and their songs. What are some general thoughts about them both in your own work and with respect to youth productions?

CRIS: I've enjoyed the R&H shows I've gotten to do in my career – Mr. Snow in several productions of CAROUSEL and Lt. Cable in SOUTH PACIFIC for Beverly Sills's New York City Opera production back in the 80s when I would still agree to take my shirt off in public. And in various concerts around the States and the world, I've sung a lot of R&H because it always appeals to a symphony-going audience. In terms of youth productions that I've seen, the style of singing required for R&H shows provides a valuable learning opportunity for young singers because beautiful legato, excellent pitch, and breath control, are all required. And these, of course, come with maturity and experience.

R&H: Dan – you directed THE KING AND I for Croton Teen Theatre some years ago (Nicholas – as he was called then – was Louis.) As I remember, you weren't initially enthusiastic about the choice. Explain.
DAN: I was hesitant. I suppose I was a bit of a snob and held some mistaken impressions about the "old war horses." I wondered if they still had anything to say. And I felt this despite having seen a production of THE KING AND I back in the '80's at the Marriott Theatre in Lincolnshire, Illinois that completely blew me away. Until then I had no idea what was in the show and my respect for R&H changed dramatically. Still, when it came time to consider directing it with a cast of teens I was worried. "Would the kids 'get it'?" What I discovered it is that R&H did it all for you. You don't need to dress it up…or re-invent it…or re-imagine it. And audiences are smart. They know if you're just giving them filler and ignoring the real meaning in the stories. The librettos are so well-written and the shows are so well-crafted you just have to stay out of the way. Of course, you have to do your homework. The R&H shows are packed with social and political issues that are so relevant today. And the kids got it completely!
LIZ: I agree. My first live R&H show was OKLAHOMA! at New Trier East High School in Winnetka, Illinois. My sister Ann (Williamson Music writer Ann Hampton Callaway) was in the chorus. It was an extraordinary experience for me and one I'll never forget. Since that time I've seen many large scale revivals of the R&H shows and others as well. It's odd to say, but seeing these shows on a smaller stage, in a more modest production with less window dressing, in some way makes them more accessible to audiences. It's an interesting phenomenon. One thing I can say is that the R&H shows seem to be production-proof. No matter what goes on the audience still gets to hear those wonderful words and beautiful melodies.

R&H: Liz – you made your Broadway debut in a Stephen Sondheim musical. And for the newly released recording of ALLEGRO you recently went into the studio to record "The Gentleman Is a Dope"– with a lyric by Sondheim's mentor Oscar Hammerstein II. Is there any connection between the two men's work that has resonated with you?
LIZ: The work of both men is so succinct…so economical. They really do the work for you. They are also very character- and situation-specific. For example, I sang "Getting Married Today" from COMPANY in a concert in Chicago. Many people think of that song as merely a challenging tongue-twister. But so much more than that, it is a total reflection of who this woman is and the circumstances she finds herself in. The same thing is true for "The Gentlemen Is A Dope" in ALLEGRO. The choice of words fit the woman perfectly and the rhythm of the music ideally suits her mood at that point in the plot. They were masters. And R&H felt no need for pyrotechnics. The R&H musicals earn their audience's response. They don't just overwhelm you with the singer's high notes.

R&H: Liz – do you have a favorite R&H performing experience?
LIZ: Except for a benefit performance in which I played Nellie in a concert version of SOUTH PACIFIC I've never appeared in a Rodgers & Hammerstein show. And I would love to. I would love to play Maria in THE SOUND OF MUSIC, or Anna in THE KING AND I. And running lines with Nicholas I was reminded what an amazing role Nellie is. Of course, I've sung so many R&H songs in concerts. Just recently I sang "Something Wonderful" and "A Wonderful Guy" on the same program. People are so happy to hear these songs. And that includes me. I love to see these shows and songs as an audience member and not always be the one performing.

R&H: Cris – you have spent much of your career appearing on Broadway in Stephen Sondheim musicals. Yet, your performance as Mr. Snow in CAROUSEL (which I was lucky enough to see at Pittsburgh CLO) was classic. What are your thoughts about these masters?

CRIS: I was recently listening to a podcast about Stephen Sondheim, and he, himself, talks about how much he learned from the R&H shows, both the hits and also those which were not quite as successful. The shows of both masters are story and character driven, but I find those of R&H more defined and straightforward and if I may say somewhat more simplistic and thus easier to understand. The music and lyrics of R&H also seem to be sunnier and a bit more optimistic, though Sondheim, of course, is hopeful, too, when it's called for.

R&H: Do you have a favorite R&H performing experience?

CRIS: Yes, I would have to say Mr. Snow in CAROUSEL is my favorite R&H performing experience. Every now and then you land a role that suits you perfectly not only vocally but also matches your sense of humor, character, and personality.

R&H: Sue – working on Broadway as a conductor, pianist and accompanist playing for a vast array of performers you might have the broadest experience of all with R&H. To what do you attribute the longevity of the work of these men?

SUE: I just find all of their music exceedingly accessible - absolutely everybody knows at least one song or show. What other song writing team or person can you say that about? I've played thousands of R&H songs in auditions and conducted or played several at various summer stock productions. The only time I did SOUTH PACIFIC was for the 1999 Teen Theatre production in Croton, and the subsequent anniversary celebration in NY - when was that - 2000?

R&H: Close - the 50th anniversary concert at Symphony space was in 1999. And as we celebrate SOUTH PACIFIC's 60th anniversary this year, Nick and Emily – any advice for other young actors who might be doing Emile and Nellie in future years?

EMILY: My advice would be to play Nellie as a character who never loses hope. Play the character as a very optimistic person, who thinks that everything in life is a blessing and that one should enjoy every minute of it. Nellie is naive and everything that she experiences in the play is new to her, so there is always a sense of wonder and excitement about her, but when she finds out that Joe Cable dies, her positive outlook on life shatters, and that change needs to be very apparent.
NICK: Try to connect with Nellie. Emile's and Nellie's scenes are so focused and intimate. Respond to what your Nellie gives you. Don't have pre-conceived ideas about how to play the scenes. Listening is key.
You must log in before you can post comments. You can login
here
.