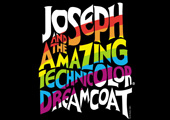 Josephs & Cinderellas
Did you notice that we have two versions of both JOSEPH AND THE AMAZING TECHNICOLOR® DREAMCOAT and CINDERELLA?
We have two versions of CINDERELLA: our classic edition based on the 1957 television broadcast, which starred Julie Andrews, and our new stage adaptation, based on the 1997 telecast starring Brandy and Whitney Houston. Here are some exciting features of the new Enchanted Edition:
Three R&H classic songs have been added: "The Sweetest Sounds," "Loneliness Of Evening," and "There's Music In You"
Expanded versions of "In My Own Little Corner" and "The Prince Is Giving A Ball" (with additional lyrics by Fred Ebb)
A new "Prologue"
The song "Your Majesties" has been replaced by "Boys And Girls Like You And Me."
A two-act structure compared to the three-act structure of the traditional show
The addition songs listed above have been orchestrated to match Robert Russell Bennett's original classic orchestrations
The Piano-Conductor Score, Vocal and Orchestral parts have been created using the most up-to-date music notation programming and are user-friendly and accurate
Our libretto has been reformatted to R&H standards for easy reading and rehearsing.
If you would like to license CINDERELLA Enchanted Edition, visit our Request License page.
Our new edition of JOSEPH AND THE AMAZING TECHNICOLOR® DREAMCOAT ("JOSEPH/U.K.") also has exciting features including the addition of The Megamix!
New, larger 15-piece orchestration compared to our original 10-piece orchestration
Expanded music and dance sections including the "One More Angel" Hoedown; "Go, Go, Go, Joseph" dance break; "Song of the King" Reprise; and segues between songs for easier transitions
New keys for major songs for easier performance
Changes in notation, rhythm and harmonies to reflect a more modern "pop" performance style
Expanded choir allowing a greater ensemble participation
A complete Libretto-Vocal Book with scene designations, music cue marking
And of course,The Megamix is now available as a separate rental (additional fees apply)
Comments

Hello, Do you have a performance soundtrack if we do not have the ability to use a live orchestra?
You must log in before you can post comments. You can login
here
.