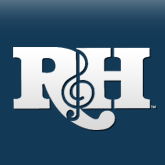 R&H: Recognition & Honors
The Rodgers & Hammerstein Organization and Modus Associates (http://www.modusassociates.com) received the 2009 Internet Advertising Competition Award For Outstanding Achievement in Internet Advertising for our R&H Newsletter Marketing Program. (And you're reading about it right now through our on-line newsletter! As the [TITLE OF SHOW] kids might say, "How meta is that?!") The Internet Advertising Competition (IAC) Awards are produced by the Web Marketing Association to honor excellence in online advertising, recognize the individuals and organizations responsible, and showcase the award winning Internet advertising.
Microsoft has recognized The Rodgers and Hammerstein Organization & our partner Cole Systems Associates, Inc. (http://www.colesys.com) with a 2009 Microsoft Dynamics Customer Excellence in Evangelism, an award which recognizes a customer that has demonstrated a strong commitment to Microsoft technology and services. The recognition is given when a customer not only evangelizes Microsoft business management solutions, but is also a source of continual feedback to Microsoft and takes the time to engage with other customers or potential customers to share learning. We congratulate our own John Elmer, who has run our IT team, and was the R&H man on the scene at the 2009 Customer Excellence Awards in New Orleans in March.
You must log in before you can post comments. You can login
here
.