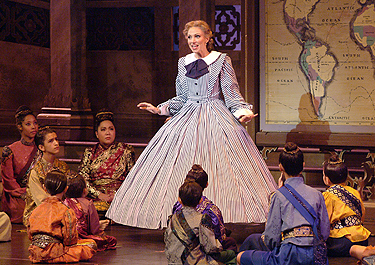 Cabrillo Music Theatre Continues to Thrive
Though many theatres today are facing dire financial challenges, many more continue to meet their challenges and "whistle a happy tune." Most of these theatres are long standing institutions in their home towns whose records of success are well known. We are pleased to share with you an interview with Carole Nussbaum of Cabrillo Music Theatre in Thousand Oaks, California – a theatre she has brought back from the brink.
R&H: When did you assume the roles of President and CEO?
Carole Nussbaum (CN): I took the position of President and Chief Executive Officer of Cabrillo Music Theatre in the Spring of 2005.
R&H: What were you doing prior to that?
CN: I was working as a business consultant to a number of non-profit organizations. My professional career has been rather diverse! I began as a prosecutor in the New York State Attorney General's Office, Not-For-Profit Corporations Bureau protecting a variety of non-profits, including theatre companies. I went on to private practice working with Fortune 500 companies and other high profile clients, including the Mayor of NYC.
R&H: What was your experience with or awareness of Cabrillo Music Theatre prior to coming on board?
CN: I had some acquaintance with Cabrillo Music Theatre having attended many of its productions. As a member of the Allocations Committee of the Alliance for the Arts, I was also familiar with its serious financial problems.
R&H: What were your thoughts about what you observed?
CN: Cabrillo was a community theatre company with well intended people. But it seemed to me they had an inconsistent "product". It was clear they were facing financial challenges. I soon learned, the company was in fact broke.
R&H: What made you think you could turn things around?
CN: I have had considerable experience with financial turnarounds. Having worked with non-profits my entire professional career, I am most comfortable with my knowledge of the rules, regulations, and laws regulating non-profits. Also, my love of the arts was a great motivator. Having grown up in New York, I am a huge fan of musical theatre. Indeed, my short-run "career" as a dancer helped me pay my way through law school.
R&H: For some time now we've heard of at least one theatre each year closing its doors. Why did you think it was important to keep Cabrillo going?
CN: The arts are a critical part of life. I would go so far as to say they are essential to having a happy life. There was a time theatre was considered to be strictly for the "cultured". Times have changed. I consider theatre as much a necessity for people as "reading, writing, and 'rithmetic". I saw in Cabrillo a perfect mechanism to bring the magic of live theatre to thousands of people. I also envisioned it as a facilitator of good for underserved individuals who could not afford the price of a ticket. I was confident I could create an extensive "OUTREACH" program.
R&H: What did you feel was the first thing that needed to change and how did you go about changing it?
CN: The first thing that needed to change was the lack of change. Equally important, there was "no business" in their show business. Not unlike a theatre production, I began by "writing a script" -a strategic business plan of what to do and how to do it. Again, like a show, I invested a multitude of hours into the plan well before "opening night". Raising money, re-negotiating debt, securing sponsorships, cutting budgets, hiring and firing staff, and much else was all part of it. Having a sense of urgency was crucial.
R&H: Cabrillo has been casting its shows with some higher-visibility names than in the past. Is that part of your plan?
CN: Absolutely. My goal on the artistic end is to provide a level of production that is intoxicating. "Go Big or Go Home" has been my motto. I'm asking patrons to take their precious time and part with their hard earned money to buy a ticket to our shows. I need to earn that right. They're entitled to premier entertainment. In that regard, I hired a top flight Artistic Director, Lewis Wilkenfeld, within the first year of my becoming President. Lewis is hard-working and wonderfully talented. We also share the same passion for live theatre, so we're a good team.
R&H: You have launched a number of OUTREACH initiatives including performances for the local military. Tell me about that.
CN: Donating tickets to people who cannot afford to attend our performances, is THE sine qua non of my plans for Cabrillo. When I arrived at Cabrillo one of my first initiatives was Adopt-A-School. We provided tickets to underserved children in Title I schools. Since its early start, I've expanded the program quite extensively. I take great pride in telling you in the three years of this program, we have provided more than 16,000 underserved children, active military, and in-need seniors with free tickets to our shows. Everyone adores the shows and we adore them. We have devised special senior matinees. We've also worked with the Ronald McDonald House, and brought a bit of the magic of live theatre to seriously ill children. It's been extraordinarily satisfying.
Last year, we reached out to our local Naval Base at Port Hueneme and Point Mugu. I arranged with the Commander of the base to have several hundred enlisted folks attend one of our productions. At opening night, I announced the presence of our military. The reaction was moving and overwhelming. The entire audience stood and applauded these brave men and women. The community took pride in what we had done. So I went a step further to display our commitment to our heroes. Last year we produced a Christmas show at the Naval Base exclusively for the active military. It was met with a full house of cheering, joyous troops who were on their way to and from Iraq. We were so touched we made it an annual event.
R&H: It sounds like it was a big success.
CN: Yes, for sure. Aside from the hundreds of letters and calls we have received from the children, parents, teachers, and Navy personnel, it's the right thing to do. I've been raised on the belief that giving back is a person's moral obligation. If everyone would give a little, a lot of needy people would get a lot. The other good news is that these types of programs have encouraged people to "help us help others." Our sponsors and donors feel good about who we are which in turn makes them feel good about who they are. It's a "handshakes all around" kind of deal.
Recently, the folks at Port Hueneme helped us out. I sought their aid and they were happy to accommodate my request to allow us to construct our set for an upcoming show on the base. It saved us thousands of dollars.
R&H: And Cabrillo is winning awards. Tell us about THAT!
CN: With pleasure. Actually, we are still a bit stunned and basking in the glory of it all. Cabrillo was nominated for eighteen Ovation Awards, the Los Angeles equivalent of the Tony Awards. We received the most nominations of any company. It was a first for Cabrillo. I am thrilled to report we were the big winners, carrying away more awards than any other group. It was so gratifying to have been recognized for the hard work and incredibly talented performers that were part of Cabrillo. It was a fairy tale triumph for us.
R&H: You're no stranger to receiving honors, yourself . Which of the honors you've received has been most meaningful to you?
CN: I was particularly moved to be honored as Alum of the Year (1996) from my law school at a ceremony at the Kennedy Center in Boston, Massachusetts. But the one I hold dearest to my heart is a trophy I visit daily that sits proudly on my desk. Its inscription reads: "Best Mom Ever: Love – Meredith and Grant."
R&H: StageSceneLA.com began its promo article about Cabrillo's THE KING AND I as follows: "What would Civic Light Operas do without Rodgers and Hammerstein?" What are your thoughts on R&H?
CN: It goes without saying that the R&H musicals form the core repertory for CLO's in the United States. When you consider the depth and breadth of the entire R&H Theatricals catalogue they are the crème de la crème. Shows like THE KING AND I, CINDERELLA, andTHE SOUND OF MUSIC, are historic mainstays of our lives. A life without them is a life unfulfilled. These musicals make our world better. And, much like the shows themselves, R&H have extraordinarily dedicated, knowledgeable people within the organization.
R&H: What do you see in Cabrillo's future – short- and long-term?
CN: Big things. Short term, we are gearing up for another R&H Theatricals beauty, our summer sensation—CATS. I have created an Adopt-A-Pet program just for this show. It will help raise awareness of abused and abandoned animals. A portion of our revenue will go toward helping the rescue missions. Longer term, I'm working on our upcoming 2009-10 and 2010-11 seasons. I'm putting in lots of overtime in assembling dynamite seasons. I want to be certain to give people a great reason to spend their hard earned money with us.
R&H: What new project(s) are you most looking forward to?
CN: CATS of course! I'm also working on another line extension business for Cabrillo. But I'm not quite ready to let that "cat" out of the bag...
I'd like to thank you and the R&H organization for helping me and Cabrillo in so many ways. Your support has been a key in securing our position of strength.
You must log in before you can post comments. You can login
here
.