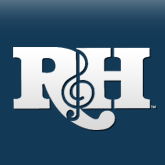 Get to Know the R&H Theatricals Staff: Larisa "Lissi" Borshman
Full Name: Larisa "Lissi" Borshman
Job Title: Amateur Licensing Representative
Favorite R&H musical: OKLAHOMA!
Favorite customer phone call: I always enjoy the calls when customers ask, "Where are my materials?" when I know that they were delivered to them two days earlier!
Favorite R&H song: I have two favorites: "I'm Gonna Wash That Man Right Outa My Hair" and "I Cain't Say No."
Favorite caffeinated beverage: Coffee
Most played song on your iPod: I don't have an iPod!
If you could be any character from an R&H show, who would you be and why? Ado Annie
Favorite lunch food: Sushi
Favorite travel destination: Las Vegas and Miami
Favorite thing about working at R&H: I get to wear comfy clothes to the office.
Favorite actor: Ryan Reynolds
Favorite TV Show : Family Guy
What you're currently reading/book to recommend: I love to read health magazines.
Favorite place in Manhattan: The train back to Brooklyn!
Your computer desktop background: White tiger cubs.
Three things all customers should know (about you or R&H): 1.) My name is Lissi, which is often misheard on the phone. 2.) Please have your account number handy when calling us. 3.) I love expensive gifts....
Complete this sentence: "A day at R&H isn't complete without" someone calling about materials shipments!
You must log in before you can post comments. You can login
here
.