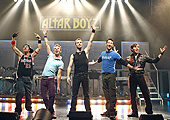 ALTAR BOYZ: Raise the Praise
R&H Theatricals was thrilled to acquire ALTAR BOYZ, and while the show continues its more than three-and-a-half year run in New York, our enthusiasm has only increased. We've licensed productions around the country and around the globe with more licenses issued every day.
Among the most recent productions was a 14-week run at the Bethesda Theatre in Bethesda, Maryland. ALTAR BOYZ enjoyed a wonderful critical response with ecstatic reviews in the local press.
"Open thy heart and let 'Altar Boyz' in, for lo, this…show…will make thee smile. The crusading quintet devoutly fires up the crowd then segues into song after song marked by a surprising blend of sweetness and subversion. It's a winning, cheerful show with just a touch of naughtiness…"— Nelson Pressley, Washington Post
"The beautiful Bethesda Theatre…finally has a production that lives up to its setting with the area premiere of ALTAR BOYZ. This good-humored send-up of boy bands and Christian rock, an Off-Broadway hit since 2005, is a charmer for audiences of all ages and religious traditions."— Susan Berlin, Talkin' Broadway
Ongoing productions include ALTAR BOYZ at Chanhassen Dinner Theatres which is in the midst of its 21-week run. As expected, the Twin Cities press and audiences have welcomed the BOYZ with open arms.
"This heavenly hit is a genuine crowd pleaser."— Kay Johnson, Hutchinson Leader
"'Altar Boyz' brims with affection for the icons it lampoons"— Graydon Royce, Star-Tribune
R&H Theatricals discovered another of its new hit shows (MID-LIFE! THE CRISIS MUSICAL) onstage at Chanhassen and wondered if ALTAR BOYZ was a departure from their usual programming. Chanhassen resident director Michael Brindisi said, "Actually no. We have been very successful in our medium size theatre in presenting more contemporary and newer material." Brindisi revealed that he'd seen ALTAR BOYZ in New York and liked the show very much. "I'm a big fan of FOREVER PLAID and ALTAR BOYZ was like that show but less nostalgia and much more today."
Asked if the New York phenomenon known as "Altarholics" (audience members who return time after time) has been observed at Chanhassen, he said, "We are definitely seeing repeat business and a new audience as well. I hear people every night saying, 'This is the first time I've been here.'" A review of the New York audience demographics reveals that ALTAR BOYZ has wide appeal, crossing many age and gender boundaries. The same appears to be true in the Twin Cities. "We see lots of woman's groups, both young and old. One of our best audiences early in the run was an all-seniors crowd. We couldn't believe their amazing response to the show. We expected it from an audience of high school students but were very happy to see how the show is playing to all age groups."
We suspect that one reason audiences have such a great time at ALTAR BOYZ is that the cast always seems to be having a ball. Brindisi confirms this, "We love our cast. They are young, two have never been on our stage before and they have enough energy to light up a city."
Each of us at R&H has a favorite moment in the show. We wondered if Brindisi had one as well. "I have so many," was his reply, "but my personal favorite moment is the song 'Everybody Fits' (the one with the puppets). I think the song sums up the incredibly positive message of the show. We are all in this together. We are all one big 'family.' I love that."
One R&H staffer recalls taking a good friend to see ALTAR BOYZ at the Long Wharf Theatre in New Haven, Connecticut—the first engagement of the current national tour. The friend asked if she could have the aisle seat. Our colleague had forgotten about "There's Something About You." Naturally, (and to her delight) the friend was chosen by Matthew to come up on stage. We asked if that is a popular moment with Chanhassen audiences. "Hugely popular and that too is one of my favorite moments," said Brindisi. "Some nights I stop in just to see that entire sequence."
Speaking of bringing guests to ALTAR BOYZ, Twin Cities critic Dominic Papatola admitted in his St. Paul Pioneer Press review of the Chanhassen production that he invited a friend along—a Catholic priest. Quoth Papatola, "after 90 minutes of sneaking sidelong glances at my theater-going companion, I admit I was a little concerned about the final judgment of the man-of-the-cloth who alternately laughed, gaped and held his head in his hands. Father D. later confessed that he found the show 'delightful,' opining that it nosed up against being sacrilegious every once in a while but was all the funnier for approaching that line without crossing it."
We wondered if anything surprised Brindisi as he was rehearsing ALTAR BOYZ? The answer? "How much fun I had. The boys are very young performers and were very receptive to direction. I had a lot to say about the direction of the characters and had many occasions to discuss the play. It's not just fluff. I found there was real substance to this piece."
You must log in before you can post comments. You can login
here
.