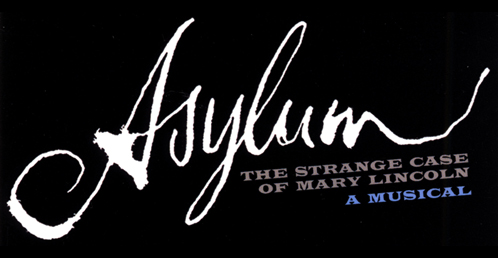 ASYLUM and Lincoln's Bicentennial
So many of the musicals in the R&H Theatricals catalogue deal with important historical eras. Others are adapted from great works of literature. Both kinds provide valuable cross-curriculum opportunities for our school customers. A show like SOUTH PACIFIC, for example (currently playing on Broadway at Lincoln Center Theatre), does both. To history teachers and students it offers a singular perspective on our country's involvement in WWII, yet it can also serve in literature classes to expand the study of James Michener's "Tales Of The South Pacific"; or in social studies classes to explore the issues of racial and cultural intolerance.
2009 marks a very special historical milestone—the bicentennial of Abraham Lincoln's birth. Part of the amazing literature and lore surrounding our 16th President concerns his wife, Mary Todd Lincoln, and her story is explored in a fascinating new musical.
ASYLUM: THE STRANGE CASE OF MARY LINCOLN offers a unique postscript to the life of our 16th President. It tells the tragic, compelling and ultimately inspiring story of Mary Todd Lincoln in the years following the death of her husband. Confined to an asylum after the loss of three children and her husband, Mrs. Lincoln further endures the loss of her freedom at the hands of her remaining son for reasons not initially made clear. With a will of steel, bolstered by the memory of her husband, and aided by a sole loyal friend, she conspires to and ultimately succeeds in winning her freedom.
The libretto by June Bingham turns this "strange case" into a riveting drama of suspense as Mrs. Lincoln uses the few resources at her disposal to ultimately prevail over her captors. The score—with words and music by Carmel Owen—takes us on a lyrical journey into the mind of a woman nearly driven mad but who ultimately is proven to be completely sane.
Following the 2006 production at New York's York Theatre Company the press had this to say:
"Compelling…Funny! A pocket musical that could fill a need on regional and collegiate stages." —The New York Times
"Engrossing! Adventurous! [ASYLUM] keeps us listening intently." —Variety
"Gratifying!…A worthy musical! Humor and suspense…deft dialogue! Looking back from the show's moving climax, one feels both educated and entertained!" —John Simon, Bloomberg News
ASYLUM was originally performed with a cast of five with the principals doubling as members of the ensemble. It's the perfect chamber piece for a small professional theatre. However, the cast size certainly can be expanded to provide broader casting opportunities to high schools, universities and community theatres. The orchestra consists of piano, violin and cello—perfect for budget-conscious theatres.
You must log in before you can post comments. You can login
here
.