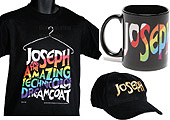 JOSEPH (UK93), Megamix and Merchandise
R&H Theatricals is pleased to announce the release of a NEW edition of JOSEPH AND THE AMAZING TECHNICOLOR® DREAMCOAT (1993 U.K. Tour w/ optional "Megamix").

Since its debut in 1968, JOSEPH… has been performed across the globe in many different versions. We invite you to take advantage of this exciting new edition, which contains many new features.
- New, larger 15-book orchestration compared to our original 10-book orchestration
- Expanded music and dance sections including the "One More Angel" Hoedown; "Go, Go, Go, Joseph" dance break; "Song of the King" Reprise; and segues between songs for easier transitions
- New keys for major songs for easier performance
- Changes in notation, rhythm and harmonies to reflect a more modern "pop" performance style
- Expanded choir allowing a greater ensemble participation
- A complete Libretto-Vocal Book with scene designations and music cue markings
and of course,
- The MEGAMIX is now available as a separate rental (additional fees apply)
The story of this dreamer and his amazing journey is better than ever. We hope you enjoy this edition of JOSEPH!
JOSEPH… Merchandise Now Available for Re-Sale in Your Theatre!
As you begin to prepare for your show, we are happy to inform you that JOSEPH… merchandise is available to you for re-sale in your theatre. Please email us at [email protected] for a list of the merchandise items and for a merchandise order form. These items, all officially authorized merchandise, are of high quality and are competitively priced. We know your audience (and your cast, crew and orchestra members!) will want to own a keepsake from your successful production.
You must log in before you can post comments. You can login
here
.