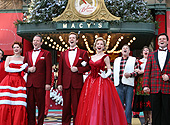 This Winter, Broadway Was Dreaming of a "WHITE CHRISTMAS"
Global warming may have brought mild temperatures and rain to New York City on Christmas Day, but for nearly seven glorious weeks, the forecast was for snow every night (and twice on matinee days) inside the Marquis Theater.
Irving Berlin's WHITE CHRISTMAS first came to life on stage at the St. Louis Muny in the Summer of 2000. In 2004, producer Kevin McCollum gave San Francisco a lavish holiday present with the world premiere of a new version featuring a book by the Muny's Paul Blake collaborating with David Ives, directed by Walter Bobbie and choreographed by Randy Skinner. (See Happy Talk, Winter 2005). Since then, McCollum has presented WHITE CHRISTMAS in numerous American cities, including Boston, Los Angeles, Detroit and St. Paul, along with stagings in Canada, and Great Britain.
And then, this season the Great White Way met WHITE CHRISTMAS.
Opening on Sunday night, November 23, with a stellar cast lead by Stephen Bogardus, Kerry O'Malley, Jeffry Denman and Meredith Patterson, WHITE CHRISTMAS brought Christmas cheer to a city hungry for it and audiences and critics alike were thrilled.
"If some old-school Broadway escapism is what you're looking for, and the prospect of singing the title tune along a bright-beaming Broadway cast fills you with seasonal cheer -- at a time when cheer of any kind is in scant supply -- WHITE CHRISTMAS should be on your wish list," wrote the New York Times. "The lavish production recalls the glory days of the Hollywood musical, with a terrific score, terrific musical numbers, and tap-happy choreography!," cheered the New York Post. The Wall Street Journal promised, "You'll go home happy! A sure-fire seasonal musical. I don't see how anyone who loves Broadway musicals can fail to be pleased by so polished and ingenious a show."
The opening night star-studded and snow-flaked crowd included Vanessa Williams, Joan Rivers, Blythe Danner, AVENUE Q's Lopez & Marx and the [title of show] quartet of Bell, Bowen, Blackwell and Blickenstaff, along with stars of Broadway's BILLY ELLIOT, SHREK, JERSEY BOYS, 9 TO 5, and more. Also in attendance were members of Irving Berlin's family, hearing his songs once again inside a Broadway theater—the same Broadway theater, in fact, where the Tony Award winning revival of ANNIE GET YOUR GUN played only a few years ago.
IRVING BERLIN'S WHITE CHRISTMAS enjoyed record-breaking runs across America this past holiday season, and with R&H Theatricals reminding its customers and audiences that this special Christmas treat can be enjoyed all year long, there are guaranteed to be more big productions into 2009 as well.
But there is no denying the special fact that the song that became a phenomenon, the phenomenon that became a movie, and the movie that became a stage musical, is now WHITE CHRISTMAS…The Broadway musical. On Broadway, WHITE CHRISTMAS was the hit of the holiday season, repeatedly breaking box office records and making theatrical history. Its cast performed across network television, and around the city, singing and dancing from Times Square (the Broadway community's annual Christmas Tree lighting ceremony) to Herald Square (live on the Macy's Thanksgiving Day Parade). It was love at first sight, and it was mutual.
"If you remember the words, help me out folks," said Broadway leading man Stephen Bogardus, as he sang the title song on opening night.
And we did.
# # #
For more about IRVING BERLIN'S WHITE CHRISTMAS, please visit its show page at www.rnhtheatricals.com, as well as www.whitechristmasthemusical.com. A special commemorative songbook from Williamson Music, and the cast recording CD from Ghostlight Records are also both available.
You must log in before you can post comments. You can login
here
.