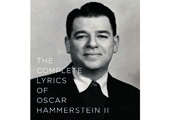 The Complete Lyrics of Oscar Hammerstein II
Although many of these lyrics are written with music almost universally known, and many of us are proud to sing the songs with every lyric intact, how many of us are really aware of what some of the lines actually express besides fitting neatly with the music? I was once going on a train somewhere when it was raining. We were passing by a wheat field, and I thought of the line "the wavin' wheat can sure smell sweet when the wind comes right behind the rain," and it took me a few seconds to remember it was in the title song of Oklahoma! It seemed so real in this nowhere place.
And how many people have had the feeling of being "starry-eyed and vaguely discontented" or "gay, in a melancholy way" without remembering it came from "It Might as Well Be Spring"?
We remember "you are the promised kiss of springtime" from "All the Things You Are," but let's go a little further on to experience the idea, that also "you are the breathless hush of evening that trembles on the brink of a lovely song." We may know those words, but do we really think about the idea of your kiss waiting so precariously for the lonely winter to pass? Will it still be waiting or would it have fallen off the "lovely song" by springtime?
After my father's salad days, mostly at college and shortly after, rhyming "love and above," "moon and June," as well as little chorus ditties that explain why "I'm the boy (girl) for you," he started writing lyrics and working with stories that had more of a purpose, going into characterizations and giving them some depth of feeling. Besides doing research on the themes of the librettos he was working with, he started to take walks to get to know his characters and how they were to be portrayed and, what was probably the most important, to learn the colloquialisms of speech they would use in their period and locale. We don't know if they talked together, because we were not invited to accompany him.
Although he was not a social activist, my father was very aware of the conflict of cultures in the world. He exposed those conflicts in several of his shows (with the collaborative input of his composers). In The King and I, for instance, in Flower Drum Song, in South Pacific, the cultural divisions, many of which have to do with race, are represented to us not necessarily as a call to action, but certainly as a strong recognition of their existence. Even in Oklahoma! there are some passing remarks between the farmer and the cowboy. As he says in Pipe Dream, "It takes all kinds of people to make up the world."
Some are offended by Show Boat, the musical produced with Jerome Kern in 1927. White people looked down on "colored people," using them for back-breaking work. So the show is often called racist. But I believe it to be the first protest show ever presented on the musical stage. The ever-present theme in "Ol' ManRiver" is in itself a protest by the "colored people" who want to leave the Mississippi and get away from the "white man boss." ("Don' look up an' don' look down. You don' dast make de white boss frown.") Yet they realize the futility of wishing for a better life. Life, like the river ("What does he care if de world's got troubles? What does he care if de land ain't free?") keeps rolling along.
Is this not a protest? A quiet one, perhaps, but one that we hope makes us think. And my father was more interested in the exposure of conflict than the preaching of it. As Carrie Pipperidge explains about her fiancé, in Carousel, "He don't say much, but what he says is awful pithy."
In his lyrics one finds recurrent themes of love that are expressed in unusual ways, i.e., the tongue-tied lover in "I've Told Ev'ry Little Star," "The Song Is You," and in the verse to "All the Things You Are." Then there are the "if" songs, "If I Loved You," "People Will Say We're in Love," "Make Believe." And there's the lover who comes at night only to disappear with the morning sun, as in "In the Heart of the Dark," and "All Through the Day."
Still a different expression of love is in "The Last Time I Saw Paris," originally written as a poem to express his emotion about the fall of Paris. "No matter how they change her, I'll remember her that way."
There is very young love ("Sixteen Going on Seventeen"), and settled love ("An Ordinary Couple").
But one of the most beautiful expressions was that of old love, also first written as a poem, called "The Sweetest Sight That I Have Seen." Describing the picture:
I have seen a line of snow-white birds
Drawn across the evening sky.
He will then give us more images of sensual beauty as well as those of poetic sound:
I have heard church bells faintly echoing
Over a distant hill.
But at the end he tells us:
Here's the sweetest sight that I have seen—
One old couple walking hand in hand.
Jerome Kern liked it so much that he set it to music. My father's wife Dorothy liked it so much that she made a sampler of it and framed it. I like it so much because it shows my father was a true poet who could write about everyday things and deeply though simply express them.
Yet he also had a way of transforming everyday phrases into playful ones. I remember doing a little research for him on Carousel at his request. Thus, I reported to him the sequence of making clams in New England. This was an intricate procedure, which was pronounced by New Englanders as "manna from heaven." He dutifully followed the process with his inimitable lyrics for "A Real Nice Clambake," translating the idea of manna from heaven to "fitten fer an angels', fitten fer an angels', fitten fer an angels' choir."
His positivity often resulted in using the word "dream" in his lyrics. In fact, he found it in so many songs that he decided he would avoid the word for his next show, which was South Pacific. But it appeared there in more songs than in any other show he had written lyrics for!
The song, "A Puzzlement," often infects the audience with humor regarding the dilemma of a king. But almost every verse is relevant to human nature.
There are times I almost think
I am not sure of what I absolutely know.
Or am I right when I believe I may be wrong?
And particularly in today's world:
And it puzzle me to learn
That though a man may be in doubt of what he know,
Very quickly will he fight,
He'll fight to prove that what he does not know is so!
Life is a puzzlement, and though his day in the hills has come to an end, this cockeyed optimist, with his dreams of a hundred million miracles, has blessed his homeland forever.
- Alice Hammerstein Mathias
**Attention all NYC-area residents!! Ted Chapin, President of The Rodgers & Hammerstein Organization, and Amy Asch, editor of THE COMPLETE LYRICS OF OSCAR HAMMERSTEIN II, will hold a discussion about Hammerstein's life and work at the New York Public Library for the Performing Arts at Lincoln Center on Thursday, January 15 at 6PM (admission free). For further information please call 212-870-1673 or visit www.nypl.org/lpaprograms.
You must log in before you can post comments. You can login
here
.