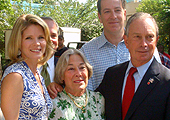 Richard Rodgers Bandshell Reborn in His Childhood Park
Mayor Michael R. Bloomberg announced on August 21 that the Marcus Garvey Park bandshell will be fully renovated thanks to the allocation of $4 million in City funds for the project and the generous contribution of $1 million by The Rodgers Family Foundation, provided to City Parks Foundation to advance the project.
The announcement, which took place in Marcus Garvey Park, located at 120th Street and 5th Avenue, included Adrian Benepe, Commissioner of the New York City Department of Parks & Recreation; David Rivel, Executive Director of City Parks Foundation; Mary Rodgers , daughter of Richard Rodgers and an Executive Board Member of The Rodgers Family Foundation; and Valerie Jo Bradley, Co-founder and Secretary of the Marcus Garvey Park Alliance. Also attending was Kelli O'Hara, star of Lincoln Center Theater's 7-time Tony Award winning revival of Rodgers & Hammerstein's South Pacific, who sang a classic song from that score.
Mayor Bloomberg said, "The renovation of the Marcus Garvey Park bandshell is part of a multi-year investment we have made to return this park to its rightful place as a treasured, vibrant public resource for people to enjoy the outdoors and to celebrate the arts. The City is grateful to The Rodgers Family Foundation for continuing its historic commitment to this bandshell, this park, and to the entire neighborhood that Richard Rodgers himself expressed his devotion to almost forty years ago."
In 1970, Richard Rodgers, who lived at 3 West 120th Street in Manhattan in his youth and whose contributions to musical theater are universally recognized as extraordinary, provided $150,000 for building a bandshell at what was then Mt. Morris Park and renamed Marcus Garvey Park in 1973. The remarkable new gift of $1 million by The Rodgers Family Foundation to renovate the facility will be acknowledged by renaming it The Richard Rodgers Bandshell upon the project's completion.
Mary Rodgers, the elder of Richard Rodgers' two daughters, said, "My sister Linda and I are delighted that The Rodgers Family Foundation will continue to support the legacy established by our father when he gave a bandshell to New York City in 1970. He loved this park as a boy, and I know he would have loved the fact that a brand-new, 21st century bandshell in Marcus Garvey Park will guarantee the sound of music – everyone's music – for many years to come."
Adrian Benepe, Commissioner of Parks & Recreation, said, "Marcus Garvey Park is alive with the sound of music, but its 38-year-old bandshell is hardly younger than springtime. But oh, what a beautiful morning. Thanks to a generous $1 million contribution from the Rodgers Family Foundation, the bandshell will be completely refurbished with a new amphitheater. With this enduring partnership between the City of New York, the City Parks Foundation, the Rodgers Family Foundation and the local community to revitalize this historic Harlem park, you'll never walk alone."
The Rodgers Family Foundation, formerly known as the Richard and Dorothy Rodgers Family Foundation, was established in 1952 by Richard Rodgers and his wife Dorothy Feiner Rodgers to support worthy charitable, scientific, artistic and educational causes.
You must log in before you can post comments. You can login
here
.