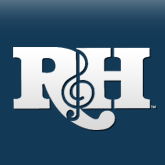 Get to Know the R&H Theatricals Staff
Full Name: Timothy James Matson
Job Title: Amateur Licensing Representative
Favorite R&H musical: SOUTH PACIFIC
Favorite customer phone call: Is STARLIGHT EXPRESS available? (Editor's Note: STARLIGHT EXPRESS is NOT available.)
Favorite R&H song: Interestingly enough, I have 2 favorites, which are both in the same scene in CAROUSEL: "When The Children Are Asleep" and "Mister Snow Reprise."
Favorite caffeinated beverage: Green Tea (I just don't really drink soda or coffee)
Most played song on your iPod: "Big Sur" by the Thrills
If you could be any character from an R&H show, who would you be and why? Emile de Beque. He has a villa "with many books," hosts excellent parties, and lives on a tropical island.
Favorite lunch food: General Tso's Chicken
Favorite role(s) you've played onstage: Launce in TWO GENTLEMEN OF VERONA. I got to have a pet dog named Crab.
Favorite travel destination: Boston or Philadelphia
Favorite thing about working at R&H: If you burst into song, people don't look at you funny. Well, they do, but probably fewer and less here than at other offices.
Favorite Broadway actor: Gregg Edelman
What you're currently reading/book to recommend: I recommend: Life of Pi by Yann Martel or A Prayer for Owen Meany by John Irving and am currently reading John Adams by David McCulloch and The Adventures of Tom Sawyer by Mark Twain.
Do you have more blue or black pens at your desk? Blue.
Your computer desktop background: Right now it's the marquee at Studio 54, for PAL JOEY.
Three things all customers should know (about you or R&H): 1.) The date you will receive your materials is at the top of the fourth page of the license agreement. 2.) If you apply at least four months ahead of when you want to do your show, its much easier and cheaper. 3.) Were totally going to let everyone know when WHITE CHRISTMAS is available to amateurs.
Complete this sentence: "A day at R&H isn't complete without" Christina [Amateur Licensing Representative at R&H Theatricals] throwing paperclips at me.
You must log in before you can post comments. You can login
here
.