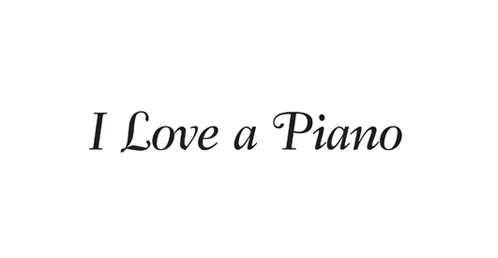 Everybody's Doin' It
And by "it" we mean buying tickets to the second season of the tour of the hit Irving Berlin musical revue I LOVE A PIANO. Conceived by Ray Roderick and Michael Berkely and directed and choreographed by Roderick, this evening of songs by Irving Berlin, America's pre-eminent tunesmith, is a toe tapping, heart warming, and uplifting evening of the kind you just don't see anymore. Let your hearts swell to the lovely lyrics of "Always" and "What'll I Do?" Let your toes tap to the beat of "Puttin' On the Ritz" and "Alexander's Ragtime Band." And hum along to "Easter Parade," "Cheek to Cheek" and of course, the title song. I LOVE A PIANO has it all. Touring performances begin September 20 in Muskegon, Michigan. Read below to see the tour route and to find an engagement near you.
2008
Sept. 20: Muskegon, MI (Fraunenthal Center)
Sept. 21: Indianapolis, IN (Warren PAC)
Sept. 23: State College, PA (The State Theatre)
Sept. 24: Pound, VA (Performing Arts Center)
Sept. 25: Winston-Salem, NC (Stevens Center )
Sept. 26: Aiken, SC (The Etheridge Center)
Sept. 28: Fairfield, CT (Kelley Theater)
Sept. 29: Cape May Court House, NJ (Middle Township PAC)
Sept. 30: Chambersburgh, PA (Capitol Theatre)
Oct. 2: Portland, ME (Merrill Auditorium)
Oct. 3: Morristown, NJ (The Community Theater)
Oct. 6: Richmond, VA (Theatre)
Oct. 7: Toccoa, GA (Georgia Baptist Conference Center)
Oct. 9: Tahlequah, OK (Sequoyah Institute)
Oct. 10: Joplin, MO (Hendrick Hall)
Oct. 11: Council Bluffs, IA (The Arts Center)
Oct. 14: Dubuque, IA (Five Flags Theater)
Oct. 16: Cambridge, OH (Civic Center)
Oct. 17: Sandusky, OH (Sandusky State Theatre)
Oct. 18: Saginaw, MI (The Dow Event Center)
Oct. 19: Elyria, OH (Stocker Arts Center)
Oct. 21: Evansville, IN (The Centre)
Oct. 23: Byron Center, MI (Van Singel Fine Arts Center)
Oct. 25: Sheboygan, WI (Weill Center for Perf Arts)
Oct. 26: Joliet, IL (Mainstage)
Oct. 27: Hopkinsville, KY (Alhambra Theater)
Oct. 28: Hot Springs, AR (Ponce de Leon Center)
Oct. 30: Cedartown, GA (Cedartown Performing Arts Center)
Nov. 1: Washington, NC (Turnage Theater)
Nov. 2: Weldon, NC (The Center)
Nov. 11: Nampa, ID (Civic Center)
Nov. 13: Santa Fe, NM (The Lensic)
Nov. 14: El Paso, TX (The Plaza Theatre)
Nov. 16: Raton, NM (Shuler Theater)
Nov. 18: Florissant, MO (Civic Center Theatre)
Nov. 20: Paducah, KY (West Kentucky Community College)
Nov. 21-22: Overland Park, KS (Yardley Hall)
Nov. 25: Lander, WY (Lander HS Auditorium)
Nov. 28: Tracy, CA (Grand Theatre)
Nov. 29: Santa Clarita, CA (Mainstage)
Nov. 30: Carmel, CA (Sunset Center)
2009
Jan. 29–Feb. 15: Washington, DC (Lincoln Theatre)
Feb. 19-22: Jacksonville, FL (Wilson Center for the Arts)
Feb. 24: Hollywood, FL (Century Village at Pembroke Pines)
Feb. 25: West Palm Beach, FL (Century Village)
Feb. 26: Boca Raton, FL (Century Village West)
Feb. 27: Deerfield Beach, FL (Century Village East)
Mar. 2: Stuart, FL (The Lyric Theatre)
Mar. 3: Boca Raton, FL (Laurels Ballroom)
Mar. 5: Pensacola, FL (Saenger Theatre)
Mar. 8: Bristol, TN (Paramount Theater, Bristol)
Mar. 10: Bradford, PA (Theatre 2)
You must log in before you can post comments. You can login
here
.