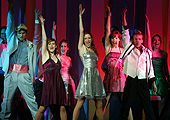 The Girl Gets Around
The girl's name is Ariel and she sure does get around. In fact Ariel, Ren, Rusty, Willard and all those great characters in FOOTLOOSE will be covering a lot of ground when they begin the 10th Anniversary National Tour at New Haven's Shubert Theatre on December 26, 2008. FOOTLOOSE—with lyrics by Dean Pitchford, book by Pitchford and Walter Bobbie, and music by Tom Snow and others—is based on the hit film of the same name which launched a string of popular hits including, "Almost Paradise," "Let's Hear It For The Boy," "Holding Out For A Hero," "The Girl Gets Around," and the hugely popular title song. Prather Entertainment Group—Will Prather, producer—is launching the tour which will be directed by Gary John LaRosa with choreography by Chris Saunders. Visit the official tour website to see if FOOTLOOSE will be "Still Rockin'" in a city near you.
You must log in before you can post comments. You can login
here
.