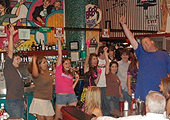 Almost Paradise
Unexpectedly realizing your dream has got to be a little bit like paradise. And so it was for some of the cast members of the Verdugo Hills High School production of FOOTLOOSE. On a recent chaperoned trip to New York City these lucky thespians found themselves recreating the opening number from their high school production on the Great White Way.

We spoke with John Lawlor, Lead Teacher, School of Visual and Performing Arts Verdugo Hills High School and director of FOOTLOOSE, about his experience with this very popular musical.

R&H: What made you select FOOTLOOSE for your 2008 spring musical?

John Lawlor: Actually, my choice of FOOTLOOSE for this year's musical was a difficult one. Would I be able to cast it? Would they [the students] be up to the challenges of the production? Would the kids even want to do it?

R&H: Don't keep us in suspense.

JL: As it turned out, FOOTLOOSE was our most successful production to date, both in terms of audience response – the student body and our local community loved the show – and the spectacular performances given by our cast, some of whom had never been on stage.

R&H: So it was a smash.

JL: It was. And it was a terrific experience for the kids which would not have been possible without the efforts of a dedicated group of teachers, artists, and volunteers, nor without the resources made available by R&H Theatricals.

R&H: We love hearing that.

JL: Absolutely. Your AccompanEase product was an invaluable tool for our rehearsal process. We don't have a pianist for our rehearsals and the majority of our students don't read music. AccompanEase allows them to learn their parts and confidently sing harmonies that they might not otherwise master. And it was a huge help to our choreographer and music director. Also, in performance, InstrumentalEase helped the student band members play at a higher level and ensured that the quality of music was on par with that of the performers on stage. These resources made all the difference in the success of our production.

R&H: Excellent. But we understand the experience didn't end on closing night.

JL: No, it didn't. Just one week after closing, with the final refrain of "…been working – so hard" still ringing in their ears, about half our cast and a few members of the Drama Club left Los Angeles and arrived in mid-town Manhattan. For many it was their first trip to New York and to Broadway. The week-long trip included seeing several Broadway shows, backstage tours, and meetings with Broadway actors including Shuler Hensley [Tony Award winner for his performance in the Broadway revival of Rodgers & Hammerstein's OKLAHOMA!] The kids got an insider's view of what it takes to be a professional theatre artist, and all of them realized that their hard work has only begun.

R&H: And your students debuted on Broadway, did they not?

JL: It was unexpected and amazing. For our final night in New York we opted not to see a show and instead went out for a celebratory dinner…and to celebrate the birthday of one of the students. So, off we went to Ellen's Stardust Diner on the corner of Broadway and 51st Street. The Stardust is well-known for its servers, all of whom are musical theatre hopefuls, just like the Verdugo students. They serenaded us with show tunes while slapping down tuna melts. Following a stellar rendition of "Happy Birthday" we were surprised and thrilled to hear the opening guitar licks of "Footloose" shaking the diner's speakers. All 14 students spontaneously rushed the front of the diner and broke into song and as much of the choreography as the space would allow.

R&H: It must have been amazing.

JL: The crowd went wild, and the students, making their surprise Broadway debut, realized what all the hard work was for.

R&H: What a great experience for your students.

JL: From beginning to end. I've always felt that theatre's most valuable contribution in education is its ability to reveal to students their hidden potential. Every student in our production of FOOTLOOSE came away from the experience understanding what it means to set high expectations and push yourself to the limits. And the rewards for their effort can never be measured in a test score or a grade, but will have an impact on their lives for years to come.

R&H: We couldn't agree more. You know, we learned about your trip to New York when Dean Pitchford, FOOTLOOSE lyricist and co-librettist, e-mailed an article he had seen in the Los Angeles Times. Dean is a true man of the theatre and we asked him what this story meant to him. He said, "As the author and lyricist of FOOTLOOSE, I was naturally drawn to the headline 'Footloose on Broadway.' I started reading, unprepared for the terrific story [the article] had to tell – and the way that my (and my collaborators' work) would weave in and out of the journey undertaken by these students from Verdugo Hills. This story is filled with the promise of spirit, excitement and uplift that got me into this business in the first place." Let's hear it for the boy!
You must log in before you can post comments. You can login
here
.