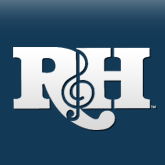 A Grand Night For Singing
Celebrate the R&H revue created during the team's 50th Anniversary year of 1993, and a subsequent Tony Award nominee for Best Musical! A GRAND NIGHT FOR SINGING, conceived by Tony Award winner Walter Bobbie, takes us on a flirtatious flight through popular and lesser-known gems of the Rodgers and Hammerstein canon. Only this time things are a little bit different as we will see no Alps of Austria or lagoons of the SOUTH PACIFIC in this show!
The cast of A GRAND NIGHT FOR SINGING, originally comprised of 2 men and 3 women (which can be expanded for your group's needs), is a passionate bunch of friends who spend the evening singing to, for and about each other in a giddy, yet romantic, state of mind. To make matters even more provocative, we find, as our cast progresses through their evening, that each of them has her or his eyes on more than one of the others in the bunch! We are constantly whirled around as each song plays out, in the form of a vignette, wondering who will woo who next!
In this new conception of over 30 R&H classics, we find many unusual situations for our cast of characters (who range from the leading man to the comic ingénue to the soubrette) to get into. A love-struck youngster asks the ever-popular question "How Do You Solve A Problem Like Maria?", while the awkward (ok, tall!), yet beautiful, leading lady poses the question to her sincere (and much shorter) admirer "Shall We Dance?" Each character gets a chance to sing alone and with their friends about love and some other sillier things, making the evening truly delightful and carefree!

With songs from every Broadway musical written by Rodgers & Hammerstein, this show takes a lively and inventive approach to the beloved songs of these collaborators and spans their careers with elegance and refinement, while at the same time puts a smile on our faces and keeps us guessing at every turn what will happen next.
The instrumentation for this show is as intimate as the show itself. With six books (including a piano conductor score, 1 Reed Book, Percussion, Cello, Bass, Harp [which can be played on synthesizer]) the complete orchestration is ideal for a group with limited space or personnel.
You must log in before you can post comments. You can login
here
.