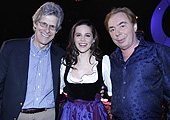 CBC TV Audience Chooses Their Maria to Star in THE SOUND OF MUSIC in Toronto
She had to make her way from a little town in British Columbia on the western end of Canada all the way to Toronto, in the heart of Ontario. She made it past a challenging, talented gauntlet of more than one thousand other Canadian girls to earn a spot among the top 50 sent to an intense seminar quaintly dubbed "Maria School." She made it through Maria School, and was one of twenty girls flown to London (England, not Ontario) in April; there they performed for The Lord (Andrew Lloyd Webber, not any other) on the stage of the venerable London Palladium. He hand-selected 10 finalists, and she was among them.
They practiced. They trained. They moved into a "Maria House." For a few whirlwind magical days, they even went to Salzburg, Austria, and walked where the real Maria walked, and twirled where she twirled. And then, starting in late June, an intense, live, two-night a week musical competition broadcast across Canada on the CBC. Each girl sang and danced her heart out; they performed pop songs, songs written by Canadians, show tunes, songs of the '60s. Ten girls, then nine, then eight…and by this past Sunday night, only three were left.
First she had to participate in a "sing-off" with another, equally talented finalist. They had to sing a song by Andrew Lloyd Webber, in front of Andrew Lloyd Webber. No audition was ever more pressured, or high-profiled.
She sang "Memory." It was memorable.
The Lord saved her.
Then she had to compete with yet one more equally dazzling finalist. She urged us to "come to the cabaret, old chum," while her erstwhile competitor proudly sang that she would be "defying gravity." The Canadian public voted; the votes poured in from across the country and, according to the CBC, in record numbers.
On Monday night July 28, the two girls stood side by side, in nearly matching dirndls. The winner's name was announced.
She had done it.
23-year-old Elicia MacKenzie, raised near Vancouver, was going to be making Toronto her home for the forseeable future. She had been cast as Maria in the new production of THE SOUND OF MUSIC, opening at the Princess of Wales Theatre in October of this year. Andrew Lloyd Webber, David Ian and David Mirvish are producing it in Canada, based on the hugely-successful production mounted by Lord Lloyd Webber and Mr. Ian at the London Palladium.
That production, which also found its Maria through a TV reality search (and made a UK superstar out of super-talented Connie Fisher) opened in November 2006 to the largest advance sale in London theatre history. It is now in its second year, with TV and West End star Summer Strallen in the leading role. (Fisher has gone on to a career in television, recordings and the stage, while her Mother Abbess—opera great Lesley Garrett—is about to return to the West End as Nettie Fowler in a new production of CAROUSEL.)
THE SOUND OF MUSIC , London, is currently booking through February 2009. Visit www.soundofmusiclondon.com for more information.
THE SOUND OF MUSIC, Toronto, begins performances October 3, 2008. Visit www.soundofmusiccanada.com for more information.
You must log in before you can post comments. You can login
here
.