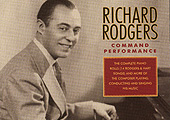 On the Jukebox: John Pizzarelli and the Richard Rodgers Piano Rolls
Twenty-nine years after his death, Richard Rodgers continues to delight music lovers everywhere as his work is revitalized. This summer two distinct albums of Richard Rodgers music have been released, one gives his timeless music a modern twist and the other unveils Rodgers playing, conducting and singing his works.
On August 19th, guitarist-vocalist John Pizzarelli brings us With A Song In My Heart, a collection of Richard Rodgers songs with lyrics by Lorenz Hart and Oscar Hammerstein II. The renditions of the beloved songs serve as both a legacy to the man himself, while giving the tunes a unique and modern feel indicative of Pizzarelli's style.
Some of the notable tracks include the Rodgers & Hammerstein classics "Happy Talk" and "You've Got To Be Carefully Taught" from the Broadway musical SOUTH PACIFIC. "Happy Talk" is revisited with an emphatic Latin groove, implemented by pianist Cesar Camargo Mariano. "You've Got To Be Carefully Taught" is presented as a pop-ballad resulting from Pizzarelli's choice to change the time signature. Much of the album is devoted to Rodgers' earlier work with Lorenz Hart, bringing us the melancholy song "She Was Too Good To Me" and, of course, the brassy and light-hearted title track "With A Song In My Heart. "Order your copy on Amazon.com today. You can also learn more about John Pizzarelli and his talented family from artspass.com.
On September 30th, Harbinger Records will release Richard Rodgers Command Performance, which showcases the re-mastered versions of Rodgers' original piano rolls from the 1920s–1950s. The piano roll was an early recording technique used by artists to document their work, including the early compositions of Richard Rodgers. These priceless recordings exemplify how Rodgers intended his work to be presented, and offer a rare glimpse into the composer's own performance style. To learn more about the creation of Rodgers' piano rolls and this new CD, read R&H President Ted Chapin's article below.
On Richard Rodgers
There is nothing more mysterious than the act of composing. Each of us has the capacity to conjure up words in our own vocabulary and string them together to create comprehensible sentences (as I am doing right now typing this). But music is a different language. We all understand the end result, but there are very few with the ability to "string together" the "words" that create the "sentences." That is the act of composing. And those of us who cannot do it marvel at those who can.
Richard Rodgers (1902–79) was a composer. Of that there is no doubt. He looked like a banker and sounded like a die-hard New Yorker, and he didn't fit into central casting's idea of what a composer might look like, or be like. That makes the mystery of where his music came from all the more fascinating. But out flowed music, of a consistently high quality, for nearly 60 years.
On this CD we get a direct view into his creative mind. The piano rolls and other recordings represent the composer's intention—as close as we'll ever get. As a man of the theater, Rodgers mostly wrote songs for characters and shows. He had clear ideas of how he wanted his music performed, but demonstrating his wishes to fellow artists was clearly more interesting to him than performing his own material.
In fact, before Bill Rudman approached me about the piano rolls, I had only known of the existence of one. It was stuck in a file cabinet in the office, and I assumed it had been a publicity stunt or some such thing. And Rodgers himself never mentioned any of the rolls in interviews or in his memoirs.
Most of the demos and radio air checks included here were also unknown to me. All of this makes the CD that you're holding historically significant. I am grateful to Bill, Ken Bloom and Albert Petrak for their hard work—and to Michael Feinstein, who provided several gems from his collection.
Although most of what they've selected comes from the Rodgers and Hart years, the team of Rodgers and Hammerstein is represented as well. Many have debated the difference between those two eras, but my favorite assessment comes from an article published in a BBC magazine during the year of Rodgers' centennial. After cataloging the creative output of Rodgers & Hart ("witty, infectious tunes, streaked with melancholy") and Rodgers & Hammerstein ("uplifting ballads, avatar of homespun Americana"), the writer, Robert Sandla, sums it up by saying: "The fact is, Richard Rodgers was two of the best composers of 20th-century American popular song."
When Rodgers made the earliest of his piano rolls, he was just 24 years old, with four Broadway shows already to his credit. Not bad. And as far as I know, his vocals on the demos from Mississippi may well be the only time we hear him sing his songs. How amazing is that? Yet another window into the creative being that was Richard Rodgers.
What a treat this CD is!
-Ted Chapin
President, The Rodgers & Hammerstein Organization
May 2008
You must log in before you can post comments. You can login
here
.