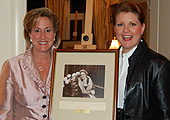 Grand Time in a Grand Duchy
In November 2007, history was made when CALL ME MADAM was presented for the first time in the Grand Duchy of Luxembourg, the country that inspired the musical's story.
Mavens will recall that this 1950 Broadway musical comedy smash with songs by Irving Berlin and a book by Lindsay & Crouse was "ripped from the headlines," motivated by President Harry Truman's appointment of Perle Mesta as the first US Ambassador to Luxembourg. In the musical comedy version of history, Ethel Merman played Mrs Sally Adams, "the hostess with the mostes' on the ball," who is appointed by her friend Harry to serve as US Ambassador to the European duchy of Lichtenburg (where "babies and cheese are our main industries.").
From 1950, flash forward about half a century. After the death of Irving Berlin in 1989, his beautiful townhouse overlooking New York's historic Beekman Place was purchased by…the Grand Duchy of Luxembourg, where it serves today as that nation's New York Consulate and UN Embassy, among other functions. (To this day, visitors will note a plaque on the outside of the house, denoting it as the former home of the famed songwriter Irving Berlin and, over the door, the Royal Crest and flag of Luxembourg).
In May 2007, Luxembourg's then Consul General to New York, the enterprising and dashing Georges Faber, invited R&H to produce an evening's salon entitled SONGS FROM CALL ME MADAM at Irving Berlin's former home. R&H President Ted Chapin narrated, joined by four singers from Mannes College/The New School for Music under the guidance of their extraordinary maestro, Ted Taylor. The two-night run was a triumph (if we say so ourselves).
From Luxembourg's Consulate to New York, word soon drifted over the Atlantic to the US Embassy in Luxembourg, where a reciprocal invitation quickly followed.
And so, following in the footsteps of Mrs. Sally Adams, I sallied forth to Luxembourg myself (replacing the elsewhere-committed Mr Chapin as this program's proverbial "Man in Chair,"), joined once more by Ted Taylor, and three delightful Mannes students – Ricardo Rivera, Andrew Osarchuk and Heidi Sauser. Playing the role originated by The Merm was the fabulous and wonderful Klea Blackhurst.
Three historic performances of SONGS FROM CALL ME MADAM were given over as many days: the first, held at the Theatre des Capucins in Luxembourg City, was performed before an audience made up primarily of Luxembourgers – and I gave my opening remarks (or attempted to do so) in Luxembourgish.
The second performance was an exhilarating case of art imitating life, as our CALL ME MADAM salon was performed in the Ambassador's residence on the grounds of the US Embassy in Luxembourg. Our hostess with the mostes' was a true-life Madame Ambassador: Her Excellency Ann Wagner, joined that evening by members of the Luxembourg Prime Minister's cabinet, major American and European business figures based in Luxembourg, other local and foreign dignitaries and, as a special guest, Irving Berlin's grand daughter, Caroline Emmet. At one point I naively asked Ambassador Wagner if friends of hers had picked up on the CALL ME MADAM connection when she was appointed Ambassador in 2004. "Are you kidding?," she laughed. "I must have been sent over a dozen copies of the DVD—and we watch it all the time!"
For the third performance, our merry band trundled down through the beautiful Luxembourg countryside, across the mighty Moselle River and into Germany. There, it was our honor to play our show at Spangdahlem US Air Force Base. Our generous host that night was Col. Darryl L. Roberson, Wing Commander of the 52nd Fighter Wing, and our equally generous audience was made up of members of the US military and their families. Considering the setting and considering the time of year (late November), we ended our CALL ME MADAM tribute with two Irving Berlin encores: "White Christmas," and "God Bless America." They never sounded truer or were more warmly received.
You must log in before you can post comments. You can login
here
.