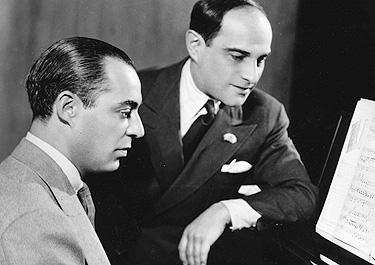 PAL JOEY on Broadway This Fall! Christian Hoff Stars in Title Role
Last week, Roundabout Theatre Company announced their new Broadway production of Rodgers & Hart's PAL JOEY starring Stockard Channing, Christian Hoff and Martha Plimpton. Previews begin Friday, November 14, 2008, with an official opening on Thursday, December 11, 2008.
PAL JOEY will feature a new book by Tony Award winner Richard Greenberg , based on the original book by John O'Hara, with music direction by Tony Award winner Paul Gemignani, choreography by Graciela Daniele and directed by two-time Tony Award winner Joe Mantello at Studio 54 on Broadway.
Set in Chicago in the late 1930s, PAL JOEY is the story of Joey Evans, a brash, scheming song and dance man with dreams of owning his own nightclub. Joey abandons his wholesome girlfriend Linda English, to charm a rich, married older woman, Vera Simpson, in the hope that she'll set him up in business.
In 1939, author John O'Hara approached Richard Rodgers & Lorenz Hart to collaborate on a musical adaptation of his popular Pal Joey stories that had originally run in The New Yorker. The musical premiered on Broadway on December 25, 1940, in a production directed and produced by George Abbott, and starring Gene Kelly and Vivienne Segal. While considered a success in 1940, a smash hit 1952 Broadway revival revealed the show as a true landmark Broadway musical, breaking new ground in subject matter, and featuring a score by Rodgers & Hart in their penultimate collaboration. The 1952 production of PAL JOEY won three Tony Awards including Best Choreography and the New York Drama Critics' Circle Award for Best Musical.
The Rodgers & Hart score for PAL JOEY includes such classic songs as "Bewitched, Bothered And Bewildered," "I Could Write A Book," "You Mustn't Kick It Around," and "Zip," among others. The new production of PAL JOEY will also feature "I'm Talking To My Pal," a song that had been dropped from the score during its out-of-town tryout.
TICKET INFORMATION:
Tickets will be available in the Fall of 2008, by phone at (212) 719-1300, online at www.roundabouttheatre.org or at the Studio 54 Box Office (254 West 54th Street).
You must log in before you can post comments. You can login
here
.