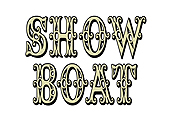 Show Boat in Concert at Carnegie Hall: One Night Only!
On June 10th, 2008, Show Boat in Concert comes to Carnegie Hall in New York City for a one night performance. This sweeping epic musical from Oscar Hammerstein II and Jerome Kern stars Carrollee Carmello, Gregg Edelman, Nathan Gunn and Gavin Lee. To buy tickets and learn more about the production, please visit the Carnegie Hall website.
Interested in performing The Show Boat Concert? Learn more and apply for a license here: The Show Boat Concert Page.
You must log in before you can post comments. You can login
here
.