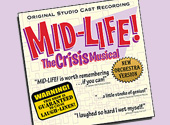 Bob and Jim Walton's Mid-Life! Now Available on CD
MID-LIFE! is now a brand-new studio cast recording. The stellar cast features Broadway's David Hibbard, Mylinda Hull, Karen Mason and more, and was produced by Williamson Music's Bob and Jim Walton.
With a balanced look at the "joys" of growing older, through a cast of three men and three women, MID-LIFE! strikes a chord with anyone regardless of age.The cleverly crafted songs celebrate forgetfulness, reading glasses and menopause, but also touch on the sentimental wisdom that the later years afford us.
Visit the show's offical website to order the CD today: www.midlifethecrisismusical.com.
You must log in before you can post comments. You can login
here
.