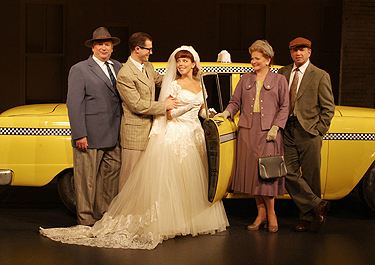 A CATERED AFFAIR on Broadway!
A CATERED AFFAIR, the new musical with book by four-time Tony Award-winner Harvey Fierstein, score by Williamson Music's John Bucchino and directed by Tony Award-winner John Doyle will play the Walter Kerr Theatre (219 West 48th Street) this spring. Previews began on March 25 and opened on Broadway April 17, 2008.
The production stars Tony Award-winner Faith Prince as 'Aggie Hurley,' the mother-of-the-bride, Tony Award-nominee Tom Wopat as 'Tom Hurley,' the father-of-the-bride, Harvey Fierstein as 'Winston,' the uncle-of-the-bride, Leslie Kritzer as 'Jane Hurley,' the bride-to-be and Matt Cavenaugh as 'Ralph Halloran,' the groom-to-be. The featured cast includes Philip Hoffman, Katie Klaus, Heather Mac Rae, Lori Wilner and Kristine Zbornik.
Scenic Design is by David Gallo, Costume Design is by Ann Hould-Ward, Lighting Design is by Brian MacDevitt, Sound Design is by Dan Moses Schreier, Projection Design is by Zachary Borovay and Hair Design is by David Lawrence.
A CATERED AFFAIR asks the question that inevitably faces every mother and daughter: Whose wedding is it anyway? The musical tells the story of a Bronx mother's efforts to give her only daughter the elaborate wedding she never had—and the bride never asked for. In this funny, poignant and oh, so human show of love and disaffection, Harvey Fierstein's book and John Bucchino's score explore both our need for love and the true meaning of family.
Visit the official website for more: www.acateredaffaironbroadway.com.
You must log in before you can post comments. You can login
here
.