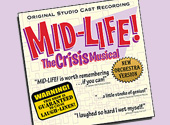 Mid-Life! The Crisis Musical Cast Album Now Available
Proving to be a huge hit in professional theatres across the country, MID-LIFE! is now a brand-new studio cast recording. The stellar cast features Broadway's David Hibbard, Mylinda Hull, Karen Mason and more, and was produced by MID-LIFE! writers Bob and Jim Walton.
With a balanced look at the "joys" of growing older, through a cast of three men and three women, MID-LIFE! strikes a chord with anyone regardless of age. A series of scenes and sketches poke fun at the frustrations of mammograms, love handles, weekend warriors and proctology exams. The cleverly crafted songs celebrate forgetfulness, reading glasses and menopause, but also touch on the sentimental wisdom that the later years afford us.
Are you producing Mid-Life! soon? You can also order copies of the album to sell in your lobby. We also offer rentals of the official eye-chart slides and sound effects from the original production to enhance your performances.
Visit the show's offical website to order the CD today: www.midlifethecrisismusical.com.
To apply for performance rights to the show or learn more about it, visit our MID-LIFE! web page: www.rnhtheatricals.com/midlife.
You must log in before you can post comments. You can login
here
.