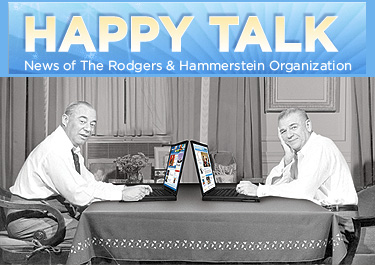 Keep Talking Happy Talk
"Welcome to the first issue of our newsletter. We've talked about having one for several years, and I am veryhappy that it has become a reality..."
I wrote those words in the autumn of 1993 for the first issue of what we called Happy Talk: News of TheRodgers & Hammerstein Organization. Frankly, we didn't know if we were going to find enough interesting thingsto write about to warrant publication three times a year. That, I am pleased to say, has never been a problem.A lot has happened to us, to you, and to the world since that first issue. From an R&H perspective, HappyTalk covered it all, and we shared it all with you.
And now, we want to keep sharing it with you—but in a whole new way.
This is the last issue of Happy Talk as you've come to know it. Starting in the spring (provided you sign uponline: www.rnh.com/happytalk), you will receive an all digital version of the new Happy Talk via email. We'll still have the kind of articles, stories and tidbits that you have enjoyed reading on these pages—just in a different form. The Happy Talk you receive will bring you directly to our new website where you can read and download all of the articles and content that arrives in your inbox.
So we are taking the opportunity of this special, final print issue of Happy Talk to guide you through ournew Happy Talk. It lives on our new and improved website, where articles that used to come to your mailboxthree times a year will now be offered throughout the year. This newly designed and newly launched website willallow you to watch your favorite R&H video clips, browse our vast gallery of images, and search for any and allR&H information you need. The site features streamlined navigation that is organized by Shows, Songs, and Concerts (and more) to help you on your journey through our pages.
Whether you are a fan, a customer, a teacher, a scholar, or the world's leading SOUND OF MUSIC triviaexpert, we are continuing to provide informative and, we hope, interesting reading material.
In 1993 I wrote that our newsletter's format "will continue to evolve."
And so it does.
You must log in before you can post comments. You can login
here
.