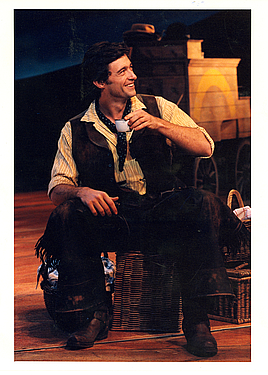 You're Doin' Fine Oklahoma!
"
In a poll taken by Zogby International in February, Americans con-firmed that when they think of the State of Oklahoma, they first recall the classic R&H musical that shares the state's name and spirit.

""The musical Oklahoma! [was] the runaway choice of what first comes to mind when our state is mentioned,"" reported a front page story in The Daily Oklahoman. ""That's appropriate, [pollster John] Zogby said, recalling a column by George Will that referred to the play as America's greatest musical.""

Herewith the official response of The R&H Organization: ""Yeow!""

To learn more about R&H Theatricals' 2007 spotlight promotion for Oklahoma!, visit www.rnhtheatricals.com...For more on the 2007 Oklahoma State Centennial, visit www.oklahomacentennial.com.
"
You must log in before you can post comments. You can login
here
.