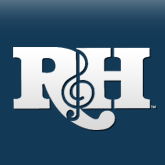 With All The Frills Upon It
"
In February, the Chanhassen Dinner Theatres just outside Minneapolis presented the world premiere of a new stage musical, Irving Berlin's EASTER PARADE. Based on the beloved movie musical, bursting with great Irving Berlin songs and showstoppers, the stage musical features a book by Tom Briggs (State Fair), and was produced by arrangement with R&H Theatricals, and with the permission of Warner Bros. Theatre Ventures, Inc.
""Easter Parade as a stage musical is an idea that's been around for a while,"" observed R&H President Ted Chapin, ""and in the people at Chanhassen we saw an ideal group with whom we could work to get the show stage-worthy.
"" EASTER PARADE is directed by CDT's Resident Artistic Director, Michael Brindisi, and designed by the CDT artistic team. ""We are thrilled that the Irving Berlin family, and the R&H Organization, are entrusting us with their work and allowing us the freedom to do it with our particular mark,"" said Brindisi recently. ""In my 40 years in this business, I've never been part of anything like this. This is the kind of opportunity one only dreams about.""
""At R&H we are constantly looking for ways to create new properties, and movies are a great source for popular stage musicals,"" said Chapin. ""Previously we helped develop Footloose, State Fair and White Christmas for the stage, and we are extremely proud of how quickly they have become popular favorites. State Fair [by Rodgers and Hammerstein] has special relevance in this case: the stage adaptation was co-written by our longtime colleague Tom Briggs, who wrote the script for this EASTER PARADE, and Chanhassen was the first place to do it after Broadway. They did a superb job and I wasn't surprised when it went on to a phenomenal 13-month run.""
The results of more than a year's hard work were on display when Chanhassen unveiled its brand new EASTER PARADE in February, bringing a little Easter springtime to the snowy Minnesota midwinter. Calling it a ""good, old-fashioned musical comedy,"" the Pioneer Press cheered that there was ""no shortage of fabulously costumed, intricately choreographed, genuinely imaginative production numbers.""
The stage version of EASTER PARADE boasts such Berlin gold standards as ""Shaking the Blues Away,"" ""It Only Happens When I Dance With You,"" ""Let's Take An Old-Fashioned Walk,""""A Couple Of Swells"" and ""Steppin' Out With My Baby,"" as well as that irresistible title song.
Talkin' Broadway's Minneapolis reporter said of the film: ""EASTER PARADE is best remembered for its music and the star turns by Fred Astaire and Judy Garland. The plot...was mainly window dressing...Remarkably, writer Tom Briggs and director Michael Brindisi take this wafer-thin plot, flesh it out and make it something memorable... That change gives the show an unexpected but welcome sense of real weight, and one that makes the evening of glorious Berlin music all the more enjoyable. Add in strong performances, a brilliant set and gorgeous costumes, and you have an unqualified success.""
""This stage adaptation seemed to be a perfect fit for a live audience,"" reported the St. Cloud Times. ""EASTER PARADE had everyone humming some familiar tunes as they left the theater. Anytime you see a theater crowd leaving with smiles on their faces, you can be assured a good time was had by all!""
For more information on the world premiere stage production of Irving Berlin's EASTER PARADE, visit www.chanhassendinnertheatres.com. This production at Chanhassen is the first step in development of the show. Performance rights are not available at this time. Watch these pages and our website for more information.
"
You must log in before you can post comments. You can login
here
.