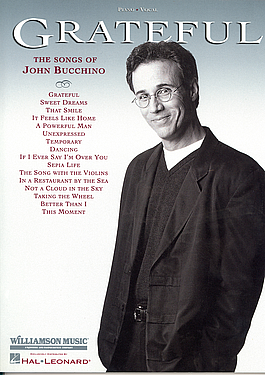 Welcoming John Bucchino
"
""When I was a little kid I used to do magic tricks for people,"" says singer /songwriter John Bucchino, ""and I used to hope really, really hard that one time I would do the trick, and the magic would happen for real. Where songs come from, and how they happen, is the closest thing I've had to feeling that real magic.""
This is a magical time for John Bucchino. His first CD, GRATEFUL, was released in April on the RCA Victor label with his songs recorded by a dream team of friends: Judy Collins, Art Garfunkel, Patti LuPone, Michael Feinstein, Liza Minnelli, Jimmy Webb and David Campbell, among others. A companion songbook is currently in the works for summer publication, and in the fall his score will be heard in the Dreamworks animated film, JOSEPH.
..And last year the man who wrote the touching ballad ""It Feels Like Home"" found a literary home here at Williamson Music. ""We're thrilled to have John,"" says Williamson President Maxyne Berman Lang. ""His gift for melody, and his ear for the right phrase of lyric, has produced a sterling collection o f songs. John didn't come out of the musical theatre world, as many of our writers have. Instead, he brings a pop sensibility to our catalogue; it's something different and for that we are truly 'grateful.'""
John Bucchino has been in love with music all his life. He began playing piano at a very early age and, though he never learned to read music, could play flawlessly by ear. By high school he had even started composing: ""It was the '70s, and though all my friends were guitar players, it was really coo l that I was this pianist. Everyone was listening to the newest Beatles album, or James Taylor, or Simon & Garfunkel. I listened, I learned, and then I just started writing. It was a natural extension.""
Bucchino majored in music at California State, Fullerton. ""Up 'til then my heroes had been the Beatles, Stevie Wonder, Paul Simon...By college I was exposed to an even broader palette, a wider musical vocabulary. I listened to Stravinsky and Stockhausen, Paderewski and Charles Ives - my favorite. These sounds, these colors, they just blew my mind - doing things in two keys simultaneously, it was fabulous stuff. It gave me more colors to draw from i n my own writing.""
Bucchino continued to write. He was finding his own artistic voice, but the re was a problem: ""I wasn't connecting, I wasn't getting my music heard,"" h e says now. ""It was very frustrating."" The frustration was compounded by t he fact that, to Bucchino, the very essence of his craft was being thwarted: ""To me, being a songwriter is wanting to communicate. When people respond, it's an indication that you have communicated, that what you want to say has gotten out in the world.""
But then, one of Bucchino's songs got a response from Stephen Schwartz, the Academy Award-winning songwriter of animated features like POCAHONTAS and the musicals GODSPELL and PIPPIN. Schwartz is a devoted teacher of the songwriting craft, which he conveys in numerous panels and workshops conducted through ASCAP. Stephen Schwartz, in other words, knows fresh talent when he hears it.
It was the mid '80s. Schwartz had just participated in a benefit, where he heard a song called ""In a Restaurant by the Sea."" He immediately asked the singer, Ronnie Gilbert, who had written it, and whether the songwriter had anything else Schwartz could hear. ""She gave me a demo tape of several of John's songs,"" writes Schwartz in his liner notes for the GRATEFUL album. ""Driving home that night I popped the tape into my cassette player. A few minutes later I had to pull over to the side of the road to listen, astounded by the musical imagination, lyric invention and keyboard artistry I was hearing. How could it be I'd never heard of this guy before? I became an instant, ardent and lifelong fan.""
""When Stephen called me, out of the blue,"" Bucchino recalls, ""I was a bus bo y in a vegetarian restaurant in Santa Monica. So it was nice for anybody to notice my work, let alone a big, famous theatre guy! Stephen treated me like a peer,"" he adds. ""It was the tonic that my heart and soul needed.""
Bucchino, a lifelong West Coaster, began to feel a pull towards New York, an d its vibrant cabaret and theatre scene. Shortly after arriving in New York, he heard from the other famous theatre songwriter named Stephen - Sondheim. ""I had sent him a tape, he called me, and said very nice things. I spent an afternoon with him - I think I was shaking in my shoes as I headed over to his townhouse - and he was so generous with his time, and with his knowledge. He was another person so respected and admired, reaching out to me. It was amazing. And I have to say,"" observes Bucchino, ""the community in New York - the cabaret world, the theatre world - is such a huge support system . The people who have made it really want to give a hand to the people who are coming up. That's what it felt like when Steve Sondheim called.""
In New York, Bucchino's work took a new direction. ""I had always wanted to emulate the confessional songwriter - Harry Chapin, Billy Joel, or Joni Mitchell who is, after the Beatles, my favorite songwriter. They each had a unique story and a unique way to tell it. It was after a lot of long talks wit h Stephen Schwartz that I found a new outlet for my stories.""
What Schwartz sensed in Bucchino was a gift for theatrical vernacular. Critics began to discover this as well. ""He uses the parameters of each composition to create characters, and even build a set for them to tell their story,"" wrote Rex Reed in the New York Observer. ""If Tennessee Williams was alive and writing tunes, he'd be John Bucchino."" In the New York Times, Stephen Holden called Bucchino ""a versatile composer rooted in 1970s folk-pop with aspirations toward art song...[His lyrics] owe much in spirit to Oscar Hammerstein II.""
Bucchino may never have intended to be a Hammerstein, or a Schwartz or a Sondheim. But alongside Williamson writers like Adam Guettel, Joe DiPietro, Jimmy Roberts and Ricky Ian Gordon, he responds to the unique challenge of writing for specific characters in specific situations. This challenge has served him well. ""In a funny way, in the pop world the theatrical element of my writing was a drawback because, frankly, it gave an added complexity to the songs,"" he reflects, ""while in the theatrical world the pop side to my writing actually served as an asset."" While still at ease in the pop genre, Bucchino now says, ""In the theatre world, I feel like I belong.""
With several musical scores to his credit (in addition to the JOSEPH soundtrack, his stage musical URBAN MYTHS has developed a cult following, and a new work, LAVENDER GIRL, will be presented as part of an evening of one-act musicals presided over by Hal Prince later this year), plus the release of the GRATEFUL album and songbook, John Bucchino can afford to pause and take stock. But will he? Not likely.
""I still don't know what I'm doing, I just do what I do,"" he admits with disarming candor. ""I'm trying to follow my voice wherever it takes me.""
GRATEFUL: THE SONGS OF JOHN BUCCHINO is currently available from RCA Victor at all major record stores, or by visiting www.bmgclassics.com/broadway ...The accompanying songbook will be published by Williamson Music and Hal Leonard Publishing this summer...For more, visit www.williamsonmusic.com, or www. johnbucchino.com. "
You must log in before you can post comments. You can login
here
.