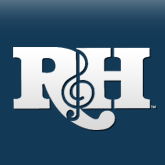 Walk On, Walk On, With Hope In Your Heart
"
May, 1991. The devastating AIDS epidemic was just beginning to enter its second heartbreaking decade. AIDS Walk New York, one of the earliest fundraising events created to combat this dreaded disease, was only in its fourth year, yet a dedicated group of volunteer walkers - thousands strong - had come together at Fordham University's midtown campus to embark on the walk together. There were speeches; there were tears and there were cheers. (And R&H was there, with our first of several annual AIDS Walk teams.)

Then a special guest took to the stage - the legendary mezzo soprano Marilyn Horne. She sang ""You'll Never Walk Alone,"" the timeless R&H anthem from Carousel, and an AIDS Walk tradition was born.

Today, 16 years later, the AIDS scourge is still with us, despite the many advances made toward finding a cure. But in the same 16 years, hundreds of millions of dollars have been raised to continue the fight against AIDS and HIV, and to help those suffering with it. The AIDS Walks are still here too, staged in every major city in America and often overseas as well. And ""You'll Never Walk Alone"" has become the unofficial anthem, the standard-bearer, the kick-off to nearly every AIDS Walk everywhere.

And we couldn't be more proud.

In 1991 R&H approached MZA Events, the company that organized many of the AIDS Walks (and still does), and offered the rights to use ""You'll Never Walk Alone"" to promote the message of the AIDS Walks - a message of hope, a message of togetherness. MZA Events responded instantly to our invitation; before the next spring's series of AIDS Walks, in fact, the company had already arranged for superstar Patti LaBelle to film a public service announcement singing ""You'll Never Walk Alone"" (the song with which she had enjoyed a huge hit in the 60s).

In the early years at AIDS Walk New York, Broadway stars would sing ""You'll Never Walk Alone"" as the participants (now relocated from Fordham to the vast Sheep Meadow in Central Park) started their six mile trek around upper Manhattan. One year it might be Tonya Pinkins from Jelly's Last Jam; the next, Cheryl Freeman from TOMMY. Bringing the first few years full circle, in 1994 the song was sung in front of 30,000 people by Shirley Verrett - then appearing in Carousel at Lincoln Center Theater, where she sang the song eight times a week in its original context.

Melissa Manchester... Maureen McGovern... Lorna Luft...Betty Buckley...Patti LaBelle...Jim Brickman...Lillias White...Joely Fisher...Sam Harris... Norm Lewis... Peter Gallagher... Deborah Gibson...Joan Baez...Nell Carter... Gospel choirs, R&B groups, hip-hop artists, gay men's choirs and opera singers have all sung ""You'll Never Walk Alone"" as the emotionally high kick-off to the AIDS WALK opening rallies.

We are sorry these walks still have to happen. But if the song Richard Rodgers and Oscar Hammerstein II wrote over 60 years ago can lift the spirits of the walkers, and do some good for the cause, we know it is something Rodgers and Hammerstein themselves would have heartily approved of.

Walk on, walk on...AIDS Walk 2007 coming up in Fort Lauderdale (April 29), New York (May 20), San Francisco (July 15) and Los Angeles (October 21). For more, visit www.aidswalk.net.
"
You must log in before you can post comments. You can login
here
.