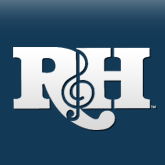 Voila! Enter The Guardsman
"
In the now-vanished world of fin de siecle Middle Europe, in a place of romance and roses, Viennese waltzes and French champagne, Ferenc Molnar first spun his enchanting boulevard comedy THE GUARDSMAN. Now, at the turn of a new century, that story has been set to an ""entrancing score"" (in the words of Variety) that spins ""theatrical gold"" (London Daily Telegraph), a ""huge triumph for small-scale musical theatre"" (What's On London Magazine). Voila ENTER THE GUARDSMAN - a new musical now available for performance from The R&H Theatre Library.
With a book by Scott Wentworth, music by Craig Bohmler, and lyrics by 2000 E dward Kleban Award-winner Marion Adler, ENTER THE GUARDSMAN evokes the music al panache of GIGI and A LITTLE NIGHT MUSIC, with a hilarious story of backstage high jinks that kisses KISS ME KATE. Originally written as a vehicle f or the incomparable husband and wife acting team of Alfred Lunt and Lynn Fontanne, the musical tells of an actor and an actress whose passion for each other begins to fade after only six months. Inevitably their lovers' quarrel spills from the dressing rooms and over the footlights.
Anonymously, the actor sends his wife a rose, and when she doesn't respond, he sends another, and then a dozen, eventually inundating her with roses. With still no acknowledgement from his wife, the actor suspects her of having a secret admirer whom she must assume is sending the flowers. Increasingly infuriated, his jealousy mounting, he resolves to challenge her fidelity b y romancing her in the guise of an ardent guardsman, and in the process presents one of his greatest performances. His worst fears are confirmed when, on the empty stage following a performance, she surrenders to the seductive charms of the swaggering officer. The actor is inconsolable, but is it possible to be betrayed by one's own self? Surely the actress knew from the start that it was her husband inside the Ruritanian uniform. Or did she?
Commenting on all of this is a Greek chorus of backstage denizens, from the Playwright (busily devising the very play we are watching), to the Dresser, Wardrobe Mistress, Wigs Master and Assistant Stage Manager, gossiping and s peculating while attending to their love- crossed stars. Through it all, a love for the romance of theatre - and the theatre of romance - provides ENTER THE GUARDSMAN with its own sweet motif.
This charming musical has, appropriately, lead a charmed life: In 1994, it received the Bernice Cohen Award for Outstanding Presentation at the popular ASCAP workshops. In 1996, from within a crowded field of over 225 entries, ENTER THE GUARDSMAN won first prize in the International Musical of the Yea r Competition in Aarhus, Denmark, and the following season bowed at London's acclaimed Donmar Warehouse. In addition to its Olivier Award nomination as Best Musical, ENTER THE GUARDSMAN received bouquets of raves from the notoriously fickle British press.
""ENTER THE GUARDSMAN is small-scale, tuneful, poignant and charming,"" wrote the Daily Telegraph, ""and if there is any justice, it's going to give a lot of people a lot of pleasure...In its scale, wit and human feeling, it seems to offer great hope for the future of the genre."" The London Daily Mail said, ""ENTER THE GUARDSMAN fizzed with the kind of sophisticated wit all too seldom heard on the musical stage,"" and What's On London called it, ""Immaculately conceived and thoroughly enjoyable.""
In September '99, ENTER THE GUARDSMAN received its American premiere at the New Jersey Shakespeare Festival. ""One of the most enchanting new musicals t o come down the theatrical pike in years,"" proclaimed the Daily Record, which went on to praise the musical as ""intelligent, literate, seamlessly sewn together, [with a score that] is grounded in the best tradition of Bernstein, Sondheim, Rodgers and Loewe."" Variety declared it ""a sweet, comic chamber piece...hauntingly lovely,"" and Time Magazine described it as ""clever and intimate."" Associated Press said it ""bubbles over with fun,"" the Newark Star- Ledger hailed its ""delightful music, deft lyrics and a script where almost e very other line gets a big belly-laugh,"" and has subsequently named it Best Musical of the New Jersey 1999-2000 season.
The New York City premiere was held in May, in a production starring Robert Cuccioli, Marla Schaffel, Mark Jacoby and directed by its author, Scott Went worth. ENTER THE GUARDSMAN will be seen next season at such celebrated regional theatres as Oregon Shakespeare Festival, Laguna Playhouse, Indiana Repertory Theatre, Chicago's Northlight Theatre, and the San Jose Repertory Theatre.
""This musical,"" predicted Out & About Magazine, ""has an exciting future ahead of it.""
"
You must log in before you can post comments. You can login
here
.