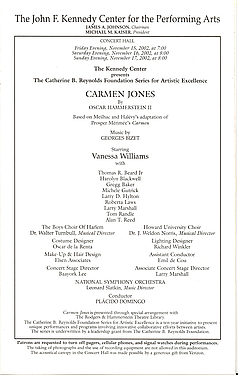 Triple Play
"
Charlie Scatamacchia, director of professional licensing for The R&H Theatre Library, has a problem with our reputation. ""We are not,"" he states for the record, ""inflexible. If someone has an idea for one of our properties that is audacious outrageous, even but still honors the spirit of the authors' intentions, we're willing to listen.""
Which is how the first production of Yale Rep's 2002-3 season featured Rodgers & Hammerstein's CINDERELLA presented alongside Euripide's MEDEA and Shakespeare's MACBETH. ""Alongside"" in this case doesn't mean ""in repertory"": CINDERELLA was performed on the same stage as MEDEA and MACBETH and at the same time.
""Call it royal synchroncity, thematic serendipity or a theatrical planetary lineup,"" marvelled Frank Rizzo in the Hartford Courant. ""But it's a goose-bump moment when this triptych of arts speaks together in a singular, unexpected and genre-crossing way.""
Entitled MEDEA/MACBETH/CINDERELLA, it is the brainchild of theatre director Bill Rauch. While a student at Harvard University in the early 1980s, Rauch wanted to develop a single work woven from three strands of world theatre: ancient Greek tragedy, Elizabethan drama, and American musical comedy. Inspired by the experimental Wooster Group, his aim was to explore the nuances and textures of different works juxtaposed with one another, to create, in Rizzo's words, ""a different kind of boundary-breaking theatre... a limbo-?like world where these ancestral voices from great works of theater resonated in a new way with the audience.""
As a school project, M/M/C (as it came to be known by its inner circle) took on a life of its own, and seized Rauch's imagination; he knew even then that he would revisit this work later in his career. In the late 1990s, he had a chance to mount a professional production of M/M/C when his own theater group, the Cornerstone Theater Company, joined forces with another troupe, the Actor's Gang of Los Angeles. With Tracy Young of that company as Rauch's co-director and co-adapter, M/M/C was ready for the big time. There was only the nettlesome issue of clearing the rights, something Rauch hadn't given a lot of thought to back in his student days.
Euripides wasn't going to be much of a problem, and neither was Shakespeare; both authors' works are in the public domain. But R&H's CINDERELLA is not. Rights would have to be granted, and cleared. Rauch contacted R&H, explained his proposal to Scatamacchia, was received politely, and then turned down. ""We said, `thanks but no thanks,""' Scatamacchia recalls now. ""We didn't think it could possibly work.""
Undaunted, Rauch flew across the country and made his pitch in depth, presenting his case with clarity, compassion and creativity. Rauch made Scatamacchia his newest champion. ""Well, being put in the same company as Euripides and Shakespeare,"" says the R&H-er, ""is pretty flattering."" Over the course of this work's development, Rauch and Young have repeatedly thanked The R&H Theatre Library for what their program note calls our ""belief in [them] and the project."" From an R&H perspective, M/M/C seemed like and has proven to be a fascinating and insightful experiment, an artistic risk replete with ample rewards.
The Cornerstone Theater Company/ Actors Gang co-production of M/M/C premiered in Los Angeles in 1998 and received rave reviews. A few years later, James Bundy selected M/M/C to open his inaugural season as new Artistic Director at Yale Rep. As rehearsals for the Yale premiere progressed over the summer of 2002, the actors must have felt like extras in a D-Day invasion epic as played by the company of NOISES OFF. The script, for example, was laid out in three columns: the all-male cast of MACBETH, the all female-cast of MEDEA and the gender-specific cast of CINDERELLA each had their own strip of text to memorize and work from, but always had to be aware of what was happening in the two other stories unfolding about them. In the New Haven Register, actress Alaina Reed (who played Cinderella's Godmother) recalled receiving a copy of the script and exclaiming, ""How am I supposed to read this?""
In a normal production process, the cast usually sits down on the first day of rehearsal for a ""read-through"" of the script. At M/M/C, the first week was spent just learning music incidental and bagpipe music in MACBETH, classic-style art songs and choruses for MEDEA (by Shishir Kump) and, yes, the beloved score to R&H's musical fairy tale (leading to such surreal moments as Medea, Jason, Macbeth and his bloodthirsty Mrs. putting aside their blood libels long enough to join in a hearty chorus of ""The Prince is Giving a Ball."")
As players and playgoers alike soon discovered, the fusion of these three different works wasn't arbitrary: all three plays, with their eponymous, one-word titles, are about ambition, striving for one's goals even greed. ""The uncanny thing,"" Tracy Young told The Sunday Republican, ""is that they have a lot more relationships than it would seem from their divergent stories and themes."" MEDEA and MACBETH share plots of murder and bloodshed; CINDERELLA and MEDEA feature strong-willed heroines, and both reinforce the myth of the wicked stepmother. All three plays travel the corridors of royalty-palace intrigues laced with magic.
The simultaneous gears of the three separate plots click and lock in fascinating ways. While Cinderella sits in her own little comer, idly dreaming about meeting her Prince, Macbeth and Medea are dreaming too though about far more sinister deeds. Cinderella's glowing first encounter with the Prince at the Ball is juxtaposed with the bitter disappointment Macbeth and Lady Macbeth feel after their disastrous first banquet as Scotland's new king and queen; that in turn is contrasted by the scene in which Medea presents Jason with a poisoned robe she intends for his new wife. The collation of those three scenes, explains Young, questions the notion of ""happily ever after"" Audiences, she felt, would need not know each play in depth to make those connections.
Critics had no trouble making those connections themselves when M/M/C premiered in New Haven. ""If you appreciate innovative storytelling and stagecraft,""
wrote Kyle Minor in the New Haven Register, M/M/C"" may be the most exciting, refreshing theater experience you are likely to have in some time."" The Yale Daily News' Charlotte Dewar hailed the ""brilliant performances and bold production values [that] make this a Yale Repertory Theatre production to remember."" Malcolm Johnson of the Hartford Courant explained that ""three very disparate works are cleverly fractured and reassembled into a strange but somehow fascinating
evening...a vivid and surprisingly cogent production.""
An ""unlikely brew... an extraordinary, category-defying show,"" declared Alvin Klein of the New York Times. ""By deconstructing and interweaving passages from ancient Greek and Elizabethan tragedies with a 1957 American musical, [the co-directors] allow connections to come seamlessly to light without contrivance or commentary. Throughout, it is pure theatricality, not sophomoric, pseudo-intellectual or academic game-playing, the makes the magic. Ideas flow from visual impact and visceral sensations...After M/M/C,"" he concluded, ""no classical theater buff can condescend to modem musicals, and no musical comedy aficionado has the right to recoil from the traditions of theater of old.""
Back at R&H, we're proud of our affiliation with M/M/C. Scatamacchia warns that this isn't likely to be a trendsetter for us, that in fact the circumstances surrounding M/M/C are unique. CINDERELLA, after all, is the one R&H musical based on a classic fairy tale, and appropriate for this particular kind of examination. But Scatamacchia has no regrets: ""It is the exchange with artists like Bill Rauch and Tracy Young,"" he says, ""that make the job challenging and, more importantly, demonstrate the resilience of the musicals we represent.""
For information on performing R&H' s CINDERELLA visit www.rnh.com or contact [email protected] or call (212) 564-4000...For more information on the co-creators of M/M/C, visit www.cornerstonetheater.orgem> and www.theactorsgang.com.

"
You must log in before you can post comments. You can login
here
.