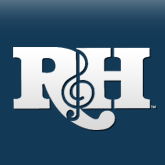 THEY SAY THAT FALLING IN LOVE IS WONDERFUL- Charlie Scatamacchia, V.P. of R&H Theatricals
"
We all have stories about the first time we fell in love...with musical theatre. I remember a day 48 years ago (48 YEARS AGO!!) when my parents took me to see the film South Pacific. Not only was it my first musical, it was also the first time I entered a movie theatre. I honestly can't recall what I thought about the film... I was five years old. I do remember every detail about the day, though - how we got to the movie theatre (we took a bus), where we sat (10 rows from the back), and especially my parents waiting until the end of the final credits before getting up to leave. I suspect they didn't want to miss a note of that wonderful music. Still, I don't think I got ""hooked"" on that day.

No, I think my fateful day came five years later. Each year students in my elementary school in fourth grade and above were treated to a matinee performance of the local high school musical. In 1964 it was Annie Get Your Gun. This was no movie. Up on the stage were real people acting and dancing and singing (and what songs they were singing!) and I was ""hooked."" This was the beginning of a life long love affair with musical theatre and a special connection for me with the show.

In 1964, we were fighting a war in Asia and a different kind of war here at home. But I was in fourth grade and more concerned with Buffalo Bill's Wild West Show and its star markswoman. Annie Get Your Gun entered my life again 10 years later in 1974 when I played Charlie Davenport in a dinner theatre production in Buffalo. That was a summer job between semesters at college and it was probably the best production ever given of the show... at least that's how I remember it. So much had changed in the world between 1964 and 1974, yet people were still buying tickets to Annie Get Your Gun. Seven years later, in 1981 I was ""Doin' What Comes Natur'ly"" at Pittsburgh Civic Light Opera (and I blush to remember that my dance partner in ""I'm An Indian Too"" was a very young and extremely talented - and patient - Kathleen Marshall). Then, in 1987, I was cast as Foster Wilson in a summer stock production directed by Susan Schulman and starring clarion-voiced Alix Korey and the late (and wonderful) Patrick Quinn.

It took a while for the show to re-enter my life. But when it did, it did so in a big way. It was now 1999 and I had been working at R&H for three years. Imagine the thrill of finding myself sitting in the Marquis Theatre ""on business"" watching Annie Oakley once again - this time on Broadway in the person of Bernadette Peters, who would win another Tony Award for her performance. 2004 initiated a rapid-fire series of productions. My frequent trips to see the shows R&H has licensed took me to the Marriott Theatre in Lincolnshire, Illinois, where I saw Susie McMonagle as a high-spirited, fun-loving Annie Oakley. Later that year I saw Garret Long's thoroughly charming Annie Oakley at Music Theatre of Wichita. Then, in 2005, I saw, in a concert performance in Toronto, the extraordinary Louise Pitre as Annie with Billy Ray Cyrus as Frank. And most recently there was Annie Get Your Gun at the Muny in St. Louis. I sat for the first time in that amazing outdoor theatre of 12,000 seats watching Liz Larsen as a smart and canny Annie (with Brian d'Arcy James as her Frank) thinking back, so many years ago, to when I saw Annie Get Your Gun for the first time.

It's one thing to consider in the abstract an experience you had when you were a kid. But it's another thing entirely to think about 43 years and how in that time you have lived through great changes in the world and in yourself. Yet through it all there are constants. In that time Annie Get Your Gun and I crossed paths on nine very different and significant occasions.
I know my experience is not unique. Decade after decade, thousands of high schools, dinner theatres, summer stock and community theatres keep presenting the classic Broadway musicals. And hundreds of thousands of people have seen, and will continue to see, these performances.

It's a result of all our collective efforts that the classic American musicals continue to thrive and remain part of the fabric of our culture generation after generation. And if we all continue to pursue this passion, I know that 43 years from now someone somewhere will remember a musical they saw for the first time on your stage.
"
You must log in before you can post comments. You can login
here
.