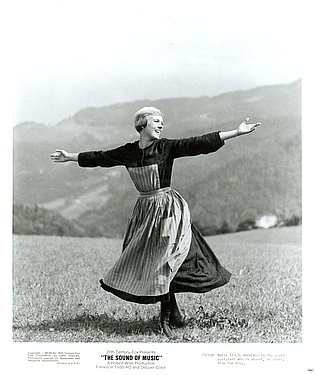 THE SOUND OF MUSIC gets the ROCKY HORROR Treatment
"
An edition of the midnight camp classic ROCKY HORROR PICTURE SHOW has been playing Friday nights in a little cinema off Leicester Square in London for years. Lately, however, its costumed denizens gathering for their weekly wacky ritual have run into some other strange-looking characters: bearded Nuns, lonely goatherds, and overgrown children wearing Alpine apparel that seems to be made out of drapes.
THE SOUND OF MUSIC - ROCKY HORROR style - has arrived. With fancy dress-ups, not to mention audience participation (""Boo the Nazis! Hiss the Baroness!"") and plenty of boisterous choral support, SING-A-LONG-A SOUND OF MUSIC has taken London by storm.
The germ of this idea began at a Senior Citizens' home in Inverness, Scotland, several years ago, when an enterprising activity director handed out lyric sheets before a television screening of SEVEN BRIDES FOR SEVEN BROTHERS; the fusion of karaoke and movie musicals was born. It was a short time before Robin Baker, co-programmer of the 1998 London Lesbian & Gay Film Festival, included a one-time, audience-participatory screening in his season as well; Baker chose THE SOUND OF MUSIC, with lyrics flashed directly on the screen. Sold out in less than 24 hours, it was the surprise hit of the festival, with an audience that seemed to know - as if by osmosis - to arrive in various states of aptly-themed outer-wear.
Enterprising West End stage producers David Johnson and Richard Temple, along with Robins Entertainment, promptly ensconced SING-A-LONG-A... in the Prince Charles Cinema off Leicester Square. The original plan called for Friday night and Sunday afternoon screenings for three weeks in August, though the run was soon extended through September...and then to Hallowe'en...and then to Christmas (with special holiday screenings), and now well into the New Year. Knowing a good thing, the producers are in discussion with 20th Century Fox and our Organization with a gleam in their eye towards global conquest.
The London screenings have taken on their own personalities: Friday night showings filled with office-workers looking for a diversion from the usual Pub crawl, or packs of girls on a ""hen's night,"" a von Trapp-infused alternative to the normal bachelorette debauchery, while Sunday afternoon crowds, as David Johnson reported to the London Express, were ""full of gay men, children and people who've spent the weekend working on their costumes.""
And what costumes! Sighted at these screenings have been white dresses with blue satin sashes (not necessarily always worn by girls, however), tiara-topped Baronesses and fetching Gretls. During the intermission's high-spirited costume competition, extra credit has been awarded to such imaginative souls as the walking set of brown paper packages tied up with strings, and the cluster of Alps who arrived with their shoulders and heads adorned with shaving cream for mountain snow. (One rule: no Nazis. Nuns, however are welcome; at one screening the winner, masquerad- ing as a Nun, was an actual Nun.)
But ultimately it is the movie these fans come to see - and be. ""Never has audience participation been such a pleasure,"" wrote the Independent. ""It was one of the funniest and most extraordinary afternoons of my life."" The Evening Standard urged its readers to ""belt with confidence, knowing you won't mix up your tee's and lah's, fah's and soh's. Amaze yourself by keeping up with 'The Lonely Goatherd' (plus yodeling), soar with the Mother Superior and sob during 'Edelweiss.'"" The Times commanded, ""Reader you must go, costumed or not - it is enormous, liberating fun.""
""This is a great excuse to dress up,"" explained one devoted fan to an inquiring reporter from the Observer. ""And besides, everyone loves THE SOUND OF MUSIC.""
Sing-a-Long-a...continues at the Prince Charles Cinema in London, now joined by an ongoing U.K. tour...Plans for U.S. engagements are under discussion...Check future issues of this newsletter for updates or visit www.singalonga.com.
"
You must log in before you can post comments. You can login
here
.